PARIS — The private mansion in Paris where Kim Kardashian West was robbed at gunpoint was not equipped with any security cameras, a high-level judicial source close to the investigation told NBC News on Thursday.
Security at the Hôtel de Pourtalès consisted of one concierge, but he was overpowered by the five armed men who robbed Kardashian West of around $10 million in jewelry early Monday.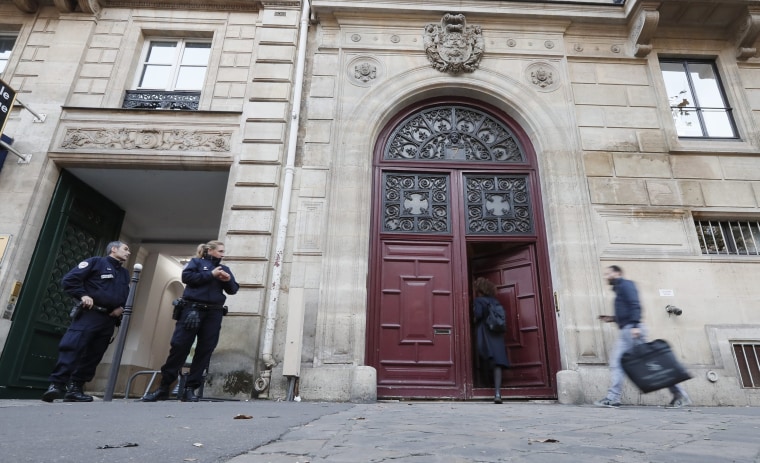 The source, who spoke on condition of anonymity, said French police have had to rely on security cameras on the streets surrounding the residence.
Those devices captured images of people arriving at the hotel and leaving on bicycles, the source added, but declined to comment further on this detail.
Police have previously said that the attackers fled the scene on bicycles.
Public records also came to light this week showing that the security company of Kardashian West's bodyguard filed for bankruptcy just 10 weeks before the robbery.
Pascal Duvier's German-based firm, ProtectSecurity, was dissolved on July 28, according to court records from the German city of Heidelberg.
Attorney Gordon Rapp, the liquidator in the case, told NBC News he was not authorized to comment on the details of the filing.
The Hôtel de Pourtalès — which has been dubbed the "No Address Hotel" — is popular with A-list celebrities because of its privacy and exclusivity.
Fashion designer Karl Lagerfeld criticized Kardashian West earlier this week, saying she shouldn't have posted pictures of her expensive jewelry on social media without proper security arrangements.
"I don't understand why she was in a hotel with no security," he said after his latest show for Chanel. "If you are that famous and you put all your jewelry on [social media], you go to hotels where nobody can come near to the room."