Grammy-winning artist Ed Sheeran's 2015 song "Photograph" was a top 10 hit in the United States, selling more than 3.5 million copies.
But a pair of California songwriters claim in a copyright lawsuit filed Wednesday that it borrows too heavily from a song they released in 2012 — and they want at least $20 million in damages.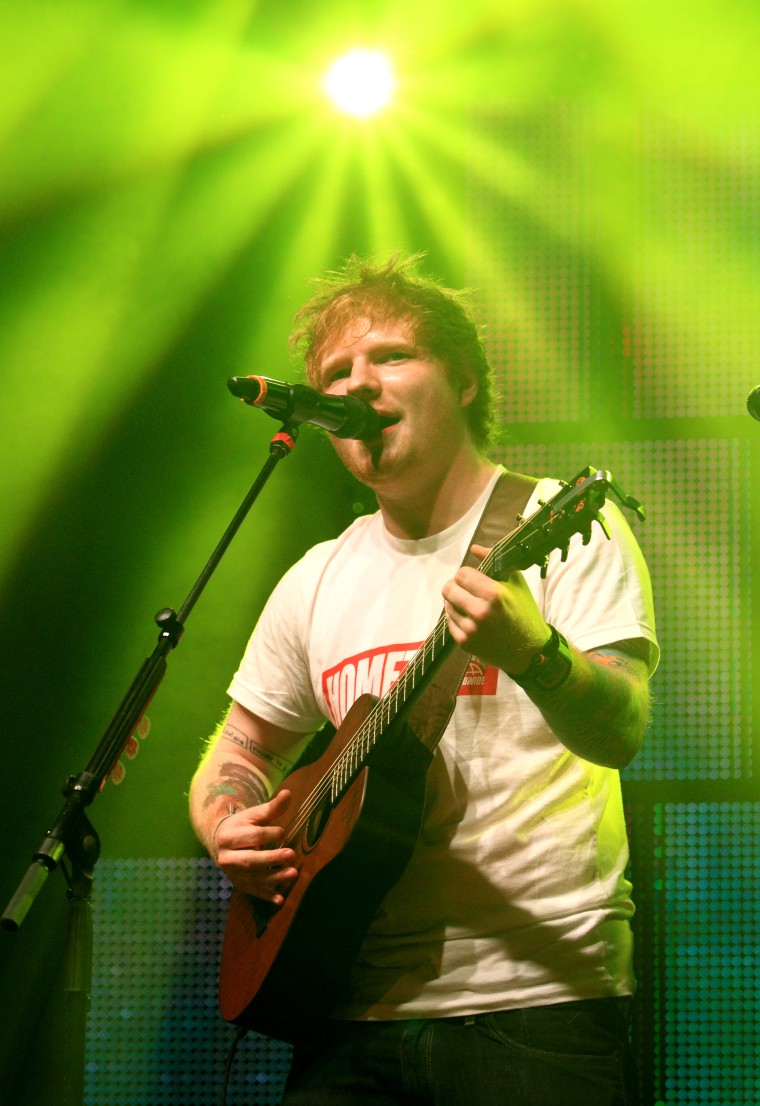 "My clients are professional songwriters," Nashville-based attorney Richard Busch said in a statement to NBC News on behalf of artists Martin Harrington and Tom Leonard.
"Their work is their life, and I am honored that they have trusted me with this very important case."
Also named in the suit are "Photograph" co-writer Johnny McDaid, record label Warner Music Group and publishers Sony/ATV Songs and Polar Patrol Music.
Busch is the same lawyer who was victorious last year in representing the family of Marvin Gaye in a copyright infringement lawsuit against artists Robin Thicke and Pharrell Williams. The duo was accused of making their 2013 hit "Blurred Lines" too similar to Gaye's 1977 song "Got to Give It Up." A jury awarded the family $7.4 million, which was eventually cut down to $5.3 million by a judge.
Related: Jury Finds Pharrell, Thicke Copied Marvin Gaye Hit for 'Blurred Lines'
In their lawsuit, Harrington and Leonard say they wrote music in 2009 that was eventually used in the song, "Amazing," a single released by singer Matt Cardle after he won the British version of the TV singing competition "The X-Factor" in 2010.
The song peaked at No. 84 in the United Kingdom, where Sheeran is from.
The songwriters say "Amazing" and "Photograph" have similar choruses and share 39 notes in common. "The notes are identical in pitch, rhythmic duration, and placement in the measure," according to the lawsuit.
Others on social media recently noted the similarities between the songs:
Neither Sheeran nor his record label immediately commented about the suit, which was filed in Los Angeles.
The songwriters would prefer to settle the case out of court first, they said, and are seeking financial damages.
Related: Justin Bieber, Skrillex Sued by White Hinterland for Copyright Infringement
Sheeran isn't the only international hitmaker that has been sued over a song in recent weeks. Justin Bieber and Skrillex were sued last month by artist White Hinterland for allegedly copying a riff in Bieber's 2015 dancehall pop hit "Sorry."
White Hinterland claims it borrowed from her song "Ring the Bell," released in 2014.