Death metal music is not cute. It is not sweet. It is not made up of teenage girls in crinolines singing about chocolate. But then there's Babymetal, a Japanese pop band that is on an adorable rampage to conquer the world.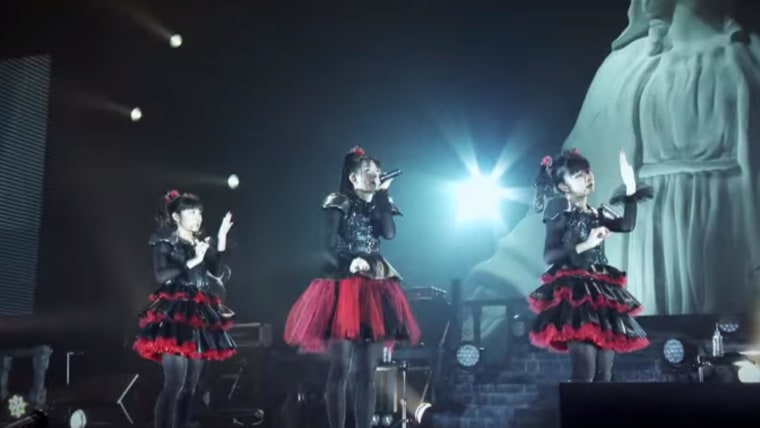 Producer Kobametal was looking to make dark metal accessible to a mass audience, so he hired three junior-high-school girls (Suzuka Nakamoto, Moa Kikuchi and Yui Mizuno) and guided them toward a mix of metal and "kawaii" (or "cute") music. The result? Two indie singles in 2012 and two wider-released ones in 2013.
Release of the band's debut album "Babymetal" in February has given the group a wider audience. Here are three reasons why you may want to start banging your head in their direction:
Reason One: "Give Me Chocolate!"
Since Feb. 25, the video for "GimiChoko," aka "Give Me Chocolate," has racked up over 6.5 million views on YouTube. Thrashing, grating guitars alternating with speed-sung, quirky lyrics by ponytailed, adorable teen girls. Metalheads will get into it from the start. For the rest, fast forward to about :52, and watch the pop take over.
Reason Two: They've gone viral.
There's already a "YouTubers React to Babymetal" video from The Fine Brothers, which since April 3 has logged over 3.6 million views and 20,000 comments. "It's truly epic music," Benny Fine tells TODAY. "The girls are incredible performers."
Reason Three: They're already crossing international waters.
Babymetal is set to perform for the first time in the UK this summer, playing at metal festival Sonisphere alongside bands like Iron Maiden and Limp Bizkit. Their album has already cracked the Billboard Top 200 chart and a U.S. invasion inevitable.
Still, Babymetal are still in the new, "what the heck is that?" stage –- appealing, unusual and novel. Whether that translates into new sensation or just plain novelty act remains to be seen. Just what is PSY up to these days?