The 2019 MTV Video Music Awards were filled with show-stopping performances, memorable speeches, eye-popping outfits, and even a few awards.
The VMAs have long been a place for pop culture history — as well as controversies — to be made. And although Monday night's telecast was filled with unforgettable moments, it was relatively free of controversy.
The night's biggest awards went to Lil Nas X's record-breaking "Old Town Road," which took home the award for song of the year, Ariana Grande for artist of the year, and Taylor Swift for video of the year. But the awards took a back seat to some jaw-dropping performances by artists like Lizzo, Normani and Missy Elliott, who took home the Video Vanguard Award.
Here's our round-up of the top VMA moments:
Missy Elliott's Video Vanguard Performance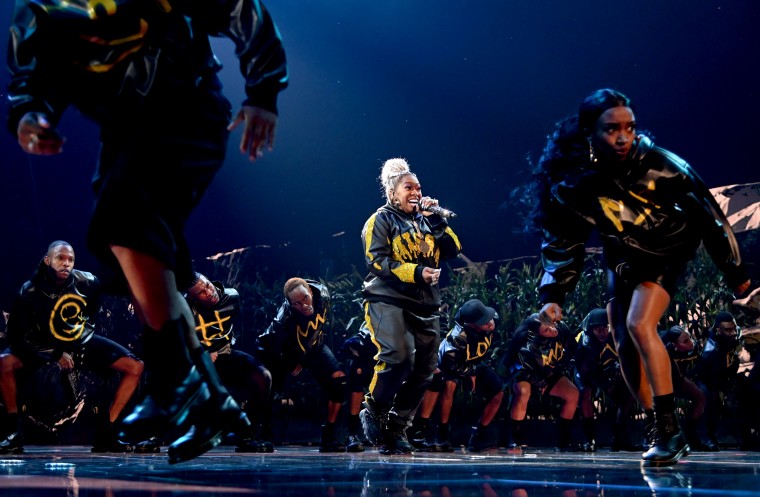 Missy Elliott has been an icon of the music industry for more than two decades, and on Monday night she performed a medley of her greatest hits before being presented the 2019 Video Vanguard Award.
"This Michael Jackson Video Vanguard Award means so much to me. I have worked diligently for over two decades and I never thought that I would be standing up here receiving this award," Elliott said during her acceptance speech.
Although Elliott called the award by its full title, the telecast did not call the award the "Michael Jackson Video Vanguard Award," instead shortening it to the "Video Vanguard Award." NBC News has reached out to MTV for comment on whether or not the award had officially been renamed.
Elliott also took time to recognize dancers, who have played pivotal roles in her music and her music videos over the years.
"I want to dedicate this award to the dance community all around the world because when y'all get on the stage with these artists y'all are not just props. Y'all are the icing on the cake," Elliott said.
Lizzo performs 'Truth Hurts' and 'Good as Hell'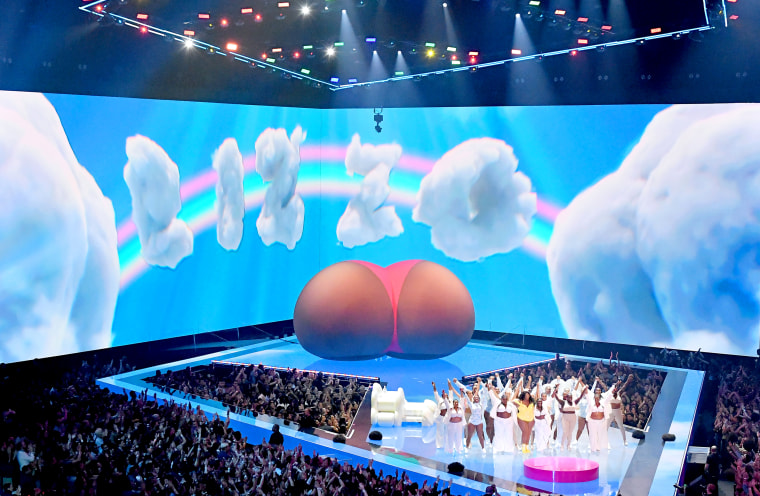 Singer and rapper Lizzo brought the crowd to its feet during her performance of her songs "Good as Hell" and "Truth Hurts," which has become a viral phenomenon on platforms like Twitter and the short-form video app TikTok.
The artist, whose message of self-love has been embraced by a devoted following, performed the hits in front of a giant, swaying rear end.
During the performance, as her name appeared on the screen behind her in clouds over a rainbow, Lizzo took a moment to tell the audience she was "tired of the bulls---."
"It's so hard trying to love yourself in a world that doesn't love you back, am I right? So I want to take this opportunity to just feel good as hell. Because you deserve to feel good as hell. We deserve to feel good as hell," Lizzo said.
Singer Normani performs viral hit 'Motivation'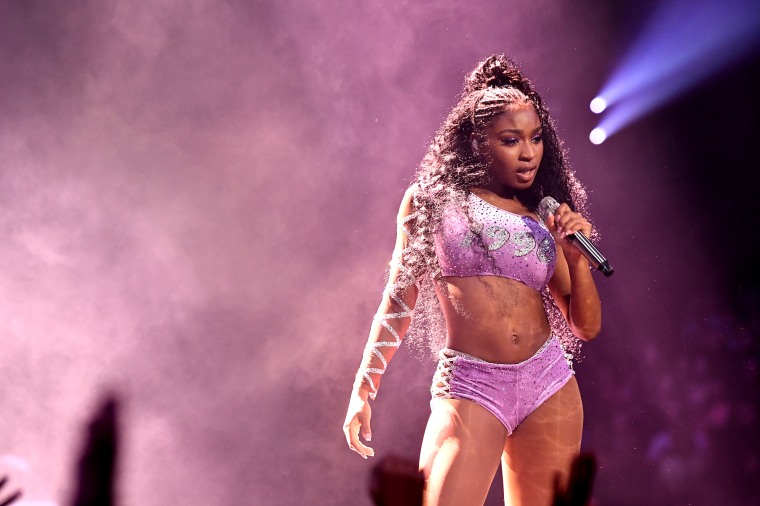 Normani, a singer formerly of the group Fifth Harmony, performed her popular song "Motivation," for which she released her music video earlier this month.
The video shows off Normani's killer dance moves, and on Monday she brought her one-of-a-kind style to the stage.
Normani began the performance sitting atop a basketball rim with the word "Motivation" written across the backboard.
The crowd was on its feet as Normani danced in front of a set that looked like a neighborhood basketball court — a nod to the music video, which features a now-viral sequence of Normani performing almost super-human moves with a basketball.
"The reaction has been really positive and incredible. I didn't expect it to be as massive as it was," Normani said of the music video in an interview with MTV ahead of the performance.
In that interview, she also confirmed that the basketball scene in her music video was real and not CGI.
Miley Cyrus gives emotional performance after splitting with Liam Hemsworth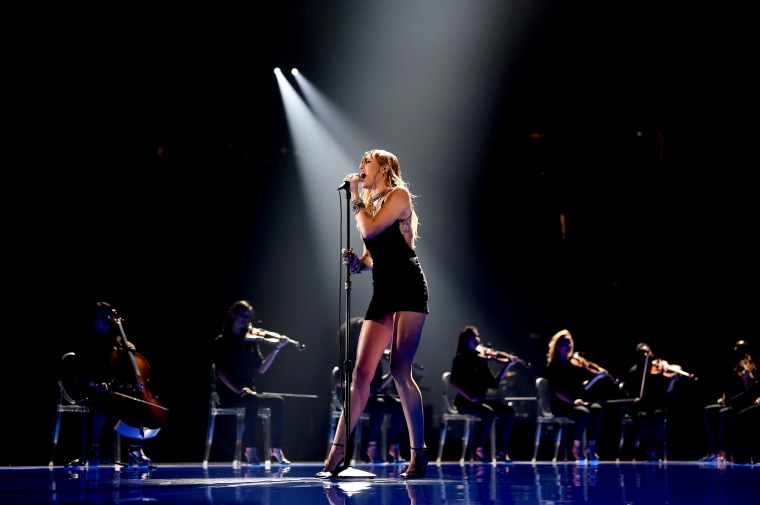 Miley Cyrus performed her new song "Slide Away" during Monday night's VMAs. The ballad is a breakup song, which echos her own recent split from husband Liam Hemsworth.
The performance was shown in black and white as Cyrus crooned lyrics like, "Baby, we were found, but now we're lost. So it's time to let it go."
Cyrus has been public about her split from Hemsworth, tweeting about the break up as recently as Thursday.
Her performance at the VMAs appears to be her first televised appearance since the couple announced that they had ended their relationship. Monday also marked six years since Cyrus performed at the VMAs with singer Robin Thicke, when Cyrus performed her song "We Can't Stop," shed her Disney star persona and twerked her way into pop culture history.
Cyrus also debuted a new tattoo during the Monday night performance — a lyric from the Pixies' song "The Thing," which reads, "My head was feeling scared, but my heart was feeling free."
Taylor Swift accepts the award for 'Video of the Year'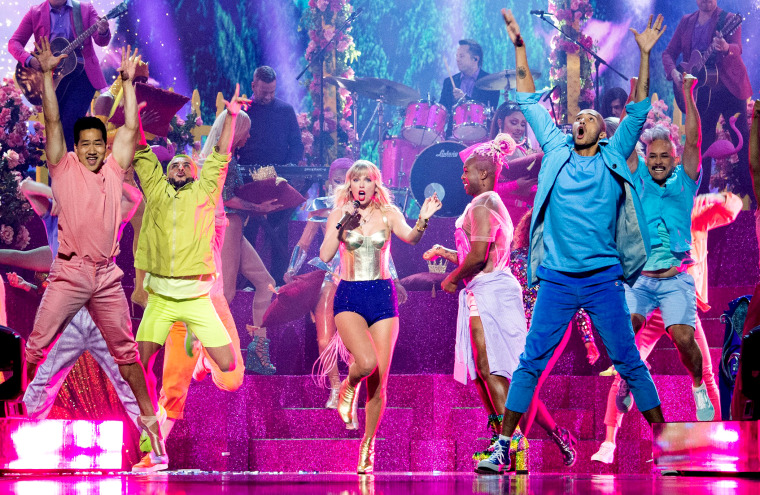 Taylor Swift is no stranger to the VMAs. It was 10 years ago, when Swift accepted the award for best female video, that rapper Kanye West notoriously interrupted her acceptance speech to declare that Beyoncé had "one of the best videos of all time."
The 2019 VMAs were clearly less noteworthy for Swift, who took home the award for video of the year for her song "You Need To Calm Down," without interruption.
Swift took time during her speech to recognize that the award was specifically fan-voted, thanking her following for endorsing her message of acceptance.
"You voting for this video means that you want a world where we're all treated equally ... regardless of who we love, regardless of how we identify," Swift said.
Swift also mentioned a petition that appears at the end of her video, endorsing the Equality Act.
"I want to thank everyone who signed that petition because it now has half a million signatures, which is five times the amount that it would need to warrant a response from the White House," Swift said to cheering fans, as she tapped an imaginary watch.
The singer has been notably quiet on political issues in the past, but with the release of the music video for "You Need To Calm Down," which features a range of prominent LGBTQ figures, Swift made clear her stance as a proponent of inclusion and equal rights.