Warning: This article includes "And Just Like That" Season 2 finale spoilers.
Samantha Jones, the ever-iconic and fan-favorite character from HBO's "Sex and the City," made her highly anticipated return to the franchise during the Season 2 finale of "And Just Like That" on Thursday.
Samantha — the confident, fashionable and high-flying public relations exec played by Kim Cattrall — was part of the fierce foursome that made up original cast of "SATC."
But Cattrall has been absent from revival, and fans have clamored for her return. In May, it was revealed she would reprise her character in a cameo.
Fans were not let down when Samantha returned to the screen Thursday, giving viewers a peek at her new life in England.
In the finale, Carrie Bradshaw, played by Sarah Jessica Parker, gets a call from Samantha, who says her flight from London's Heathrow Airport to New York is delayed.
Carrie was hosting a dinner party at the Upper East Side apartment she lived in for "SATC" and returned to in "AJLT," which she's finally selling.
Dressed in a silver trench coat and a red dress, with a green Fendi purse and sparkling jewelry, Samantha says: "I won't be able to make it there in time. ... The last supper. Miranda and Charlotte told me all about it. I was going to surprise you."
"Oh, my gosh, well, you did. I'm very surprised," Carrie responds, suggesting they spend time together the following day.
"Honey, I just left Heathrow. I was flying back on the first flight in the morning," Samantha says. Carrie, aghast, responds: "Wait a minute, you were flying all the way to New York for an overnight?"
"Well, it is your apartment, and I have to pay my respects," Samantha says, asking to be put on speaker.
"Thank you for everything. You f---ing fabulous, fabulous flat," she said in a British accent.
Carrie points out the accent, and Samantha quips: "Who's Samantha? This is Annabelle Bronstein!" referring to an episode in "SATC" Season 6 in which Samantha assumed the identity of Bronstein to gain access to the exclusive Soho House.
"Ta and cheerio," Samantha says before she returns to her normal voice with a final "and have a great night."
Fans were overjoyed to see Samantha grace their screens once again. 
"I'm not crying, you're crying. We love you, Samantha Jones," a Twitter user wrote. Another user called the cameo the "Best 1 minute 20 seconds of the entire 2 seasons!"
"It may have only been for a minute but one of my favorite television characters returned tonight. Regardless of what happened in real life, this moment you could tell was for the fans" another added.
"She's an enigma. She really was the heart of the series," a fan said.
Fans grew attached the chemistry of the "SATC" foursome — played by Parker, Cattrall, Cynthia Nixon as Miranda Hobbs and Kristin Davis as Charlotte York — and Cattrall was sorely missed when the new series launched without her.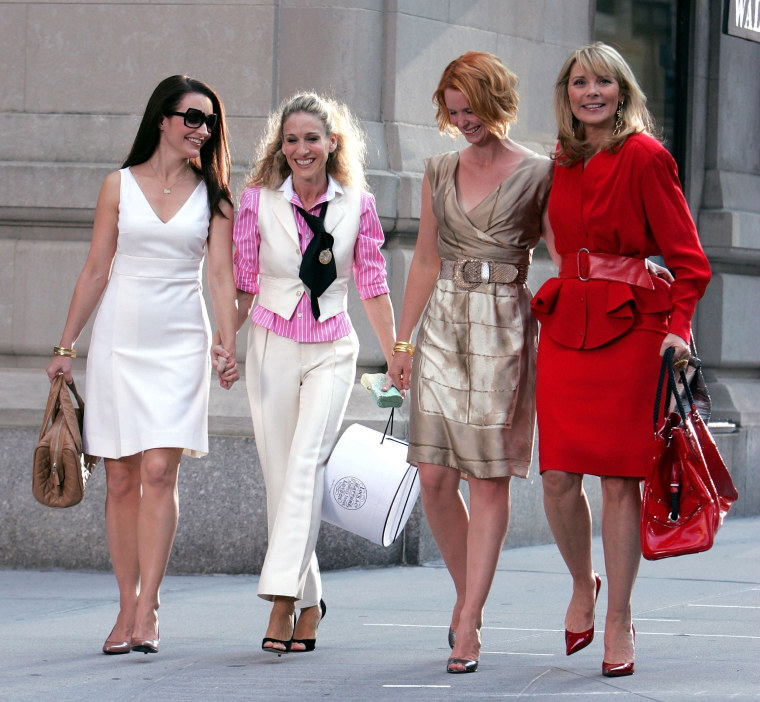 Cattrall has said she turned down the role of Samantha three times. Little did she know that Samantha would become a TV screen legend: a sex-positive, successful businesswoman with unabashed confidence and an exquisite wardrobe.
Perhaps even more exquisite was her way with words; she delivered lines like: "I love you, but I love me more"; "Honey, you know me, I don't really believe in marriage; now Botox on the other hand, that works every time"; and "I don't believe in the Republican Party or the Democratic Party; I just believe in parties."
Cattrall has been vocal about stepping away from the part. In 2017, she turned down a script for a third movie. 
"It's a great wisdom to know when enough is enough," Cattrall told Variety in May 2022. "I also didn't want to compromise what the show was to me. The way forward seemed clear."
In that interview, she said she was never asked to be part of the revival. Asked whether she watched "AJLT," she said: "I certainly heard about it. And I've come to the conclusion that really the greatest compliment I could have as an actor is to be missed."