LOS ANGELES Action movie "The Bourne Legacy," with new star Jeremy Renner, raced to the No. 1 spot on U.S. and Canadian box office charts with an estimated $40.3 million in ticket sales over the weekend.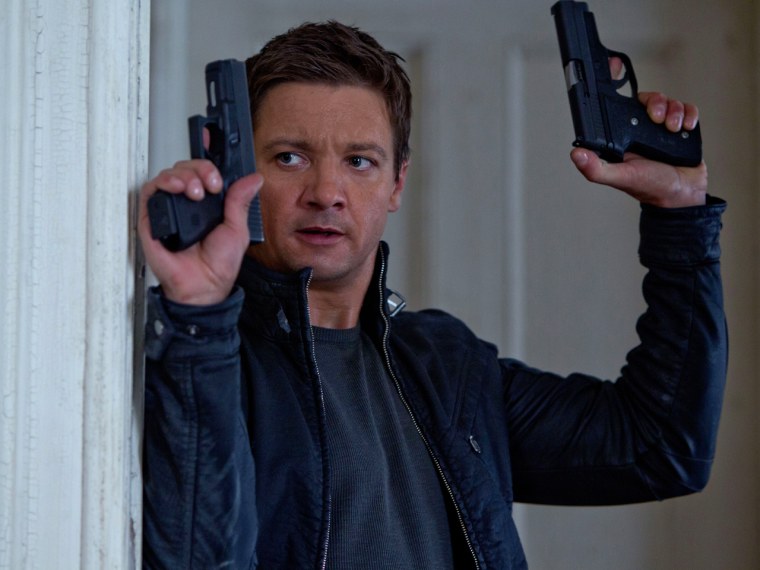 New adult comedy "The Campaign" debuted in second place, winning $27.4 million at domestic theaters. The two new movies knocked three-time box office champion "The Dark Knight Rises" to third place.
"Bourne Legacy" is the fourth movie in the spy franchise that previously starred Matt Damon and has grossed nearly $1 billion around the world. Damon played a CIA assassin with memory loss who tried to discover his true identity while evading the CIA's attempts to kill him.
Universal cast Renner in the new movie in an effort to reboot the series for future sequels. Renner plays agent Aaron Cross, who tries to escape his CIA pursuers with the help of genetic scientist Marta Shearing, played by Rachel Weisz.
Universal and privately held Relativity Media produced "Bourne Legacy" for about $125 million. Opening weekend sales beat Universal's projections for a $35 million debut.
Nikki Rocco, Universal Pictures' president of domestic distribution, said the film performed as expected, and that the studio was happy with its opening weekend.
"It's a validation, it's a successful rebooting of the franchise," she said, adding that it gives Universal an opportunity to continue the Bourne saga.
"The Bourne Legacy" nabbed $48.1 million worldwide over the weekend, bringing its global total to $88.4 million.
"The Campaign" also exceeded pre-weekend forecasts, which had the film debuting with around $20 million. The movie stars Will Ferrell and Zack Galifianakis as two candidates facing off against each other in a race for U.S. Congress.
Dan Fellman, president of theatrical distribution for Warner Bros., said the political comedy played especially well in Washington and Boston as the U.S. presidential campaign gets into full swing.
"We think that the real campaign will add to our 'Campaign'," he said.
"Dark Knight Rises," the final movie in a Batman trilogy starring Christian Bale, took in $19.5 million at North American (U.S. and Canadian) theaters over the weekend. The blockbuster has grossed over $390 million in the U.S. and Canada since its July 20 debut.
"Hope Springs," a new romantic comedy/drama, finished the weekend in the No. 4 spot with $15.6 million. The film stars Meryl Streep and Tommy Lee Jones as an aging couple trying to bring a spark back to their marriage.
"Hope DOES spring," said Rory Bruer, president of distribution at Sony, who expects the film to continue to play well among older audiences.
In fifth place, family film "Diary of a Wimpy Kid: Dog Days" earned $8.2 million during its second weekend in theaters.
Despite doing well overseas, science-fiction reboot "Total Recall" took in a meager $8.1 million its second weekend, taking a tumble from its tepid $26 million opening.
Comcast Corp's Universal Pictures released "Bourne Legacy." "The Dark Knight Rises" and "The Campaign" were distributed by Warner Bros., a unit of Time Warner Inc.. Sony Corp's film studio released "Hope Springs," and News Corp's 20th Century Fox studio distributed "Diary of a Wimpy Kid."
Related content: