Britney Spears says she had an abortion after getting pregnant with Justin Timberlake, a revelation from an excerpt of the pop star's upcoming memoir published Tuesday by People magazine.
"Justin definitely wasn't happy about the pregnancy," Spears wrote about her pregnancy with then 18-year-old Timberlake in her memoir. "He said we weren't ready to have a baby in our lives, that we were way too young."
Spears was 17 when she started dating Timberlake in 1999, and the pair were together until 2002. In her memoir, "The Woman in Me," the 41-year-old singer describes meeting Timberlake when she was 11 on the set of 'The Mickey Mouse Club," and her first kiss with him during a game of Truth or Dare.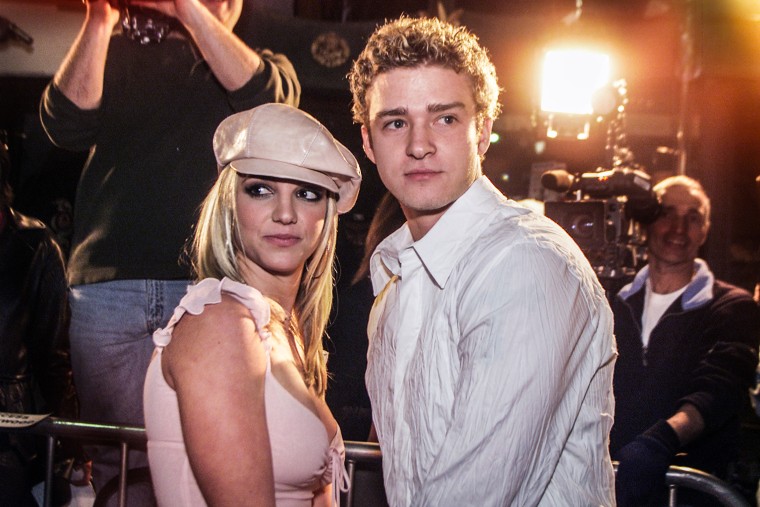 Representatives for Spears and Timberlake did not immediately respond to NBC News requests for comment.
"The Woman in Me" will be released Oct. 24. The title comes from Spears' reflections on her "soul-crushing" 13-year conservatorship under her father James "Jamie" Spears. In addition to taking away her power to make her own medical and financial decisions, Spears said it "stripped her of her womanhood."
"The woman in me was pushed down for a long time," Spears wrote in the excerpts published by People. "They wanted me to be wild onstage, the way they told me to be, and to be a robot the rest of the time."
Spears also gives insight behind the open court testimony she made against her father in June 2021, writing that her father often told her she looked fat, infantilized her and became the "death" to her creativity as an artist. Caught in a world that did not allow her to be an adult, Spears said she acted like a little girl in response.
She was first put under conservatorship in 2008 after she had a public breakdown and was placed under psychiatric holds. In her memoir, Spears said shaving her head and acting out were her ways of pushing back against a childhood where she was told what others thought of her body at every turn.
Spears' memoir also describes brief periods of teenage normalcy during her childhood in Kentwood, Louisiana, which took place in between her star performances.
"Already within me was a push-pull: part of me wanted to keep building toward the dream; the other part wanted me to live a normal life in Louisiana. For a minute, I had to let normalcy win," wrote Spears.
At 15, she signed a record deal with Jive Records, and released record-smashing albums "Baby One More Time" and "Oops!... I Did It Again." Spears' memoir details her thoughts behind iconic moments in her career, like when she performed 'I'm a Slave 4 U' at the 2001 VMAs using a snake as a prop.
She also describes acting in the 2002 coming-of-age film "Crossroads," and her struggles separating herself from the characters she played on-screen.
"Living that way, being half yourself and half a fictional character, is messed up," Spears wrote. "After a while you don't know what's real anymore."
Spears' conservatorship was officially terminated in November, 2021. In her memoir, she said her new found freedom meant she's had to construct a whole different identity for herself as a confident woman instead of as a passive girl.