Drew Barrymore is now joined by Bill Maher and "The Talk" in delaying their returns to television after criticism of their decisions to resume production while the Hollywood strikes are still going on.
Barrymore announced Sunday via her Instagram account that after receiving blowback from her decision to resume production, she's decided to press "pause."
"I have listened to everyone, and I am making the decision to pause the show's premiere until the strike is over," Barrymore wrote." I have no words to express my deepest apologies to anyone I have hurt and, of course, to our incredible team who works on the show and has made it what it is today."
She went on to add, "We really tried to find our way forward. And I truly hope for a resolution for the entire industry very soon."
CBS Media Ventures voiced support for Barrymore's decision to reverse course.
"We support Drew's decision to pause the show's return and understand how complex and difficult this process has been for her," a CBS Media Ventures spokesperson said in a statement.
The news comes one week after Barrymore announced she would be bringing back "The Drew Barrymore Show" even though she had walked away from hosting the MTV Movie & TV Awards just days into the strike.
Barrymore received criticism from fellow actors and the Writers Guild of America, which represents 11,000 writers in television, movies and other creative media, that has been on strike since May, demanding higher wages as well as clearer provisions in their contracts around artificial intelligence. 
Barrymore posted a since-deleted video of herself tearfully explaining why she was bringing the show back. In the comments section, actor Debra Messing wrote, "I hope you will reconsider."
The National Book Foundation also rescinded its invitation for Barrymore to host its annual book awards following her decision.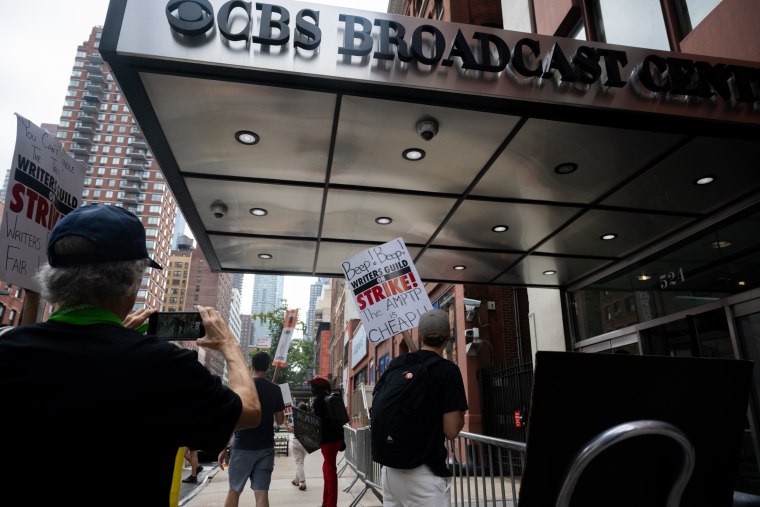 When Barrymore announced that she would be bringing her show back, she wrote on Instagram, "I own this choice. ... We are in compliance with not discussing or promoting film and television that is struck of any kind."
A spokesperson for the Screen Actors Guild-American Federation of Television and Radio Artists told NBC that the talk show's return did not violate the ongoing strike.
SAG-AFTRA, a guild representing more than 160,000 actors and others in the entertainment industry, also went on strike in July. 
Maher, who was set to resume his show "Real Time With Bill Maher," said Monday that he would delay production in respect of the strikes.
"My decision to return to work was made when it seemed nothing was happening and there was no end in sight to this strike," Maher wrote on X. "Now that both sides have agreed to go back to the negotiating table I'm going to delay the return of Real Time, for now, and hope they can finally get this done."
The WGA posted on social media last week that Maher was obligated not to perform writing services as a member of the union.
"Bill Maher's decision to go back on the air while his Guild is on strike is disappointing. If he goes forward with his plan, he needs to honor more than 'the spirit of the strike,'" the union wrote.
As a result of the dual strikes, most TV shows, including talk shows such as "The Tonight Show Starring Jimmy Fallon" and "The Late Show with Stephen Colbert," which rely on teams of writers, have been dark for months.
Following Barrymore's announcement Sunday "The Talk," another daytime TV show on CBS, announced that it will be pausing its season premiere scheduled for Monday.
"We will continue to evaluate plans for a new launch date," the statement read.
Sherri Shepherd addressed the strikes during her show's season two premiere Monday, explaining that her show has never employed WGA writers. Therefore, "Sherri" resuming production is not crossing the picket line, she said.
She added that she hopes for a resolution soon, as her "heart is breaking for all of the people that can't work right now."
"I stand in solidarity with my union," Shepherd said on the show. "One of the things that we're fighting for is better residuals. … residuals during times that I was not working kept the lights on. My residual payments helped me care for Jeffrey when he was born at 25 weeks."