John Cusack hasn't been shy about his own liberal politics, but the actor plans to play conservative radio host Rush Limbaugh in a big-screen movie, Cusack confirmed on his Twitter feed.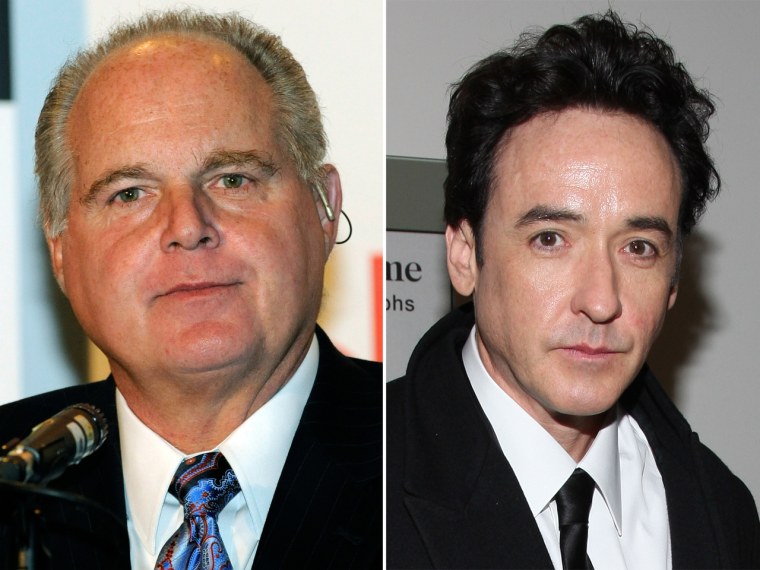 Deadline.com and The Hollywood Reporter both ran articles on the film. Cusack wrote in response, "these guys all jumped the gun," but confirmed the project was in development from his own production company.
"Script not done -- (we'll) see what (it) looks like -- could be good," Cusack wrote. Betty Thomas, who focused on another radio host when she directed the 1997 Howard Stern biopic "Private Parts," is directing the film. More recently, the former "Hill Street Blues" star directed "Alvin and the Chipmunks: The Squeakquel."
One of Cusack's Twitter followers challenged him on the Limbaugh movie, saying it would give the controversial host unneeded publicity. Cusack responded by saying the film "would be about the power and history of talk radio," adding that "what (Limbaugh) says is on record."
A statement from Cusack's company says "New Crime Productions and John Cusack are currently considering a project about the larger-than-life radio personality, Rush Limbaugh," adding that "the script would explore the rise and reinvention of American Talk Radio, and Limbaugh's continued influence and impact over the last three decades in that world."
The movie, which The Associated Press reports would be called simply "Rush," would begin production in 2013. No release date has been announced.
Related content: