The Writers Guild of America is expected to resume talks with Hollywood studios Wednesday, more than four months after writers went on strike after failed contract negotiations, the union said Monday.
"You might not hear from us in the coming days while we are negotiating, but know that our focus is getting a fair deal for writers as soon as possible," the guild said in a message to its members.
"In the meantime, please continue to demonstrate your commitment and unity by coming out to the picket lines — for yourselves and fellow writers, SAG-AFTRA, other unions' members, and all those in our community who are impacted by the strikes," the guild said.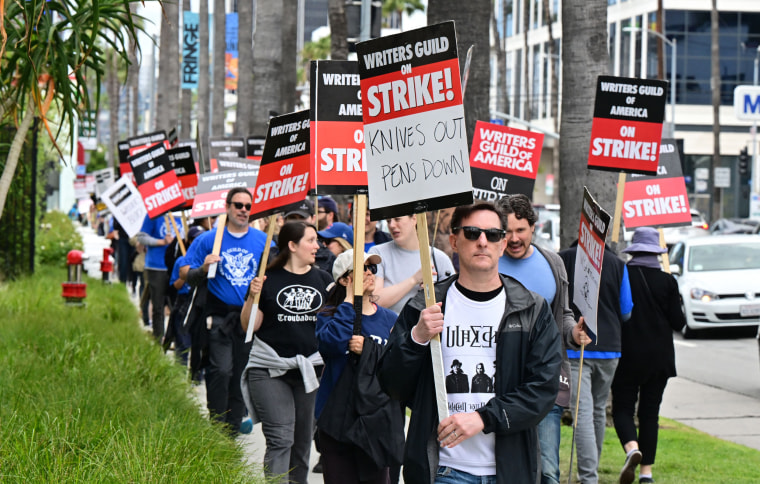 The talks are expected to "last several days" and the Alliance of Motion Picture and Television Producers is not expected to have revised its previous offer from August, a source familiar with the negotiations told NBC News.
AMPTP did not immediately respond to a request for comment. AMPTP represents studios, streaming services and production companies in union negotiations. (The group represents NBCUniversal, the parent company of NBC News.)
WGA, which represents 11,000 writers in television, movies and other creative media, has been on strike since May over issues including higher wages, job security and clearer provisions in contracts around regulating the use of artificial intelligence.
Separately, SAG-AFTRA, a guild representing more than 160,000 actors and others in the entertainment industry, went on strike in July. 
News that WGA negotiations would resume comes after some TV shows received criticism for planning to return to air while the strikes are ongoing. Drew Barrymore, Bill Maher and "The Talk" have since walked back previously announced plans to return.
Maher, who had announced he would resume his show "Real Time With Bill Maher," said Monday that he would delay production out of respect for the strikes.
"My decision to return to work was made when it seemed nothing was happening and there was no end in sight to this strike," Maher wrote on social media. "Now that both sides have agreed to go back to the negotiating table I'm going to delay the return of Real Time, for now, and hope they can finally get this done."
The WGA said on social media last week that "Bill Maher's decision to go back on the air while his Guild is on strike is disappointing. If he goes forward with his plan, he needs to honor more than 'the spirit of the strike.'" 
Last week, Barrymore announced she would be bringing back "The Drew Barrymore Show" even though she had walked away from hosting the MTV Movie & TV Awards days into the strike.
"I have listened to everyone, and I am making the decision to pause the show's premiere until the strike is over," Barrymore wrote Sunday on social media. "I have no words to express my deepest apologies to anyone I have hurt and, of course, to our incredible team who works on the show and has made it what it is today."
"I truly hope for a resolution for the entire industry very soon," she said.
CBS Media Ventures said it supported Barrymore's decision.
"We support Drew's decision to pause the show's return and understand how complex and difficult this process has been for her," a CBS Media Ventures spokesperson said in a statement.