Alec Baldwin hosted "Saturday Night Live" for a record 17th time this weekend to remind viewers he's more than just a President Donald Trump impersonator.
Although the actor was sans wispy blonde wig and orange-tinted makeup for the majority of the episode, the show did not hold back on hitting Trump, who they referred to in one sketch as a "TV president."
The show skipped its usual Baldwin-as-Trump cold open to allow the host to deliver his monologue clean-faced. Instead, Melissa McCarthy returned for an encore performance to open the show as White House Press Secretary Sean Spicer after her much-lauded surprise cameo last week.
"I would just like to announce I am calm now," McCarthy said before launching into a feat of physical comedy that matched her first appearance lampooning Spicer.
"I've been told to cut back on the gum," McCarthy said in a nod to the actual Spicer's response to the "Ghostbusters" star's portrayal of him.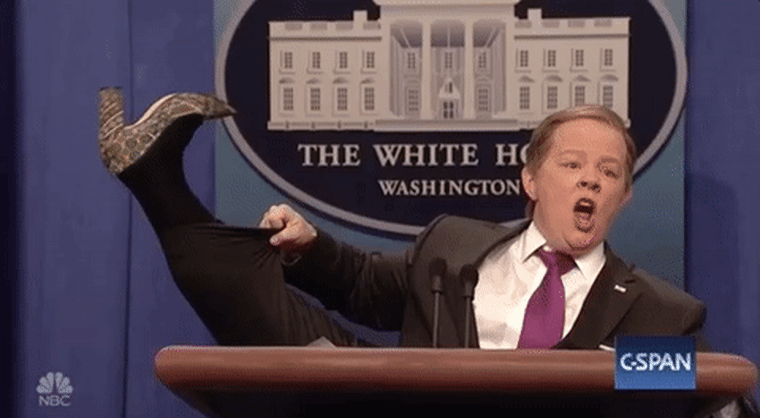 McCarthy went on to stuff an enormous stick of gum into her mouth, attack a reporter with a leaf blower, and lift her leg high into the air to show off a pair of Ivanka Trump-brand heels during an infomercial to shill for the first daughter after Nordstrom declined to pick up her fall line.
RELATED: A Look at Alec Baldwin's Epic 'SNL' Hosting Career
Kate McKinnon also appeared in the sketch in her debut portrayal of an elf-like version of new Attorney General Jeff Sessions.
RELATED: Paper Mistakenly Runs Photo of Alec Baldwin on 'SNL' Instead of Trump
Baldwin showed up as Trump more than halfway into the show in a sketch that saw Trump appearing as a plaintiff on "The People's Court" against the three 9th U.S. Circuit Court of Appeals judges who ruled against him this week.
"You understand this is a TV court," Cecily Strong as Judge Marilyn Milian asks Trump in the sketch.
"That's OK, I'm a TV president," Baldwin as Trump responds after accusing the federal judges of being mean to him. He goes on to bring out a bare-chested Vladimir Putin as a character witness.
"You're doing too much! I want one day without a CNN alert that scares the hell out of me," the exasperated judge yells at Trump at one point, earning an applause break from the live studio audience.
Cast member Leslie Jones also got a chance to don the blonde wig in another digital short that saw her pitching herself as Baldwin's replacement to play Trump when the actor grows tired of his side gig. Jones' co-star Vanessa Bayer also briefly appears as Trump in the sketch. Rumors swirled earlier this week that White House insiders were upset that Spicer had been played by a woman, with some fans calling on the show to pepper Trump's cabinet with even more women.
A sketch this week that provoked mixed reactions featured Kate McKinnon as Kellyanne Conway in a send-up of Glenn Close's character from the movie "Fatal Attraction." The counselor to the president, who has had a tough media week, breaks into the home of CNN's Jake Tapper.
"I just want to be part of the news," Conway yells at the startled Tapper, who earlier this week declined an offer from the White House to have her on his Sunday politics program "State of the Union," citing her lack of credibility after the "Bowling Green massacre" incident.
McKinnon's Conway has transformed since the election from a put-upon workaholic to a spotlight-obsessed maniac. The end of the pre-taped sketch sees Conway fall out a window and crash to the sidewalk, only to get up and pop broken limbs back into place, announcing: "I'm OK, but I only have three lives left."
Some on social media criticized the sketch, claiming that its portrayal of Conway went too far in sexualizing the White House adviser.
And some even thought it could work as political ammunition for the Trump administration.
Trump himself has not yet tweeted about the episode or Baldwin as he has in the past, calling the show unwatchable. Viewers disagree. The show's ratings this season have been its best in more than 20 years, seeing a 22-percent increase in total viewers this season over last, according to TVLine.