The wet and windy storms that have slammed California with floods, mudslides and traffic snarls are bringing at least a momentary sigh of relief from water users across the western U.S. That's because the storms also dumped several feet of snow in the Sierra Nevada — and mountain snowpack is a chief supplier of water for agricultural, industrial, and domestic uses throughout the region.
But according to a state measurement, that snowpack as of Thursday was only 50 percent of normal — and Washington and Oregon are even worse off.
The lack of snow fits with what some scientists see as a long-term slide in the amount that piles up each year, though the trend's size and significance are debated. For some, the decline hints at a future with less water to irrigate crops, brew beer and take showers as well as keep wildfires and insect pests at bay.
While California's snow has allowed some ski resorts to open and the rain has raised water levels in some reservoirs, experts caution the storms are insufficient to end a multiyear drought. The state has an 11 trillion-gallon water deficit in two key river basins, according to an analysis of NASA satellite data presented at a meeting in San Francisco this week.
In Washington, snowpack currently is 34 percent of normal, according to data from the U.S. Department of Agriculture's Natural Resources Conservation Service. Oregon is 33 percent of normal.
"Roughly 70 percent of sites (in the western U.S.) that have long-term measurements have posted decreases in April 1 snowpack," Phil Mote, a climate scientist at Oregon State University in Corvallis who sees the fingerprint of warming temperatures in the snowpack's decline, told NBC News. "And roughly 30 percent have posted increases. So there is an imbalance."
The downward trend, he noted, is strongest in the mountains of California, Oregon and Washington, where warmer temperatures are causing average snow levels to creep higher. That means, at lower elevations, more precipitation falls as rain rather than snow, as long predicted by climate scientists.
Further inland, he explained, temperatures are generally cool enough that the snow levels aren't rising due to warmer temperatures. Any snowpack changes there are related to changes in the amount of precipitation that falls.
Flakey science
"We are seeing somewhat of a slight decline in snowpack," Scott Pattee, a water supply specialist with the Natural Resources Conservation Service in Mount Vernon, Wash., told NBC News. However, he added, the change is "not huge" albeit incredibly tricky to accurately and adequately monitor.
That's largely because environmental conditions at any given measurement site change over time. As forests grow, for example, more flakes pile up in the trees and fewer accumulate on the ground. By contrast, a site in an area that gets logged or burned receives more sunlight and snow melts faster.
Such factors caused Pattee and others to question Mote's snowpack analyses in the early 2000s, which raised alarms among policymakers in the Pacific Northwest. In updated research Mote presented this September at a climate conference in Seattle, he addressed those concerns in part by cross-checking the results with a hydrological model of the snowpack in which the forests are fixed through time.
"When we do that, we get a very broad correspondence between the answers out of the hydrology model and answers from observations," Mote said. "Namely, roughly 70 percent of April 1 locations have declined."
Determining how much those sites have declined is still being studied "but it is enough that water resource managers are at least paying attention to the issue," he added.
Snowpack concerns overblown?
For Pattee, the biggest concern is the potential for an earlier spring runoff, which means less water available for summer irrigation. Fortunately, he said, "we are not really seeing that much of that, at least up here in the Pacific Northwest."
But if the current downward trend in snowpack continues, he noted, there are likely to be urgent calls for increased water storage, which faces budget, environmental and political constraints. "It takes years and years and years just to possibly get permission to increase storage on an existing reservoir let alone build a whole new infrastructure," he said.
The alternative, he added, is to use existing water supplies more efficiently, such as implementing precision irrigation on farms and persuading city folk to let lawns turn brown, take shorter showers and forgo the tri-weekly carwash.
So far, conservation has made up for any shortfalls in the snowpack and kept pace with demands of a growing population along the West Coast. And those behavioral changes tend to stick even during wet years. "It is a whole mindset," Pattee explained. "You finally get people convinced that they don't have to wash their car three times a week and they will quit washing their car three times a week."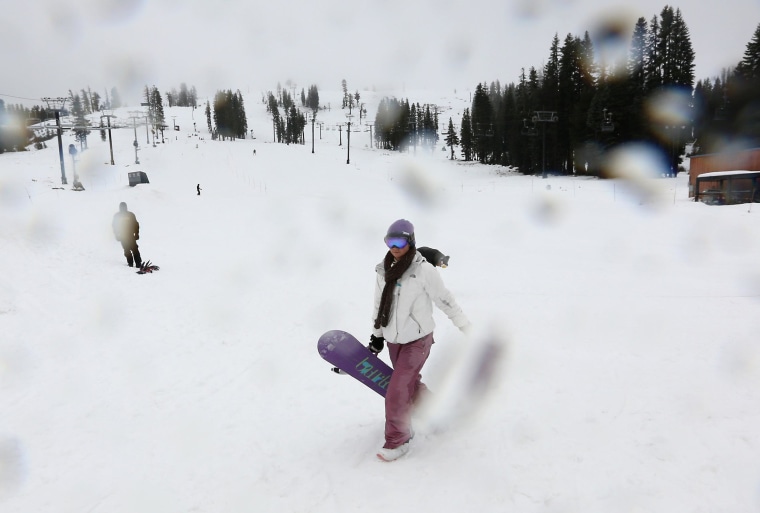 Black carbon
Even more snow may be melting thanks to black carbon — particles of soot and dust from sources such as diesel engines, cooking fires and ploughed-up farm fields. Winds carry the particles to snowfields and glaciers where they darken the snowpack, allowing it to absorb more of the sun's energy and melt faster.
Few studies exist on the effect of this black carbon deposition on the snowpack, but research in Washington's Cascade Range suggests that it is "an important component of the energy balance that is affecting how quickly (the snow) melts," Susan Kaspari, a geologist at Central Washington University in Ellensburg who is studying the issue, told NBC News.
At her low-elevation forested research site, she noted, black carbon accumulates and concentrates in the springtime, but not enough to drive the melt signal. The bigger concern is higher elevation snowfields and glaciers where black carbon accumulates through the summer. "We are seeing concentrations high enough that it could be a more important forcer of the melt," she said.
In other words, low-elevation snowpack is on the decline due to rising snow levels and high elevation snowpack could dwindle faster due to increased black carbon deposition, essentially squeezing the water supply from both ends.
Storms that count
Pattee with the Natural Resources Conservation Service sees the hand of climate change in the snowpack trends, but noted that "we've only been measuring in the Pacific Northwest since the late (19)30s. It is really not that long of a period of time, it is only 80 years of doing it and so how scientifically significant is that? We don't know. We can't really say."
What can be said is that the snowy weather starting to hit some western mountains is just the beginning of a long winter. A lot can happen between now and April 1, the traditional time of peak snowpack and what water managers measure to plot multiyear trends.
Snows that fall this time of year can easily be wiped out by rains or a stretch of warm and sunny weather, and thus amount to nothing when it matters, noted Mote. On the flip side, he added, "you can get through a really bad winter and then have enough snow in the spring to at least avert disaster in the summer."