Michael Walker, Hawaii's fire protection forester, urged state lawmakers last year to make a relatively meager financial commitment to boost wildfire preparedness: about $1.5 million.
That money, in the form of a bill that would have funded new firebreaks, livestock grazing and water infrastructure for firefighting, was meant to ensure some safety from the nonnative and highly flammable grasses that cover a large part of  Hawaii. 
The bill died in committee. 
"This is something they've been asking for years and this is the furthest it's ever gotten," said state Rep. Darius Kila, a Democrat who sponsored the bill. "We have to be better about being proactive." 
The fires that last week destroyed Lahaina and killed at least 110 people were driven by some factors outside of local officials' control, like drought conditions and hurricane-strength winds. But the proliferation of quick-burning grass fuels and the lack of action and funding to address them loom as the biggest missed opportunity — and one that highlights the challenges state and local officials face in taking action to head off natural disasters.
Wildfire experts in Hawaii warned for years that overgrown grasses put communities like Lahaina at extreme risk for wildfire destruction, but officials struggled to fund projects and introduce policies used elsewhere in the country to reduce danger. This meant fallow fields often sat unused, providing more land for the grasses to spread — in many cases, the real estate value of land exceeds what farmers can pay to lease it. Mark Thorne, a rangeland scientist and a board member of the nonprofit Hawaii Wildfire Management Organization, said there aren't any incentives or mandates to keep the landscape clear of grasses.
"It was a matter of time before something happened," said Thorne, who added that the winds driving the fire were extreme and the scale of the tragedy could not have been predicted. "In the case of Lahaina, we hadn't taken all the steps we could to reduce the risk."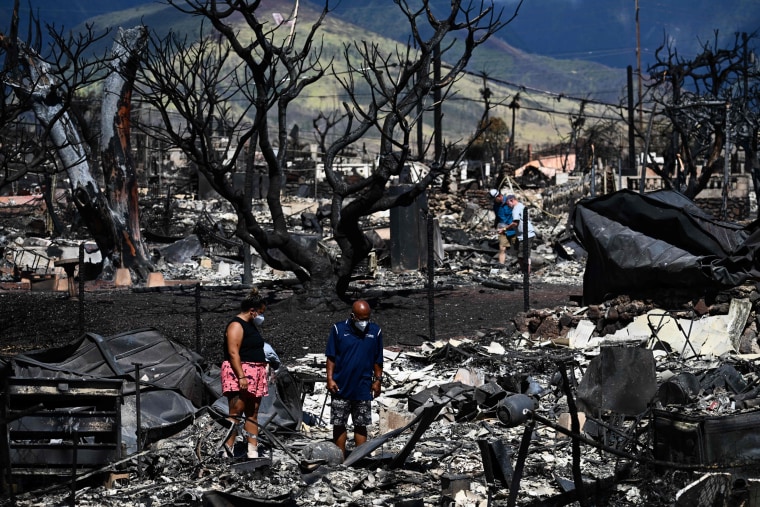 Walker said he could not talk to the media without agency approval. The Hawaii Department of Land and Natural Resources did not respond to questions about its budget or priorities, saying its offices were "engaged in emergency response" and "unable to respond to noncritical media requests." 
Other infrastructure concerns may have hampered efforts to fight the flames that overtook Lahaina. Firefighters said they ran out of water to put out the fire. Hawaiian Electric, the state's largest utility, is facing several lawsuits that claim its delays to grid modernization set the stage for the wildfires and that the utility should have shut off power during the high-wind event to prevent their spread. 
The leeward — dry — side of Maui is no stranger to dangerous weather conditions for fire. An NBC News analysis of National Weather Service data shows that, in the last 17 years, the agency issued 65 red flag warnings or fire weather watches for the area, including Lahaina. 
Native Hawaiian ecosystems are adaptive to wildfire; fires were infrequent before human settlement and the spread of nonnative species. Most of them were introduced decades ago to feed livestock, Thorne said. Other species arrived by accident. The decline of agriculture —  livestock, sugarcane farms and pineapple plantations — has allowed nonnative species to proliferate on the islands. 
In other parts of the U.S., state governments use fenced livestock to graze and clear fire-spreading nonnative grasses. Those techniques were not used at scale in Maui.
"It was a ticking bomb," said Camilo Mora, a climate scientist and professor at the University of Hawaii.
About a quarter of the archipelago's landscape is dominated by nonnative grasses, according to research by Clay Trauernicht, a wildland fire specialist at the University of Hawaii — Manoa, who has repeatedly issued public warnings about the issue in letters to the editor, news stories and research papers. 
A 2014 report by the Hawaii Wildfire Management Organization listed risk from fire to Lahaina as extreme. In 2021, a report on wildfire prevention in Maui suggested officials implement an "aggressive plan to replace hazardous fuel sources with native plants" and that more attention was needed to former sugarcane plantations.
Little has been done to prevent fallow lands from becoming overgrown. These lands are valued as real estate and Thorne said few landowners pay to maintain or reforest them.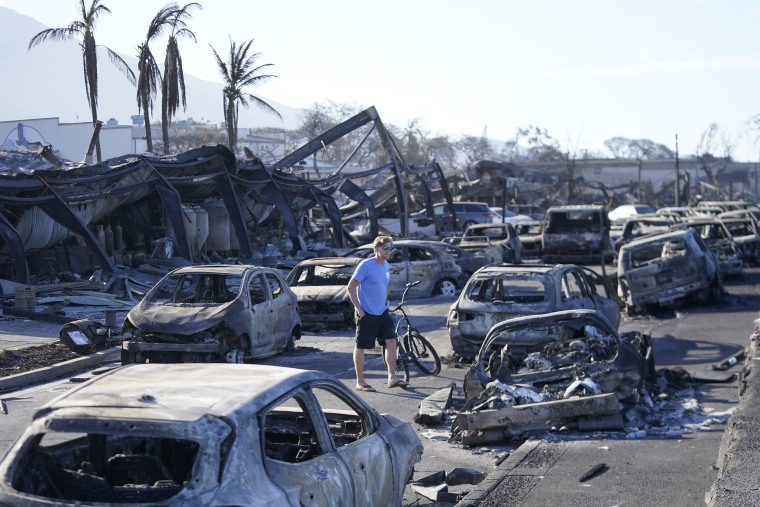 "A lot of these lands, former sugarcane and pineapple lands, the majority of them are sitting fallow," Thorne said. "There's no management whatsoever." 
One nonnative species — guinea grass — can grow 6 inches in a day, according to Walker, the fire protection forester, who spoke about the problem during an April videoconference. When burned, guinea grass can produce 20-foot flames.
Human-caused climate change could be fueling grass growth because of increased atmospheric carbon dioxide, Mora said. 
The grasses grow quickly during rainy stretches, then dry out — and burn if they catch a spark — during periods of drought, like the recent trend on Maui. Research suggests climate change could be intensifying that cycle.
Hawaii's Division of Forestry and Wildlife is the primary responder for wildfire on 26% of Hawaii lands, and it assists county fire departments and federal partners on another one-third of state lands, Walker said on the videoconference. The division is part of the Hawaii Department of Land and Natural Resources, which this fiscal year budgeted about $28 million in its operating budget for natural resources and fire protection, including species conservation, fire suppression and fire prevention, according to Hawaii's state budget. Budget planners estimated the federal government would contribute another $21 million to conservation and wildfire efforts.  
As of April, the agency maintained about 142 miles of firebreaks — strips of cleared or plowed land designed to stop a fire from progressing. 
Scientists say funding levels are insufficient when so much of the landscape is covered by fire-prone fuel. 
"That job is just too huge," Mora said, estimating that the cost of landscape restoration to reduce fire risk could require more than $1 billion. "They're completely underfunded."
Nonprofits struggled to secure money, too. In a 2019 grant application, the Hawaii Wildfire Management Organization wrote that most of its funding came from federal grants for which it had had to compete against "western US states whose wildfire issues are more publicized." The nonprofit added it was asking for state funds after missing out on federal grants for 2019-2021. 
"Because of this fire, we'll pay 10 times over what it would have taken to fix this problem in the beginning," Mora said.