The New Horizons probe is still hurtling through space toward Pluto and Charon, now within 3 million miles (5.4 million kilometers) of the dwarf planet and its largest moon. Every picture taken shows new details, and what were merely dark smears on earlier images have now resolved into (relatively) distinct geological details.
Related: New Horizons' Latest Views Hint at More Mysteries on Pluto and Charon
The "tail" of the dark equatorial region nicknamed the "whale" has what appears to be a large, lighter-colored peninsula and tiny speck of light material, suggesting some kind of complex geology or broken landscape. A "polygonal feature" somewhat north of the equator could be crevasses with shapes governed by shearing minerals or some other, less obvious phenomenon.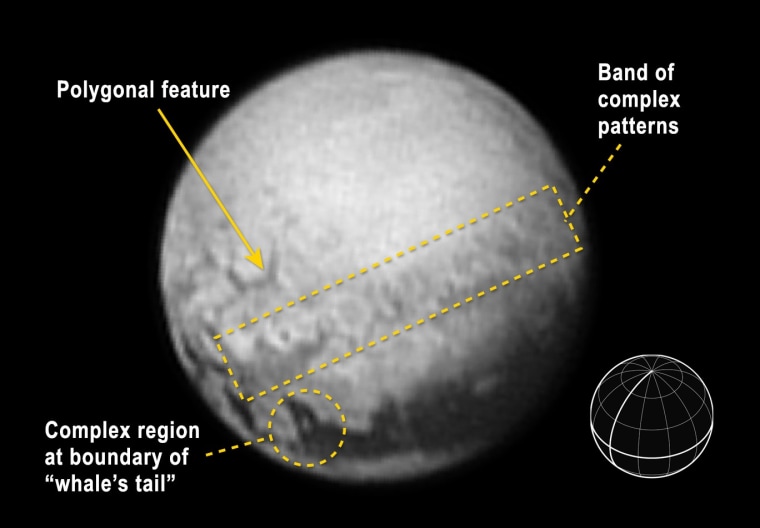 Related: New Horizons Mission Team Cheers Official Start of Pluto Encounter
And the grey noise making up the rest of Pluto's surface is beginning to show details — stippling and stripes that could be craters, seas of frozen gas, or just about anything. "It's a unique transition region with a lot of dynamic processes interacting, which makes it of particular scientific interest," New Horizons program scientist Curt Niebur said Friday in a news release.
The pics are only going to get better. If all goes as planned (and for the most part, things have been), New Horizons will make its closest approach, coming within 8,000 miles of Pluto's surface, on the morning of Tuesday, July 14.