After two scrubbed launch attempts, SpaceX's Falcon 9 rocket finally blasted off on Tuesday to send a commercial satellite where no SpaceX payload has gone before: 22,000 miles up, into geostationary orbit.

An orbit that high allows a satellite to be "parked" over a stable point on Earth's surface — which is why it's favored for the kinds of military and telecom satellites that provide the richest market for commercial launch providers.
The 6,918-pound (2,138-kilogram) SES-8 telecommunication satellite was sent up from Cape Canaveral Air Force Station's Launch Complex 40 in Florida on Tuesday, right on time at 5:41 p.m. ET. Tuesday's smooth countdown came in contrast to the previous launch attempts, on Nov. 25 and 28, when technical glitches frustrated SpaceX's efforts.
The launch could be a "game changer" for the satellite industry, according to Martin Halliwell, chief technology officer for Luxembourg-based SES. "It's going to really shake the industry to its roots," he told reporters last month.
SES reportedly paid less than $60 million for the launch, which is tens of millions of dollars less than the going rate for satellite launches heading for geostationary orbit.
California-based SpaceX and its two-stage Falcon 9 rocket have already made their mark with a series of successful NASA-funded missions to resupply the International Space Station, which flies at an altitude of about 250 miles (400 kilometers). But early versions of the Falcon 9 weren't powerful enough to put large payloads into geostationary transfer orbit, or GTO. Over the past year, the rocket has been upgraded with Merlin 1D engines and other enhancements, with the aim of widening the market for Falcon launches.
The Falcon 9 v1.1 rocket had its first tryout in September, with the launch of the Canadian Space Agency's Cassiope research satellite. That satellite was deployed successfully, but afterward, the Falcon's second-stage engine failed to reignite in a test to reach higher orbit. Relighting the second stage is essential for the success of geostationary satellite launches.
The problem was traced to a frozen igniter fluid line — an issue that didn't turn up during ground testing under warmer conditions. To fix the problem, the company added insulation to the line.
SpaceX said the second-stage engine restarted as planned after Tuesday's launch. "Orbit looks nominal," the company reported in a Twitter update.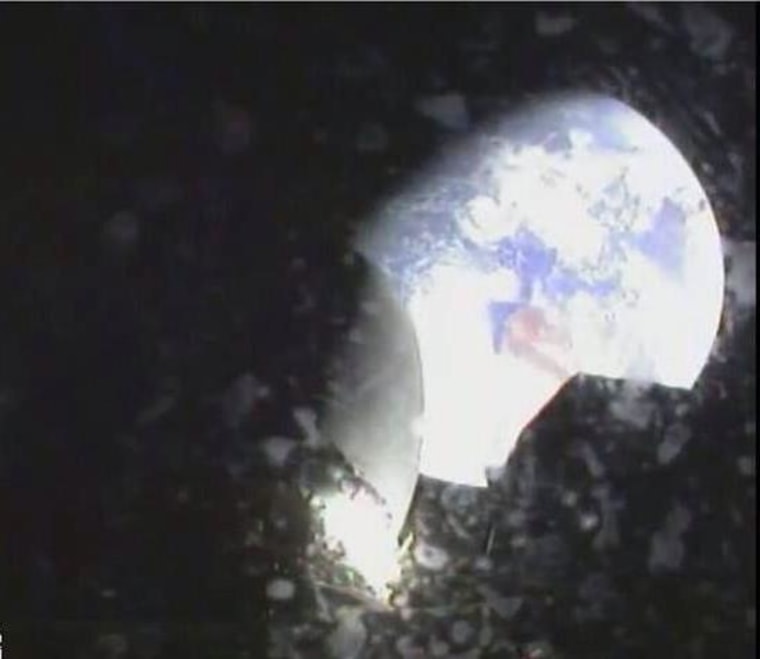 Minutes later, SpaceX announced that the satellite separated from the second stage and was in its proper geostationary transfer orbit, varying in altitude from 183 miles (295 kilometers) to 49,700 miles (80,000 kilometers). That took care of SpaceX's launch responsibility.
SpaceX's billionaire founder, Elon Musk, celebrated the achievement with a tweet: "Restart was good. ... Yes!!"
Over the next couple of weeks, the satellite's thrusters are expected to stabilize the orbit at a steady altitude of 22,000 miles (36,000 kilometers).

The satellite was built for SES by Virginia-based Orbital Sciences Corp. It will broadcast in the Ku-band for South Asia and Indochina, and in the Ka band for the Asia-Pacific region.
SpaceX has a dozen Falcon 9 launches on its manifest for next year, including more geostationary satellites.
Update for 8:54 p.m. ET Dec. 3: In a post-launch news release, SpaceX said the launch met "100 percent of mission objectives."
"The successful insertion of the SES-8 satellite confirms the upgraded Falcon 9 launch vehicle delivers to the industry's highest performance standards," Musk said. "As always, SpaceX remains committed to delivering the safest, most reliable launch vehicles on the market today. We appreciate SES's early confidence in SpaceX and look forward to launching additional SES satellites in the years to come."
The company said that Tuesday's mission counted as the second of three flights needed to certify the Falcon 9 for U.S. Air Force missions under its Evolved Expendable Launch Vehicle program. "When Falcon 9 is certified, SpaceX will be eligible to compete for all National Security Space missions," the company said. 
More about commercial space ventures:
Alan Boyle is NBCNews.com's science editor. Connect with the Cosmic Log community by "liking" the log's Facebook page, following @b0yle on Twitter and adding the Cosmic Log page to your Google+ presence. To keep up with Cosmic Log as well as NBCNews.com's other stories about science and space, sign up for the Tech & Science newsletter, delivered to your email in-box every weekday. You can also check out "The Case for Pluto," my book about the controversial dwarf planet and the search for new worlds.