Lines wrapped around department stores, fights over products and crowds so large they poured out of retailers' front doors all used to be par for the course on Black Friday, remembers Barbara Kahn, a professor of marketing at The Wharton School of the University of Pennsylvania. But over the years, what defined Black Friday — sprinting into stores before sunrise to shop deals that lasted 24 hours only — has changed significantly.
Ever since Black Friday deals have had to compete with Cyber Monday's offerings, they've become available earlier, stuck around longer and increasingly moved online, Kahn says. Instead of having to wait until Black Friday, shoppers can now take advantage of deals during Black November, the broader term experts use to describe the month-long promotions leading up to Black Friday and Cyber Monday.
"Black Friday used to be a trigger for people to go to the store," Kahn says. "But as it's morphed into a general promotional season, Black Friday itself lost its magic — its sense of urgency."
Black Friday, the shopping holiday that takes place every year the day after Thanksgiving, falls on Friday, Nov. 24 this year. Since it's quickly approaching, we spoke to experts about the history behind the shopping holiday and charted how it's changed over the years. Experts also discussed what to expect during the 2023 holiday shopping season and what we learned from years past.
SKIP AHEAD Black Friday 2023 predictions | What is Black November? | Black Friday's impact | How Black Friday got its name
Looking back on Black Fridays of years past
Even before the Covid-19 pandemic, there were signs Black Friday's identity was changing from a predominantly in-store experience to an online shopping bonanza. In 2019, for the first time ever, Black Friday topped Cyber Monday as the busiest day for online shopping, according to the National Retail Federation. From there, circumstances in 2020 only further motivated retailers to reinvent their typical Black Friday offerings by promoting online shopping and transforming days-long sales into months-long savings events. These efforts worked in retailers' favor: for the first time ever, the number of online Black Friday shoppers passed the 100 million mark in 2020, up 8% from 2019, according to the NRF. Retailers approached Black Friday with similar strategies in 2021 and 2022, resulting in comparable trends.
Every year since 2019, Black Friday has surpassed Cyber Monday in terms of total online shoppers, according to the NRF, although people have historically spent more on Cyber Monday than on Black Friday, according to Adobe. This might be a result of messaging on retailers' websites indicating that Cyber Monday is shoppers' last chance to take advantage of deals, or clocks counting down the seconds until it's over, says Dr. Ross Steinman, a professor of consumer psychology at Widener University. Pressure to check out before midnight adds a gamification aspect to the sale and makes shoppers more competitive while deal hunting.
Beyond shopping online, shopping early is altering Black Friday as we once knew it. Discounts leading up to the event give people a long stretch of time to spread out their spending, which may lead to less of a spike in sales on Black Friday itself. This is exactly what happened during Black Friday 2021, the first time growth reversed itself year-over-year — sales totaled $8.9 billion compared to $9 billion in 2020, according to Adobe. 
After Black Friday 2021, experts started closely monitoring the impact of early deals. This was especially important in light of Amazon's first-ever second Prime Day that October, which kicked off the holiday shopping season and caused other retailers to offer their own corresponding savings events. Despite over a month of early deals, however, Black Friday sales were back on track in 2022 — Adobe estimates them to total around $9.12 billion, making Black Friday 2022 the second largest online spending day in U.S. history, second only to Cyber Monday 2022. Such a positive performance last year is thanks in-part to record shopper turnout. During the five-day period from Thanksgiving Day to Cyber Monday, a record 196.7 million Americans shopped in stores and online, making it the highest figure since NRF first started tracking this data in 2017. 
Some attribute growth in retail sales to inflation, but 2022 shopper turnout emphasizes that consumer demand is responsible, according to the NRF. People are more encouraged to shop during Black Friday and Cyber Monday than ever before thanks to in-store and online offerings, ample time to browse deals and an overall hunger for savings opportunities as economic concerns loom.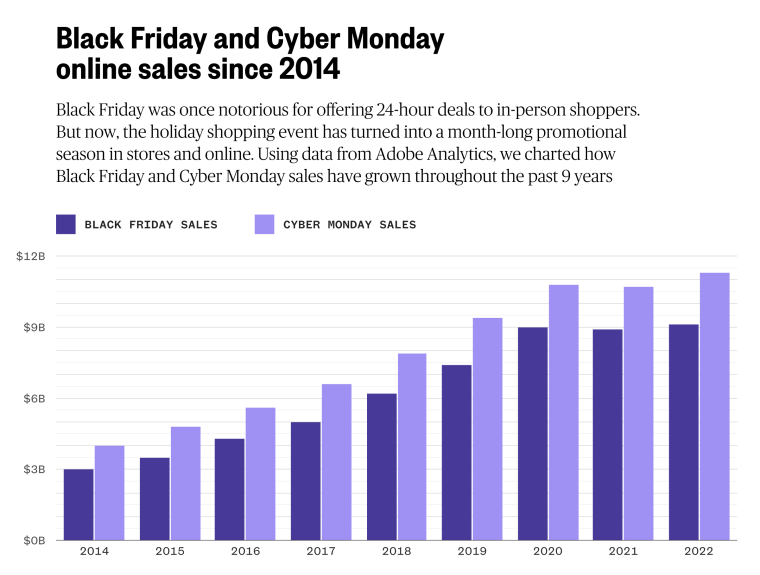 Looking forward to Black Friday 2023
In 2022, inflation was the biggest obstacle surrounding Black Friday and Cyber Monday, and experts were unsure if shoppers' economic concerns would outweigh their enthusiasm for sales. Ultimately, more shoppers took advantage of deals than ever before, and experts predict Black Friday and Cyber Monday sales — and overall holiday sales — will increase in 2023. The NRF expects overall holiday sales this November and December to rise between 3% and 4% compared to 2022, which is a slower rate compared to previous years, but it's consistent with the average annual increase in holiday spending of 3.6% from 2010 to 2019. 
There's no doubt in experts' minds that online shopping will dominate on Black Friday this year, as well as during the overall holiday season. And beyond getting products delivered to their doors, experts say shoppers will continue to take advantage of buy online, pick up in store options, as well as curbside pick up if they want products in their hands the same day they purchase them. Shopping through social media platforms like Instagram and TikTok is also becoming more popular, experts say.
How Black Friday became Black November
Black Friday originated as an in-person shopping experience, unlike Amazon Prime Day and Cyber Monday. Black Friday occurs the Friday after Thanksgiving, a day many businesses historically consider a paid holiday for employees. Because people are at home, retailers began slashing prices on merchandise to draw shoppers into stores, offering discounts on big-ticket items like televisions, electronics and appliances, says Kahn. "Deals had to be worth jumping out of bed and running to the store for, and maybe even waiting in line for a while, too," she says.
Black Friday was also originally meant to be a social shopping experience that people participate in together, says Katherine Cullen, the National Retail Federation's vice president of industry and consumer insights. Families and friends go to stores in groups — in contrast, shopping during Amazon Prime Day and Cyber Monday is a solitary activity you can do on your phone, computer or tablet.
Over the years, retailers began competing with one another to see who could open the earliest on Black Friday. Some, like Walmart, Target, Best Buy and Kohl's, even started opening their doors on Thanksgiving to "participate in the rat race to see who could get people to run to their stores first," Kahn says. This led to Black Friday becoming a five-day shopping weekend beginning on Thanksgiving and ending on Cyber Monday. And now since so much of shopping during that period happens online, experts refer to it as the "cyber five." But as these five days expanded into a week and then into multiple weeks, experts dubbed all of November "Black November."
The Black Friday weekend used to mark the beginning of the winter holiday shopping season, while December 24 — the day before Christmas — marked its end, Cullen says. But because many retailers are now offering deals over a month ahead of Black Friday, this retail calendar is growing obsolete.
"Before, Thanksgiving weekend was really the start of the shopping season. Now, we look at it as more of a halfway point," Cullen says. "Black Friday and Cyber Monday are hallmark events that have a very important place both for consumers and retailers, but within a broader context of a longer shopping season."
Starting sales so early is a response to consumer behavior, Cullen says. Retailers adjusted their schedules accordingly after seeing a strong increase in early holiday shopping, a trend NRF surveys have supported. In fact, half or over half of shoppers surveyed have been saying they took advantage of early sales before Thanksgiving for years now. Shoppers take advantage of early sales because it helps them spread out their spending over multiple weeks, allowing them to avoid "lumpy spending," or concentrated purchases during the holidays with subsequent massive bills, Steinman says.
Because Black Friday and Cyber Monday are now stretched out over five days — or the entire month of November in some cases — retailers have to format their sales strategically to make sure they maintain shoppers' interest. In order to do so, some retailers promote deals on different product categories during specific days or weeks instead of offering blanket storewide sales throughout the month, Cullen says. 
With all that being said, is in-person shopping on Black Friday dead? No, experts say, but it's no longer what defines the holiday. Now, the main segment of shoppers who visit stores in-person on Black Friday are those steeped in tradition, Steinman says. They see Black Friday from an experiential lens, want to spend time with family and friends while browsing deals and are reluctant to give up that yearly outing together.
How Black Friday impacts the holiday shopping season
While Black Friday and Cyber Monday are intertwined with the larger holiday shopping season, they're not dependent on one another, Cullen says. For example, when the NRF surveyed shoppers about how much they spent during Thanksgiving weekend in 2021, it was down slightly from 2020. But sales during the overall holiday shopping season — which the NRF defines as the period from Nov. 1 to Dec. 31 — grew 14.1% year-over year.
Black Friday and Cyber Monday are also impactful to the retail calendar worldwide. While Americans associate Black Friday and Cyber Monday with Thanksgiving, over 20 countries — including the United Kingdom, Italy, Sweden and Mexico — host similar sales, some using the same name despite not celebrating Thanksgiving. And Black Friday shopping events worldwide take place on the same day — for example, retailers in Canada host Black Friday sales on the same day that they take place in the U.S. despite the country recognizing the second Monday in October as its Thanksgiving holiday. This speaks to Black Friday's legacy and weight: doorbuster deals and a social shopping experience made for the holiday season, Kahn says.
How did Black Friday get its name?
The term "Black Friday" originally had no connection to shopping, says Nancy Koehn, a historian and professor at the Harvard Business School. It described a financial panic in 1869 that resulted from investors Jay Gould and Jim Fisk driving up gold prices and ultimately causing the market to crash. Since its 19th century inception, the term "Black Friday" has generally been used to describe other bad events or negative situations, like workers not showing up to their jobs the day after Thanksgiving, Koehn says.
The first time "Black Friday" specifically referred to shopping the day after Thanksgiving was in the 1950s. Police in Philadelphia complained about an influx of people coming to the city to shop the day after Thanksgiving, calling it a "Black Friday" because they had to control crowds. From there, the term was used to describe shopping on that day and gained momentum with each passing year.
Originally, retailers were upset about the name "Black Friday" because the term had a negative connotation, Koehn says. Efforts arose to call it "Big Friday" instead, but they ultimately failed. Retailers then changed the narrative and decided that Black Friday is when they're supposed to be "in the black," a financial phrase describing the profitability and prosperity of a business, in contrast to being "in the red," or in a deficit.
The idea of positioning Black Friday as a shopping holiday "galloped forward" between the 1970s and 1980s, says Koehn, which she attributes to retailers instigating competition between one another, as well as expanding the deals they offered. 
Overall, "there was no defining moment that made us call Black Friday 'Black Friday,'" Koehn says. "It's really the evolution of language and definition, retail practices and consumers responding to that."
Meet our experts
At Select, we work with experts who have specialized knowledge and authority based on relevant training and/or experience. We also take steps to ensure that all expert advice and recommendations are made independently and with no undisclosed financial conflicts of interest.
Barbara Kahn is a professor of marketing at The Wharton School of the University of Pennsylvania.
Katherine Cullen is the vice president of industry and consumer insights at the National Retail Federation.
Nancy Koehn is a historian and professor at the Harvard Business School.
Dr. Ross Steinman is a professor of consumer psychology at Widener University. He also serves as the coordinator of an interdisciplinary minor in consumer culture. In his teaching and research, he focuses on the contextual, symbolic and experiential aspects of consumption.
Why trust Select?
Zoe Malin is an associate updates editor at Select who has reported about Black Friday and Cyber Monday since 2020. She wrote Select's Black Friday and Cyber Monday shopping guide, as well as Select's history of Black Friday and Cyber Monday, plus a variety of holiday sales articles. For this piece, Malin researched the history of Black Friday, spoke to four experts and referred to data from sources like the National Retail Federation and Adobe Analytics.
Catch up on Select's in-depth coverage of personal finance, tech and tools, wellness and more, and follow us on Facebook, Instagram, Twitter and TikTok to stay up to date.