PHILADELPHIA — A city steeped in American history will add another important chapter to its story this week as it hosts Democrats prepared to officially select the first female presidential nominee from a major party.
Philadelphia, Pennsylvania, the city where independence was declared and the system of a new nation crafted, will play host to the Democratic National Convention beginning Monday.
The tagline in the city that bore both the Declaration of Independence and Constitution is "Let's make history again," which has also been a theme of Hillary Clinton's campaign as she has fought to become the nation's first madam president.
"In just a few weeks, we will meet in Philadelphia, which gave birth to our nation — back in that hot summer of 1776," Clinton said last month after becoming the presumptive Democratic presidential nominee. "Those early patriots knew they would all rise or fall together."
At the center of Philadelphia's historic core sits Independence Hall where, on July 4, 1776, the Second Continental Congress ratified the Declaration of Independence. After the American Revolution, Philadelphia served as the capital of the new nation as Washington, D.C., was built. Again in 1787, Independence Hall was the setting for one of the most important events in American history when the U.S. Constitution was adopted.
But the City of Brotherly Love continued to be a city of firsts even after the nation's earliest days. The first American abolition society was founded here, the first ever open air suffrage meetings took place in the city, and the first major U.S. protest for LGBT equality happened outside Independence Hall in 1965.
"We are a city of diversity and inclusiveness, beyond where the country was born," said Heather LaMarre, a political communications and public opinions professor at Temple University. "So it's very fitting that the first woman be nominated president in Philadelphia, because we've been a city of firsts."
The nation's fifth-largest city is no stranger to political conventions. In 1948, the city hosted both the Democratic and Republican conventions. More recently it hosted the Republican convention where George W. Bush was nominated in 2000. It's size, history and location make it an enviable location for major events, like when Pope Francis made a stop here during his visit to the U.S. in September of last year.
Pennsylvania's biggest city is also extremely politically important to Democrats. Doing well here is crucial for Democrats to carry the state in presidential contests, though holding a convention in a politically important state has not proven to give either party a boost on Election Day. Four years ago, President Barack Obama lost North Carolina after Democrats held their convention in Charlotte, and Mitt Romney lost Florida after the GOP held its in Tampa.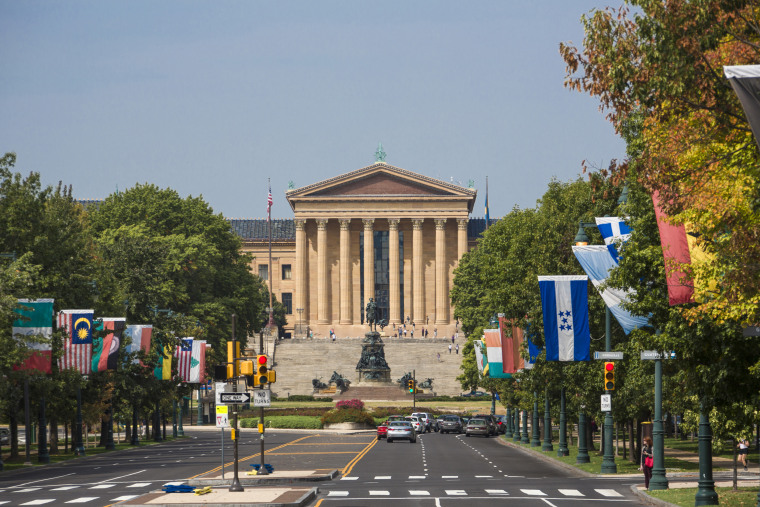 And though the Keystone State is still considered a battleground, Republicans have not won here since George H.W. Bush in 1988.
An NBC News/Wall Street Journal/Marist poll released this month shows Clinton leading Donald Trump 45 percent to 36 percent. Her lead has slipped from April when she had a 15 point advantage over her GOP rival. That's why Clinton and her allies are hoping to put on the same type of unified front the Founding Fathers did opposing Great Britain when they gather this week. Former Democratic rival Bernie Sanders has endorsed her, but his supporters have been slow to pledge their votes to the presumptive nominee following the hard fought primary and think — like Philadelphia legend Rocky — the Vermont senator may still have a fighting chance.
"Bernie or bust" protesters are expected to flock to the city to send a message to party leaders. Overall, city officials say they expect 35,000 to 50,000 demonstrators to show up, many of them to support the senator from Vermont.
Clinton allies are eager to avoid the kind of messiness seen at the Republican National Convention when Ted Cruz was booed off stage for declining to endorse Trump. Though protesters will certainly make themselves seen and heard, Sanders' endorsement may quell any delegate riots like the RNC dealt with in Cleveland.
"I can't help but reflect how much more enjoyable this election is going to be now that we are on the same side," Clinton said when Sanders endorsed Clinton in New Hampshire. "Because you know what we are — stronger together."