As Hillary Clinton's focus shifts from persuading undecided voters to solidifying her apparent lead and motivating her supporters to turn out, she is deploying high wattage star power: From Beyoncé and Jay-Z, to Katy Perry and Bruce Springsteen.
And while it's become almost commonplace to see celebrities on the campaign trail, particularly on behalf of Democratic candidates, there seems to be something more strategic happening with Hillary Clinton in the closing hours of the 2016 race.
The celebrity push is "important in generating some excitement about Clinton despite some of the concerns and disapproval ratings that have been a constant part of her candidacy," said Julian Zelizer, a political historian at Princeton University. "In terms of her appeal to younger voters, this is extremely important given some of the reservations that exist".
It is almost impossible to quantify whether or not celebrity endorsements translate into actual votes, although they certainly grab media attention. In both of his White House runs President Barack Obama enjoyed broad celebrity backing from stars ranging from Shakira to George Clooney.
His own celebrity status was mocked by his opponent Sen. John McCain in an ad that dubbed Obama "the biggest celebrity in the world."
However, when Obama deployed celebrities it wasn't to combat voter reservations, Zelizer said.
"It was more to complement an image that voters already had of him."
In this election cycle, it appears at though celebrities' largely symbolic value is not without purpose, it's a signal to parts of her political coalition who may be wavering to stay the course.
Related: Do Celebrity Endorsements Help or Hurt?
For instance, when LeBron James appears alongside Clinton in Cleveland, Ohio, where some voters there may be cynical about her, they trust in him — the man who brought the city its first NBA title earlier this year. Or when she cozies up for an intimate chat with beloved R&B singer Mary J. Blige, that's also an implicit shout out to women of color across the country, one of the most reliable Democratic voting blocs.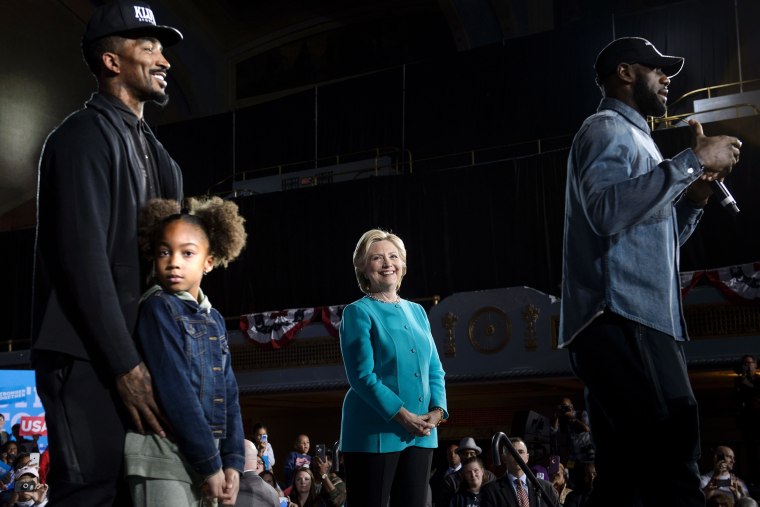 Republican nominee Donald Trump is also not without his share of famous allies.
He has been accompanied by aging rocker Ted Nugent on the stump, a move aimed at playing to voters who deeply dislike and distrust Obama and Clinton. Earlier this year Nugent said in Facebook post that Obama and Clinton should be "tried for treason and hung."
Trump featured actors Scott Baio and Antonio Sabato, Jr. at the GOP's national convention this summer, which could have been perceived as a play for Boomers and Latinos respectively.
But even Trump himself has acknowledged that he is the biggest draw at his rallies.
For Clinton, who lacks the considerable charisma and appeal that Obama had in 2008 and 2012, and who is more disliked and distrusted by the public, the celebrity factor might cut both ways. It may help make the case for her in ways that she is incapable of herself, but it could also threaten to overshadow her or risk making her seem like an elitist.
The Clinton campaign decided early on that they are willing to bet big on Hollywood — with the Democratic National Convention boasting a host of largely female A-listers like Meryl Streep, Lena Dunham, Elizabeth Banks and America Ferrera, all singing her praises
Related: How Celebrity Surrogates Could Help Hillary Clinton
Here are just a few of the stars that are aligning with Clinton during the home stretch —and which demographic segment of the public they are supposed to be speaking to:
Bruce Springsteen - "The Boss" has become a staple now on the campaign trail for Democrats (he memorably stumped alongside President Obama during the last two cycles), so much so that some of Republican nominee Donald Trump's supporters recently booed his classic song "Born In the U.S.A." (which is not the jingoistic theme some interpret it to be) at one of his recent rallies. But the popularity of Springsteen with Baby Boomers, as well as blue collar suburban men and women, is undeniable, which is why Republicans have attempted to co-opt his music since 1984 with mixed results.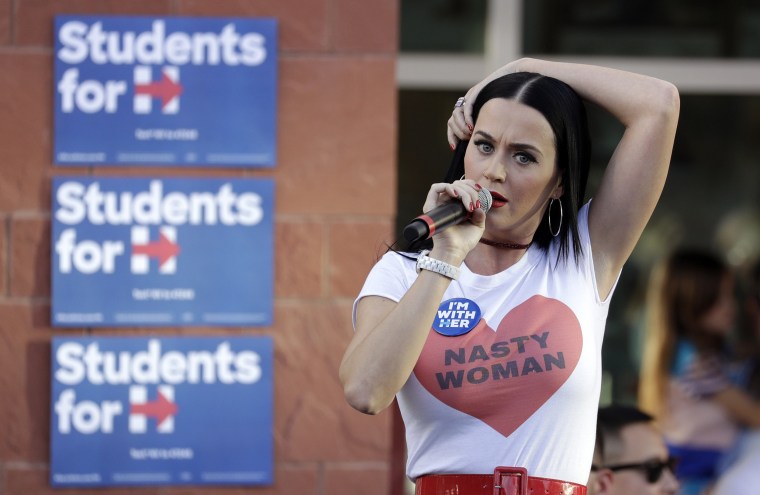 Katy Perry - She already has proved to be a reliable surrogate for Obama, and this go round the "Roar" singer is making a direct appeal to young women, who could make a crucial difference for Clinton in a number of swing states. Not unlike Beyoncé, a thread of female empowerment runs strong throughout some of Perry's pop hits, which coalesces nicely with the "I'm with her" spirit of the Clinton campaign.
Jay-Z and Beyoncé - Speaking of Beyoncé, her pantsuit clad performance at a Cleveland rally for Clinton this past week may go down as one of the pop culture highlights of the 2016 campaign. Her endorsement, coupled with her husband rapper Jay-Z's, could be interpreted as an overt olive branch to black voters, who appear to be far less enthused with her candidacy than they were Obama's. The power couple, who appeared at Obama's inauguration in '08, giving their blessing to the former first lady will not go unnoticed.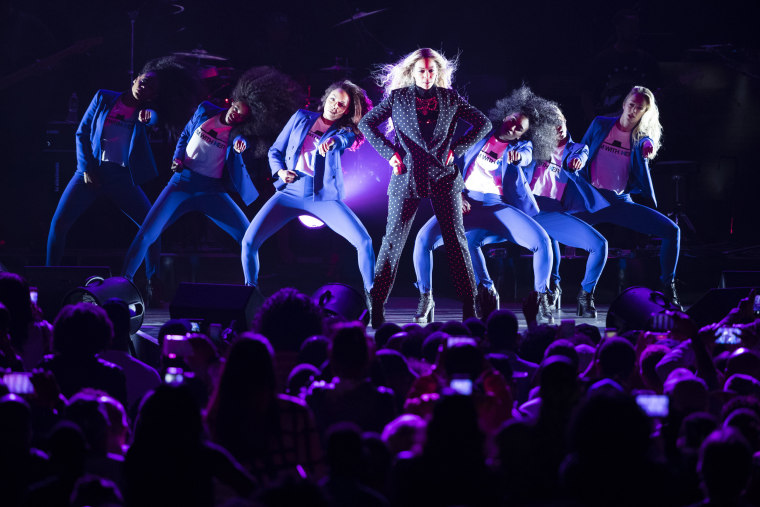 Jennifer Lopez - If the early vote is any indication, Latinos will be out in full force this year — and the polls suggest that that's good news for Clinton. Jennifer Lopez — as well as several other Latino celebrities — has been arguably more outspoken than ever before this cycle. And Lopez in particular could be an important persuader, since many first time Latino voters are Puerto Rican, and she is one of the most prominent figures to hail from that community.
Chance the Rapper - Haven't heard of this Chicago-based performer? Chances are you aren't under the age of 35. Lost amid the hoopla over Jay and Bey, is the fact that this rising star is headlining a "Parade to the Polls" on Monday and has also appeared on Clinton's behalf. His presence on trail could corral young minorities of color, and should he help persuade those voters to get behind the Democratic ticket, it could pay off in the election cycles to come.