Hillary Clinton and Donald Trump meet one last time Wednesday to debate in Nevada, where it's difficult to ignore the issue that has loomed over the election but has yet to be truly hashed out in the candidates' two previous meetings: immigration.
From the start, Trump made building a wall on the border and making Mexico pay for it — saying Mexico was sending "rapists" and criminals —a linchpin of his campaign.
It served to boost his right wing base, but also was one of the initial breaking points between him and more moderate Republicans, most notably GOP Hispanics.
Several of the Republican Hispanics who tried to steer Trump to a "gentler" immigration position, only to be disappointed, were deliberating in Las Vegas Wednesday hours before the candidates were to meet to discuss how they can "rebuild" the GOP so that it includes them and their support for an immigration reform.
Related: 10 Big Issues Still on the Table Ahead of the Final Presidential Debate
"We're going to lead after the election. We're not going to wait around on any group — we're going to show the party how it's done," said Artemio Muniz, a business owner and chairman of the Texas Federation of Republican Hispanics. "We're going to go straight to the donors."
Related: GOP Hispanics Dump Trump After Arizona Immigration Speech
Immigration hasn't been completely absent from the debate stage. Clinton's running mate Tim Kaine needled Indiana Gov. Mike Pence with Trump's labeling Mexicans as rapists, while Pence pushed criticisms that Clinton is a proponent of open borders and amnesty.
What has been more enduring from that discussion was Pence's dismissal of Kaine's goading, which immediately became a Twitter hashtag, #ThatMexicanThing, Again.
Related: #ThatMexicanThing: Kaine Needles Pence Over Trump's Comments
But generally there's not been a lot of depth on the issue for the public at large.
Lazaro Zamora, a senior policy analyst for the Bipartisan Policy Center, said the two candidates need to "let go of generalizations" and the kind of rhetoric that surrounds immigration and put forth details on how either will get a bipartisan agreement on immigration reform.
"Both promised to do a lot, probably more than a lot of people who have been dealing with this issue and actually administratively putting in play the plans," said Zamora. "Hopefully (debate moderator) Chris Wallace can push on specifics," Zamora said.
Nevada is an apt place for the candidates to get to the nitty gritty of immigration. About one in five Nevadans are foreign born, nearly half of whom are naturalized citizens eligible to vote, according to the American Immigration Council.
It would be a serious omission were Clinton not to remind debate viewers that she started her campaign back in May 2015 by meeting with young immigrants without legal status known as DREAMers.
She's since put DREAMERs on staff and made a touching commercial from a meeting with immigrant families in Nevada in which a young girl tells her of her fear her parents will be deported.
Related: Clinton ad with Latina Girl Hits Emotional Issue of Deportations
There and in other points in the campaign, Clinton has moved or been forced to move left on immigration, sometimes even to the left of President Barack Obama. She had to rethink an early view supporting turning back Central American children arriving at the U.S. border and pledging not to deport anyone who is not a criminal or a terrorist.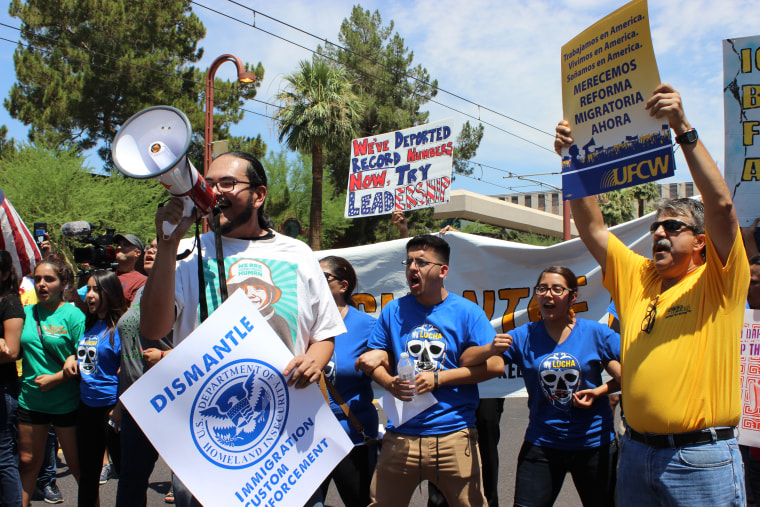 But Ali Noorani, executive director of the National Immigration Forum, said the immigration discussion is no longer about whether Clinton needs to move left. Based on polling showing American support for immigration reform, she now can say "we have the opportunity to say that as Americans we believe all immigrants, regardless of status, should be treated as human beings."
"I think there's a lot more she can do, but it's not about left versus right, it's about the overwhelming majority of Americans valuing immigrants and immigration," Noorani said.
Clinton will have some ground to stand on with that stance. Just as the two candidate's highly divergent views could be on display to national television and online audiences, a Fox News poll shows the American public doesn't share the same divide.
Zamora tweeted early today on some findings on immigration in a Fox News poll released Tuesday. It found that voters overwhelmingly rejected the Trump's mass deportation proposal, 74 percent to 18 percent.
It's not the first poll to show this. A variety of polls have shown greater support among Americans for a pathway to citizenship for people not legally here and opposition to mass deportations.
Republican support is lower and Republicans are more likely to support a border wall, but various polls do show some consensus on moving forward with legislation that balances enforcement and legalization and fixes the legal immigration system.
"The majority of Americans, including the majority of Republicans, are in favor setting up a system for immigrants to become legal," Zamora said.