One of the two unattended backpacks that sent emergency crews scrambling to the finish line of the Boston Marathon was likely a hoax and the other was left behind by a media outlet, Boston authorities said Tuesday night.
Amid heightened security on the anniversary of the bombings that killed three people and injured 260 others last year, police, fire and bomb squad officers took no chances, blocking off Boylston Street and blowing up both backpacks in controlled detonations, Deputy Police Superintendent Randall Halstead said at a late-night news briefing.
The drama started when police stopped a barefoot man wearing all black with a veil over his face who was walking down the middle of the street carrying a backpack early in the evening, Halstead said.
The man was screaming "Boston Strong!" witnesses told New England Cable News — the slogan adopted by the city in the wake of last year's deadly bombings.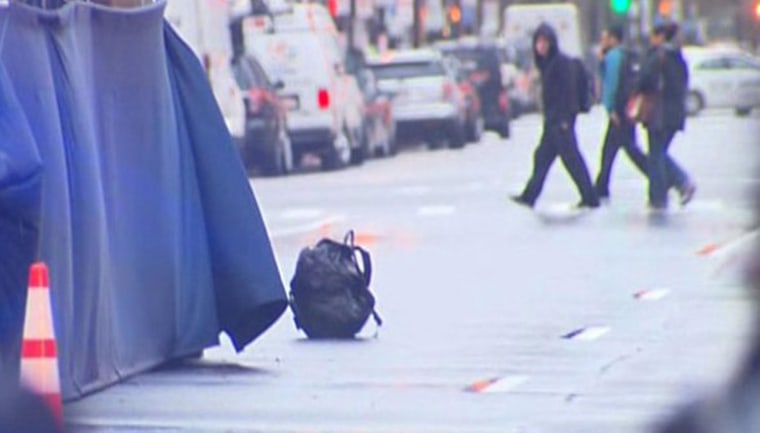 "When the backpack was dropped to the ground, that's when we called the bomb squad, and they did their jobs," Halstead said.
A second backpack was soon spotted nearby, he said. One was detonated about 8:53 p.m. ET, and the second one was blown up about 40 minutes later.
The officer who stopped the suspect — described as a white male in his 20s — noticed what appeared to be a rice cooker in the man's backpack, Halstead said. Fragments consistent with a rice cooker were recovered after it was exploded, he said.
Bombs made from pressure cookers were used in the bombings on April 15 last year. The man who was arrested Tuesday will be charged with possession of a hoax device, disturbing the peace and disorderly conduct, Halstead said.
Halstead wouldn't discuss the other backpack, saying it remained under investigation. But a representative of New England Cable News said the bag belonged to one of its news crews.
"The crew had put down their bag — which contained cables — while on the scene covering last night's developments," said Mike St. Peter, NECN general manager. "They were not permitted to retrieve the bag when the area was quickly evacuated. The NECN crew cooperated while asking officers several times if they could get their bag back. Because of the ongoing investigation, police denied access. Once the scene was cleared, the crew picked up the remains of the bag."
New England Cable News is owned and operated by NBCUniversal.
Even if the backpacks were hoaxes or just coincidences, "with the marathon coming [next week], we are taking this serious," Halstead said. "Our officers have been trained to look for any type of suspicious activity, and when it is observed, they act upon it."
During the drama, a remembrance ceremony for the victims of last year's bombings went ahead as planned Tuesday night at Old South Church on Boylston Street.
Julmary Zambrano of NBC News contributed to this report.