BOSTON — The government rested its death penalty case against accused Boston Marathon bomber Dzhokhar Tsarnaev on Monday with graphic testimony about the wounds suffered by a young boy and a graduate student who died in twin blasts at the race's finish line.
Martin Richard, 8, and Lingzi Lu, 23, both bled to death at the scene, their bodies cut apart by shrapnel from pressure cooker bombs, medical examiners told the jury during the fifteenth day of testimony in U.S. District Court.
The brutal descriptions of the injuries capped four weeks of government testimony. Tsarnaev's defense team began its case soon afterward.
No section of Richard's body escaped injury, said Henry Nields, Massachusetts' chief medical examiner.
Lu's injuries, caused by pellets and nails and other debris blown from a pressure cooker bomb, "would've been very painful," a Boston medical examiner, Katherine Lindstrom, said.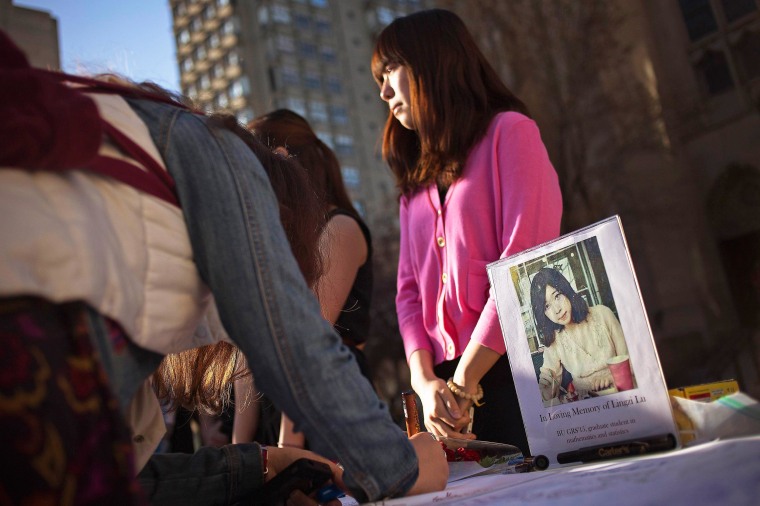 Lu, 23, was studying statistics at BU to build on her economics foundation at Beijing Institute of Technology. She planned to be an actuary, reluctantly attending the Boston Marathon on April 15, 2013, after planning to study that day.
Lindstrom performed the autopsy on Lu. She said the cause of death was "blast injuries to the lower extremities." A large piece of metal was also found in Lu's purse, Lindstrom said.
The defense — while admitting Dzhokhar Tsarnaev's role in placing bombs at the marathon — has tried to portray him as a follower of his older brother Tamerlan, who died in a shootout with police four days after the bombing.
The defense team began to present its case Monday afternoon by trying to raise doubts about Tsarnaev's involvement in the planning of the attacks.
Tsarnaev's lawyers called Gerald Grant Jr., a computer forensics investigator for the federal public defender's office in the Western District of New York. Grant testified that he'd analyzed cell phone data from Tsarnaev's phone and concluded that he was not near the places in New Hampshire and Cambridge, Massachusetts where FBI agents said some bomb parts were purchased.
But under questioning by Assistant U.S. Attorney Aloke Chakravarty, Grant acknowledged that Tsarnaev's cell phone was on a family plan, and that the data he analyzed didn't show whether Tamerlan Tsarnaev bought the bomb parts.
The defense has also filed a motion seeking to raise doubts whether Dzhokhar Tsarnaev lived in a family home where FBI agents found tools and accessories that they said could have been used to build a bomb.