The family of U.S. Army Sgt. Bowe Bergdahl was overjoyed when President Barack Obama personally called them Saturday and gave them the news they were desperately hoping to hear: Their son, captured by the Taliban in 2009, was still alive. And he was finally coming home.
"We cannot wait to wrap our arms around our only son," Bergdahl's parents, Bob and Jani Bergdahl, said in a statement, thanking supporters and those who helped secure his return without a single shot fired.
"And of course, we want to take this opportunity to thank all those in the many U.S. Government agencies who never gave up," the statement continued. "Today, we are ecstatic!"
Bergdahl, 28, was rescued Saturday evening local time (10:30 a.m. ET) in eastern Afghanistan — in exchange for five prisoners who were held at the Guantanamo Bay detention center — and is back in the hands of the U.S. military, officials said.
"We cannot wait to wrap our arms around our only son."
Bergdahl disappeared when he reportedly walked away from a U.S. military base in eastern Afghanistan in June 2009, carrying only a compass and a bottle of water. He was the only U.S. service member ever to be held captive by enemy forces in Afghanistan.
"Sergeant Bergdahl's recovery is a reminder of America's unwavering commitment to leave no man or woman in uniform behind on the battlefield," Obama said in a statement.
Although he appeared frail and shaky in a "proof of life" video the U.S. obtained in January, Bergdahl was in good condition and able to walk upon his release, officials told NBC News.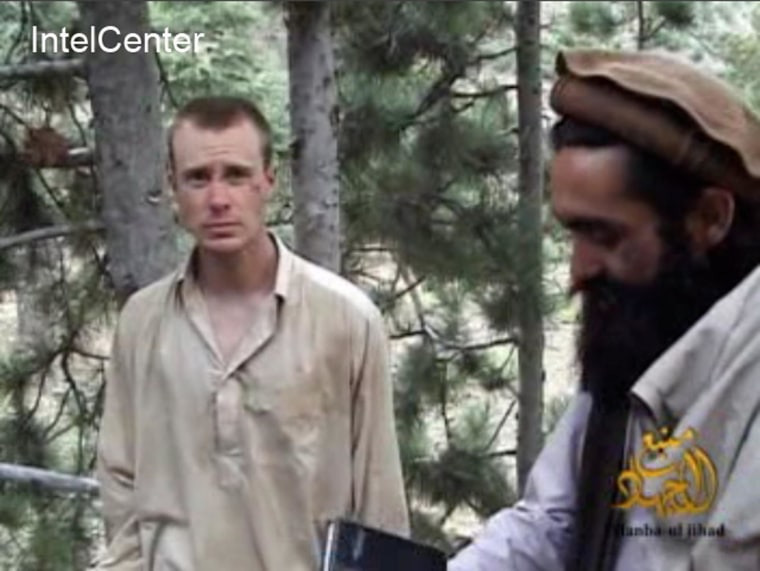 A senior defense official said the rescue of Bergdahl, conducted by U.S. special operations forces, was "peaceful" and happened in Afghanistan along the Pakistan border.
Eighteen Taliban members were on the site of the exchange, the official said. Multiple U.S. helicopters and overhead surveillance assets provided support and the U.S. team was armed, but no shots were fired, the official added.
He said that when rescuers brought Bergdahl onto the helicopter, the dazes soldier held up a paper plate on which he had written "SF?" questioning whether the officers were Special Forces. The operators confirmed, yelling over the roar of the helicopter: "Yes, we've been looking for you for a long time."
Bergdahl broke down crying after their response.
Obama said he called Bergdahl's parents to let them know their son would be returning home safely and thank them for their sacrifice.
There was swift reaction across the military and Washington to Bergdahl's safe rescue.
"The cost of years of captivity to Sgt. Bowe Bergdahl and his family is immeasurable," added Secretary of State John Kerry.
Bergdahl, of Hailey, Idaho, joined the Army in 2008 and was assigned to the 25th Infantry Division in Fort Richardson, Alaska. Less than a year later, he was deployed as a machine gunner to a combat outpost in Paktika province, Afghanistan, a militant hotbed.
U.S. officials believe Bergdahl spent the majority of his time in captivity in Pakistan, and are not sure when he was moved back into Afghanistan.
"Yes, we've been looking for you for a long time."
He is thought to have been captured by members of the Haqqani network, which claims allegiance to the Afghan Taliban, yet operates with some degree of autonomy. The State Department named the Haqqani network a foreign terrorist organization in 2012.
The transfer was not negotiated with the Haqqani network, but brokered over a week of talks through the local Qatari government, the senior U.S. official said. The opportunity to resume talks became available several weeks before the deal, "and we seized it," said the official.
Both Obama and Secretary of Defense Chuck Hagel praised the Emir of Qatar for aiding in Bergdahl's release.
The prisoners that will be exchanged for Bergdahl are Mohammad Fazl, Mullah Norullah Noori, Mohammed Nabi, Khairullah Khairkhwa and Abdul Haq Wasiq. They were en route to Qatar on Saturday.
Hagel said security measures are in place to ensure the national security of the United States would not be compromised by the prisoners' release.
Bergdahl is being transferred to Bagram for medical care, and from there will be sent to Landstuhl, Germany, to begin his reintegration process. U.S. officials are working to reconnect him with his parents over the phone, but he is not likely to see them until he is cleared medically and back in the United States.