LONDON — British Prime Minister Theresa May formally triggered the divorce clause from the European Union on Wednesday — kicking off a two-year countdown to the U.K.'s exit.
EU Council President Donald Tusk tweeted that he had received a hand-delivered letter from May that invoked Article 50 of the Treaty of Lisbon. The move comes nine months after the "Brexit" referendum.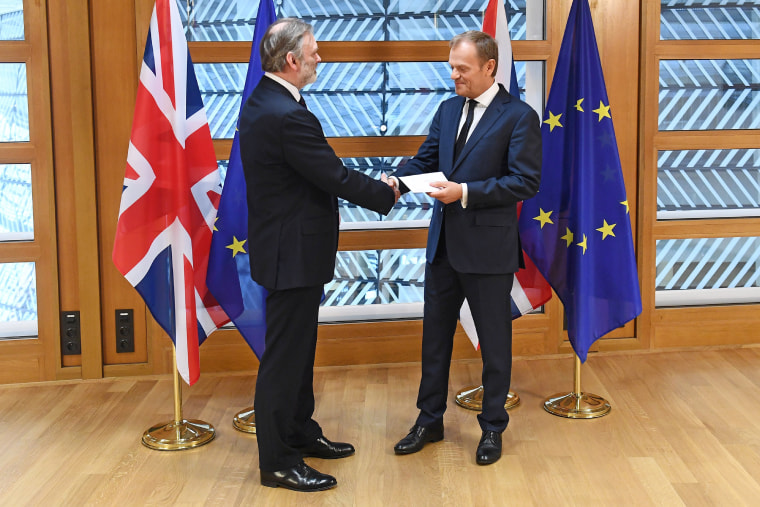 In a statement to the House of Commons on Wednesday, May called the move a "great turning point in our national story."
She added: "I choose to believe in Britain and that our best days lie ahead."
May said that the "deep and special partnership" the U.K. was seeking was in the best interests of both her country and the EU.
The triggering of Article 50 — the only way countries can leave the 28-member trading bloc — has been much anticipated since British voters chose Brexit by a margin of 52 percent to 48 in June.
It will launch a period of talks will shape the continent's political and economic future.
Financial markets have been bracing for the milestone move. The referendum result sparked turmoil.
A committee of lawmakers in the House of Commons warned earlier this month that the complexity of the negotiations and the short two-year time frame made it a distinct possibility that Britain could crash out of the bloc as early as 2019 with no new trade deals in place.
The Foreign Affairs Committee said it had seen no evidence of "serious contingency planning" and called that a "dereliction of duty" by Britain's government.
Related: What a Once-Prosperous Seaside Town Thinks About Brexit
The minister in charge of Brexit negotiations, David Davis, said it was unlikely Britain would have no trade deals in place. "It's in absolutely everybody's interest that we get a good outcome," he told the BBC.
May, who came to power after the referendum result prompted the resignation of her predecessor, David Cameron, said earlier this year that she will seek a so-called "hard Brexit." This means the U.K. would quit the EU completely and also withdraw from the single market for goods.
The European single market affords preferential rates between EU member states, something many in Britain saw as a key benefit of the trading bloc. However, it also requires the free movement of citizens across EU borders, leading to high levels of immigration. Populist concern over immigration was successfully exploited by the "Leave" campaign.
So what is happening now, and what's next?
What is Article 50?
It is a clause in the 2007 Treaty of Lisbon — effectively the constitution of the present-day European Union — that allows countries to withdraw. It has never been used before.
Article 50 triggers a negotiation period of up to two years in which Britain must agree on the terms of its withdrawal with the remaining 27 countries. During this time, Britain will no longer be able to take part in EU discussions.
It also marks a point of no return for Britain because the process cannot be reversed or abandoned without the unanimous agreement of newly-antagonized EU states.
How long will Brexit take?
While the Article 50 negotiations must be completed within two years — giving May until the spring of 2019 to reach a deal — experts are warning that the complexity of establishing alternative trade deals with dozens of countries could take many times longer.
Former Cabinet Secretary Gus O'Donnell told the BBC that negotiating a final deal would take "at least five years," adding: "We certainly won't have come to any final arrangements in two years' time."
Britain's ambassador to the EU, who quit in frustration at what he called the "muddled thinking" of government ministers, believes a final deal might not be done until the early to mid-2020s.
In his leaked resignation letter, Ivan Rogers warned: Serious multilateral negotiating experience is in short supply in [London] and that is not the case in [Europe]."
Why should Brexit matter to Americans?
Billions, if not trillions, of U.S. dollars could be called into question by a British exit, CNBC has reported. American direct investment into the EU totaled about 1.81 trillion euros in 2014, and about 1.99 trillion euros flowed in the opposite direction, according to the European Commission. Even a small disruption to that could have a significant impact on trade.
As Britain realigns its international relationships, there could also be major implications for America's biggest military ally in NATO, and for London-Washington relations.
Tim Oliver, Dahrendorf Fellow on Europe-North America Relations at the London School of Economics, says there are parallels between the politics of President Donald Trump and the uncertainty of Britain's Brexit adventure.
"There are similarities between what happens with Trump and what is happening over Brexit — the rise of populism and people voting for an agenda that isn't necessarily realistic but has been sold to them through a mix of messages that sound realistic," he told NBC News. "As with Trump, the real test with Brexit will be in six months when it has to deliver."
What type of Brexit does Britain want?
Aside from Greenland in 1985, no country has left the modern-day EU so there is no precedent for Britain's withdrawal. Nor, it turns out, do pro-Brexit campaigners have a unanimous view on what should happen next.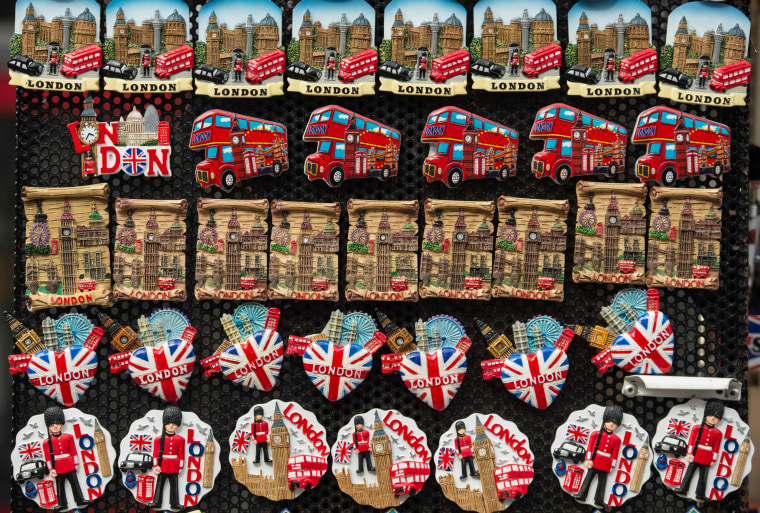 Referendum voters were given a simple binary choice of whether they wanted to remain in the European Union or leave, so there is no political mandate for what Britain's future relationship with Europe should look like.
One of the biggest hurdles is the future status of about 3 million citizens of EU states living in Britain thanks to free cross-border labor movement — mostly Irish and economic migrants from Poland, Romania and Portugal. In addition, just under 1.2 million British nationals live elsewhere in the EU, mostly Spain.
When can we expect the economic consequences?
Forecasts on the longer-term effects of Brexit to the pound sterling are bitterly contested and the true impact is unlikely to be known until well after the terms of any future deal are known.
A Financial Times survey of 122 economists found the majority believe that U.K. economic growth will slow markedly in 2017 and household incomes will be squeezed by higher inflation because of Brexit uncertainty.
There are also fears big financial firms could relocate to the rest of the EU to protect access to the single market. In December, insurance market Lloyd's of London said it would begin moving some of its operations to the rest of the EU and Anthony Browne, head of the British Bankers' Association, said bankers' hands were "quivering over the relocate button."
Pro-Brexit lobby group Change for Britain says a "Hard Brexit" could create 400,000 new jobs and save the country $30 billion a year through new trade deals and improved exports, which have already risen. However, a former senior government economist said those claims were "total junk" and noted that, since the Brexit vote the "production of fictional statistics is up 579 percent."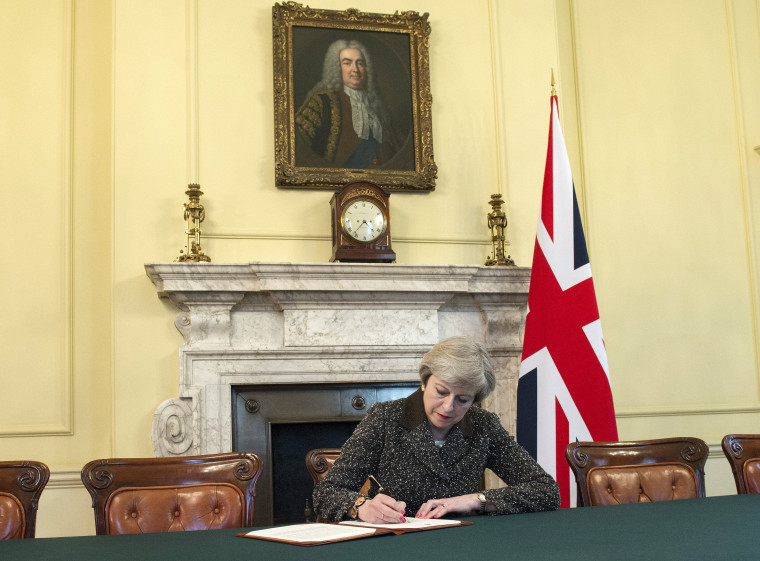 In fact, the only clear winners so far are American tourists visiting Britain. Thanks to the weakened pound, hotel and attraction prices are typically about 10 percent less than a year ago.
The early losers? British shoppers who are paying more for many groceries because imported ingredients have become more expensive. There was even a shortage of Marmite, the sticky yeast spread, as supermarket Tesco fought with manufacturer Unilever over who should absorb rising prices.
Will Scotland become independent?
Britain isn't just divided politically on Brexit, but geographically. A majority in England voted to leave the EU but London, Scotland and Northern Ireland voted to "Remain."
On March 13, Scotland's First Minister Nicola Sturgeon said she wants a second referendum on independence from the rest of Britain, saying Scots want to remain inside the EU and the single market.
On Tuesday, the Scottish Parliament backed a bid to hold a new independence referendum in 2018 or 2019, but the British government immediately rejected the proposal.
A 2014 vote was defeated with 55 percent wanting to stay in the United Kingdom against 45 percent preferring Scotland to become an independent country.
Sturgeon, who is leader of separatist Scottish National Party, sees the Brexit earthquake as an opportunity to capitalize on pro-EU sentiment, arguing that Scotland could prosper as independent country inside the EU.
But while the political tide is in Sturgeon's favor, the economy is not: Scotland depends massively on revenue from its North Sea oil reserves and that income has been hugely dented by plunging oil prices since 2014, weakening the economic case for independence.