Military recruiting and reserve centers will always be "vulnerable" to attacks like the rampage that left four Marines dead in Chattanooga, Tennessee, the Army chief of staff said Friday.
Gen. Ray Odierno told reporters that the military will review security at those facilities. But he said that recruiters are not armed because of the Posse Comitatus Act, which prevents the military from engaging in domestic law enforcement.
"We're always going to be somewhat vulnerable to a lone wolf or whatever you want to call it, a surprise shooter, because we are out there with the population, and that's where we have to be," Odierno said. "We can't separate ourselves as we continue to recruit and interact with the population."
Mohammad Youssuf Abdulazeez, 24, sprayed a military recruiting center in Chattanooga with bullets on Thursday, then drove seven miles to a Navy and Marines reserve training center, where he shot the four Marines to death. Abdulazeez was killed after a shootout with police.
The attack left the doors of the recruiting center, which is part of a strip mall, riddled with more than two dozen bullet holes. A sign on the door has a picture of a gun with a circle and red line through it, and says, "Firearms are prohibited in this facility."
A soldier at the recruiting station was shot in the leg.
Odierno said that "we have to be careful about over-arming ourselves" because it raises the possibility of accidental gunshots.
"Does that cause more problems than it solves?" he asked.
On Friday, a gun accidentally went off at an armed forces recruiting station in Gainesville, Georgia, authorities there said. A member of the military was taken to the hospital. A police spokesman told NBC affiliate WXIA that it appeared he accidentally shot himself.
"We know the public may be concerned about the police presence" in light of the Chattanooga attack, Gainesville police said in a statement posted to Facebook. "There is no need for public alarm, this was an accidental shooting."
Still, the rampage in Tennessee left some people wondering about the vulnerability of recruiting and reserve stations.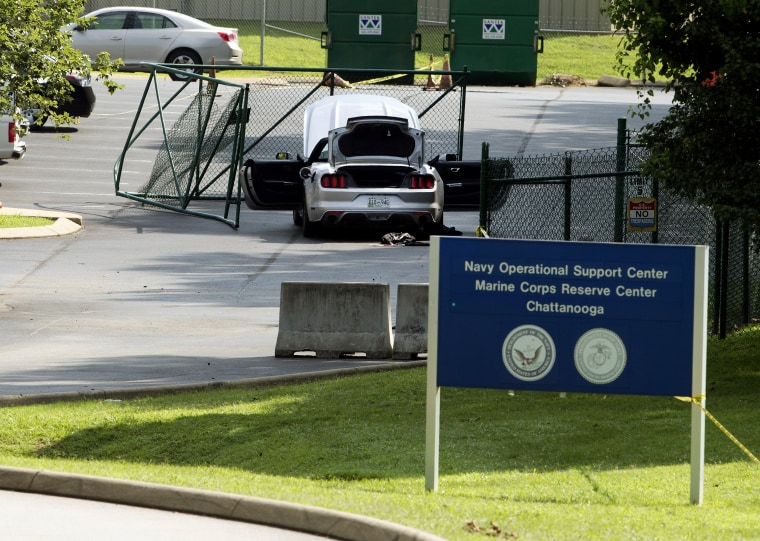 Robert Freeman, 28, a former Marine who once worked at the Chattanooga recruiting station, told NBC News he was upset that the people inside had no better way to defend themselves.
"Recruiting duty is supposed to be a break from going to combat, a break from having to deal with gunfire and all this stuff that happens, and we are not even safe here," he said. "And we have no means of protecting ourselves."
The FBI and the Department of Homeland Security have warned the military to be on alert because of ISIS endorsements of attacks against military and law enforcement, and because of ISIS-inspired attacks elsewhere.
Military bases have also been vulnerable to attack, including deadly gun rampages at Fort Hood, Texas, in 2009 and in 2014. On bases, military police can carry guns, and soldiers are not allowed to carry privately owned guns.
The U.S. military began training recruiters on how to handle shootings in 2009, after a man drove up to a recruiting station in Little Rock, Arkansas, and opened fire, killing one solider and wounding another.
The Army sent a message to all recruiting stations Thursday night, after the Chattanooga attack, to remind them of the procedures, Odierno said.
"We'll see if there's anything else that we need to do in order to better secure our men and women who are serving," he said.