Sales of Confederate flags spiked on Tuesday as big name retailers like Wal-Mart, Sears and eBay dropped their flag-emblazoned products. Target, Amazon and Etsy.com followed suit Tuesday afternoon.
Flag maker Valley Forge also announced Tuesday it is eliminating the Confederate flag from its product line.
"We hope that this decision will show our support for those affected by the recent events in Charleston and, in some small way, help to foster racial unity and tolerance in our country," the Wyomissing, Pennsylvania, based company said in a statement.
The retailers' decision came after widespread protest following the massacre at a historically African-American church in Charleston, South Carolina, last week.
Target pulled its one obvious Confederate costume from its website after CNBC questioned the retailer about it. A company spokeswoman later said, "Our intention is never to offend. We all recognize the great sensitivity around this and have removed the item from our website."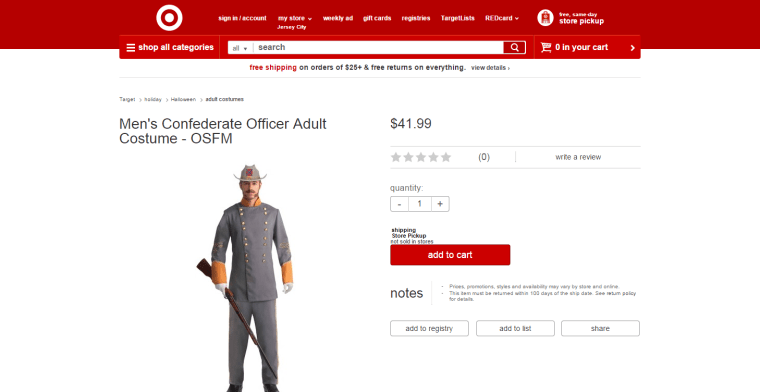 Amazon said Tuesday it is in the process of removing Confederate flag merchandise.
RELATED: Retail blunders: 10 brands that crossed the line
Wal-Mart, Sears and eBay announced their decisions Monday, and South Carolina Gov. Nikki Haley called on legislators to remove the flag from the statehouse grounds. After doing so, sales of Confederate flags spiked on Amazon to claim first, second, and third place on the site's list of biggest sales gainers in the previous 24 hours. Prices ranged from under $2 to nearly $16 per flag.
David Simpson, who works at Ruffin Flag Company, the Georgia-based manufacturer that saw sales of its Confederate flag surge 2,305 percent to top Amazon's patio, lawn and garden Movers & Shakers list, declined to comment on Wal-Mart's move. As for his sales, Simpson would only say, "Of course sales go up when people are talking about it. That much is true with any flag, the same happened with the U.S. flag in 2001."
While it is nearly impossible to quantify the sales of products emblazoned with the symbol of the Confederacy and what economic impact pulling those products will have, demand clearly is still high in pockets of the South for the Stars and Bars and Confederate battle flags. And in facing a possible scarcity of those products, demand has surged beyond what is expected from the American public.
A Public Policy Polling survey taken in the shooting aftermath showed Americans opposed flying the Confederate flag over government buildings by a 3-to-1 margin. More broadly, a 2011 Pew Research poll revealed only 9 percent of Americans reacted favorably to the Confederate flag.