The incoming Donald Trump administration will ensure the completion of the controversial Dakota Access Pipeline in North Dakota, the pipeline company's CEO told NBC News in an interview Friday.
"I'm 100 percent sure that the pipeline will be approved by a Trump administration," CEO Kelcy Warren of Energy Transfer Partners — the Dallas-based company funding the $3.7 billion project — told NBC News. "I believe we will have a government in place that believes in energy infrastructure."
Warren said he had not spoken to the President-elect to understand his position on the pipeline, which has galvanized opposition globally for months, and Warren denied any prior contact with the Trump campaign.
In June, Warren donated $100,000 to the Trump Victory Fund, a joint fundraising committee for Trump's campaign, and a further $3,000 directly to the Trump campaign. For his part, Trump's campaign financial disclosure forms revealed the President-elect's investments totaling between $500,000 and $1 million in Energy Transfer Partners, suggesting a possible vested financial interest in the completion of the pipeline. The Guardian first reported on the two men's financial ties last month.
Related: What's Behind the Dakota Access Pipeline Protests?
Throughout his campaign, Trump railed against what he called "special interests" in Washington. His message was clear: Industry lobbyists and corporate executives yield an outsized influence on shaping policy in Washington and he was going to "drain the swamp" of this quid-pro-quo corruption.
"It was a moment where I was very, very afraid for our people."
Warren, whose personal net worth Forbes estimates to be $3.9 billion, said he did not categorize his donations as akin to special interests.
"I don't even know even how much I gave to the [Trump] campaign," said Warren. "I give to Republicans and Democrats."
A Fossil-Fuel Energy Policy
President-elect Trump has pledged to dismantle the Environmental Protection Agency, has called climate change "a hoax," and wants to take apart President Barack Obama's Clean Power Plan that would cut carbon emissions from the nation's more than 7,500 power plants.
On his campaign website, Trump's energy plan promises to "unleash America's $50 trillion in untapped shale, oil, and natural gas reserves, plus hundreds of years in clean coal reserves." That is welcome news for the country's fossil fuels industry, which universally applauded Trump's stunning electoral victory this week.
Western Energy Alliance, which represents more than 300 oil and gas companies in the western United States, said in a statement that it was "overjoyed" by Trump's victory and anticipates progress on projects like the Keystone XL and Dakota Access Pipelines.
As he affirmed in his victory speech, President-elect Trump says his government will invest in extensive infrastructure projects in his quest to "make America great again." While Trump's campaign press secretary, Hope Hicks, did not respond to a request for specific environmental policy details, candidate Trump supported the Keystone XL oil pipeline on the campaign trail. He has never publicly commented on the Dakota Access Pipeline.
"Donald Trump's election is very worrisome for addressing climate change and improving air and water quality," Corinne Le Quéré, a climate expert and professor at the University of East Anglia in the UK, told NBC News. "The statements he made so far suggest he intends to shut down institutions and reverse plans to reduce pollution."
However, Le Quéré said Trump's business acumen could potentially be a game changer for addressing the issue.
"We urgently need businesses to provide options to produce energy without the carbon pollution on a large scale," said Le Quéré. "I would like Donald Trump to see the incredible opportunities that exist for U.S. businesses."
Standing Rock Protesters Wary of Trump
Warren, who has remained publicly silent on the pipeline for months as protests forced a halt in the pipeline's construction, labeled most of the protesters at Standing Rock as "violent mobs."
He repeatedly praised the work of local law enforcement, despite reports of police brutality, unlawful arrests and mistreatment in jail. "It's unbelievable how they've conducted themselves," said Warren.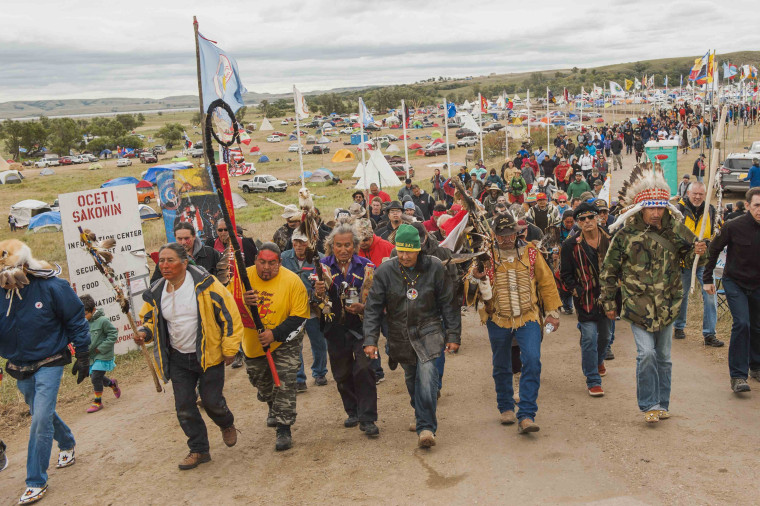 Ojibwe tribal member Tara Houska has camped out at Standing Rock since August. She watched the election results come in just down the road from the Oceti Sakowin camp where those protesting the pipeline — who call themselves water protectors — have gathered since August.
"We got more and more upset as we watched what was happening. It was really, really hard to watch," said Houska, who is also the National Campaign Director of Honor the Earth and was a Native American adviser to the Bernie Sanders campaign.
"This project was rerouted from Bismarck [North Dakota] due to concerns over drinking water and put one-half mile from the reservation. That is environmental racism on its face," Houska said.
Houska said she, along with others at the camp, had hoped that with Hillary Clinton as president there would be a possibility that the executive branch would step in to re-route or block the pipeline.
She described the mood of the camp as "low" since Donald Trump was named the President-elect, adding, "it was a moment where I was very, very afraid for our people."
For Houska, it's not just Trump's support for oil pipelines that makes her afraid. She pointed to casino mogul Trump's previous clashes with Native Americans, including in the early 1990s when Trump testified in a hearing on Indian gaming on Capitol Hill.
"He painted Native people as drug users associated with the mob and criminal activity," said Houska. In his testimony, Trump said of the Mashantucket Pequots "they don't look like Indians to me," according to video posted by the Washington Post, and he spent more than $1 million for a campaign depicting the Mohawk tribe as users of cocaine and other illicit drugs.
"We have a very difficult path ahead," Houska said.
"I want to know where he is at in terms of upholding treaty rights. Is he truly going to do what the United States has agreed to do — which is fulfill their end of the bargain when it comes to indigenous people?" Houska said, referring to the Fort Laramie Treaty of 1851 which gave eight tribes the land in question for the Dakota Access Pipeline.
Related: Dakota Access Pipeline Fight Watched on Facebook Live Around the World
Film director Josh Fox camped out at Standing Rock for a week, reporting on protests and clashes with police.
"Things are going to get much, much harder, and the thing I'm most terrified of now, informed by my experience at Standing Rock — is now you have a president who encourages violence at his rallies. He's encouraged racism," said Fox, referring to incidents in which then-candidate Trump told crowds he longed for the days when protesters were "carried out in a stretcher."
"I'm 100 percent sure that the pipeline will be approved by a Trump administration."
Fox and his fellow "water protectors" are hoping for help from the current administration before time runs out.
"What I'm hoping is that the Army Corps of Engineers stops the pipeline. I hope Obama will come out with an executive order," said Fox, noting that Dakota Access Pipeline protests are planned around the country for Nov. 15.
The Obama administration this week denied a report that suggested a decision was coming soon, and said no decision has been made.
Tribe Hopes for Resolution
In a statement, Standing Rock Sioux Chairman Dave Archambault II said that Warren's remarks reflected the mindset of a "Dallas-based billionaire" unconcerned with the well being of his tribe.
"Energy Transfer Partners' assertion that there are no sacred sites affected is another example of how they ignore our voice and fail to listen to our serious concerns," Archambault said in the statement. "Once again, a Dallas-based billionaire and the state of North Dakota's archaeologists continue to render our voice meaningless regarding our own understanding of our traditions, spirituality and culture."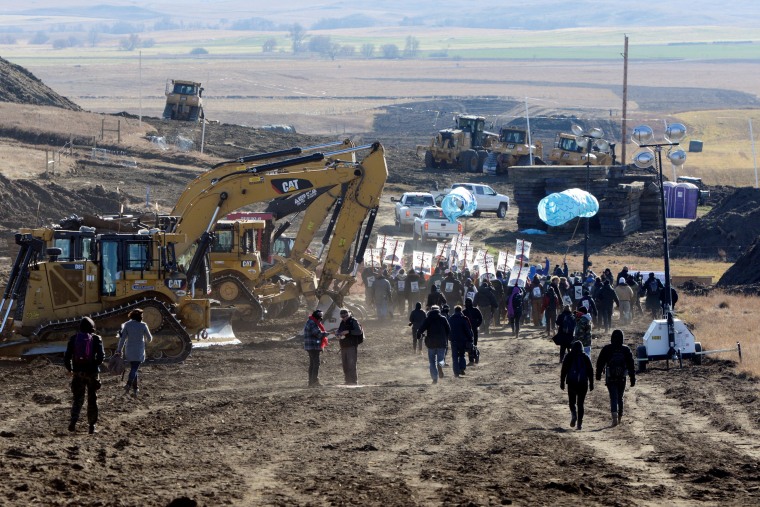 Warren said the tribe's worries that the pipeline would destroy its sacred sites and compromise its water supply "were not based on the facts."
While he admitted that he could not assure the tribe that an oil spill could not potentially occur, he said the pipelines were prepared to withstand such an event. Warren said the pipeline would cross 90-115 feet below Lake Oahe, a large Missouri River reservoir, with double walled and remote-controlled shutoff valves on each side of the crossing.
Though Warren remained bullish on the pipeline's completion, the ultimate decision on the project's fate lies with the U.S. Army Corps of Engineers. For weeks, the Corps has been conducting a federal environmental review of the land in question. It is not clear when the agency is expected to issue the review but both the Standing Rock Sioux Tribe and Energy Transfer Partners believe its release is imminent.
In the event of the Corps denying Energy Transfer Partners the permit to cross Lake Oahe, Archambault has called for a re-route of the pipeline.
"We are hopeful that a meaningful consultation process will take our concerns seriously and result in a re-route so we can protect our ancestral homelands," said Archambault.
It remains to be seen whether a President-elect Trump would share that sentiment.