Hungary's right-wing leader is hoping to "give the finger" to the European Union on Sunday in a nationwide referendum over immigration, according to experts.
Viktor Orban's government is urging voters to reject an EU plan requiring countries to welcome a quota of migrants who have traveled from the Middle East and beyond.
Imposed last year, the program requests that Hungary accept 1,294 asylum-seekers — around 0.01 percent of its 9.9 million population.
Orban — a hardline prime minister who's positioned himself as one of Europe's staunchest anti-immigration voices — has backed the referendum campaign to reject the deal.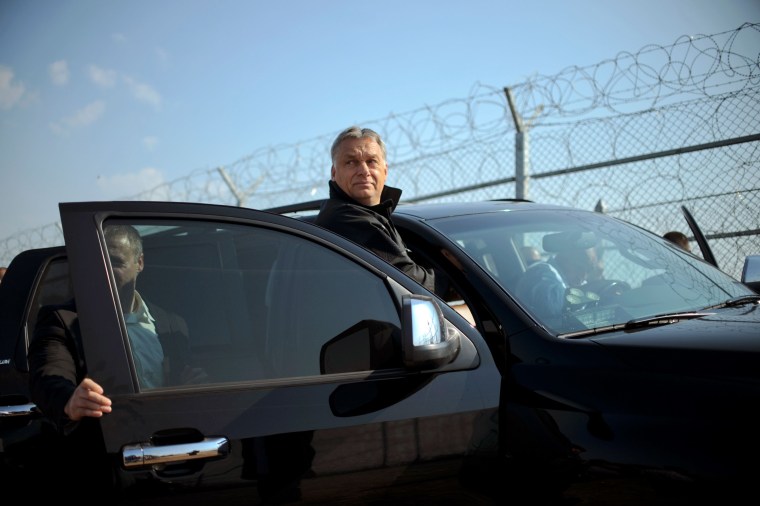 "Orban's argument is that the only way of dealing with the migrant issue is by sealing the borders and refusing to give in to what he sees as moral blackmail," according to Jonathan Eyal, an associate director at the Royal United Services Institute, a London-based think tank. "He's not interested in deals, especially not from the European Union."
Orban's campaign is expected to receive the vast majority of votes, the only real hurdle being the 50 percent turnout needed to validate the result.
His government's advertising campaign cost upward of $47.3 million — compared with the $100,000 budget of his opponents — according to a partial cost seen by The Associated Press.
"We don't want those kinds of migrants, for obvious reasons"
As well as Orban's far superior war chest, critics say he has penned biased referendum question and run a menacing, Islamophobic campaign linking migrants with terrorism.
This is nothing new. He previously referred to migrants as "poison" and — two months before Donald Trump proposed banning Muslims entering the U.S. — argued countries needed to "keep Europe Christian" by defending their borders from Muslim incomers.
"Hungary does not need this kind of intercultural mass migration that is happening at our border," government spokesman Zoltan Kovacs told The AP last week. "We don't want those kinds of migrants, for obvious reasons."
Victory would likely be symbolic, however, because the E.U. deal that Orban opposes is already in tatters.
A Continent Divided
The referendum is the latest flashpoint in a Europe still struggling to come up with a coherent plan for its years-old border crisis.
Flaring conflicts in Syria, Iraq, Afghanistan and elsewhere have forced millions to flee their homes. This year alone, more than 300,000 people have attempted the journey across the Mediterranean Sea, some 3,500 dying along the way.
Most have been attempting to get to relatively welcoming countries such as Germany and Sweden, but tens of thousands are stuck where they landed, mostly in Italy and Greece.
The E.U. attempted to unclog this blockage last year, pushing through a plan to take 160,000 of Italy and Greece's migrants and distribute them evenly across Europe.
The scheme has all but failed. European nations have so far only managed to accept around 3 percent of this target, a figure Amnesty International labeled an "abject failure."
Hungary, Romania, the Czech Republic and Slovakia voted against the proposal from the start. And Sunday's referendum looks set to hammer home their displeasure, not only with an already-defunct system, but the Western liberal consensus on multiculturalism in general.
"This referendum is completely symbolic," said Robert L. McKenzie, visiting fellow at the Brookings Institution. "This is far more about challenging the authority of the E.U. institution than it is about stopping migrants and refugees."
The vote is the latest ploy by Orban to cast himself as the antithesis to German leader Angela Merkel, whose relaxed immigration policy saw her accept 1.1 million asylum-seekers last year.
The influx has coincided with a rise in far-right nationalism across the continent. Supporters have linked the increase in immigration with a string of mass-casualty terror attacks.
Orban's outlook is that "you have to be cruel in today's world in order to survive," according to Eyal. "He isn't interested in polite words and political correctness."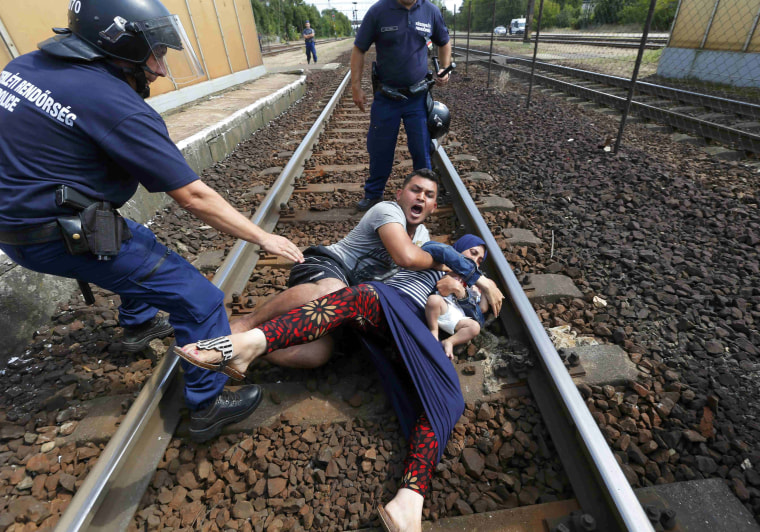 Winning Sunday's vote would "strengthen this case by giving the finger to the European Union," Eyal added.
Hungarians will be asked: "Do you want the European Union to be able to prescribe the mandatory settlement of non-Hungarian citizens in Hungary even without the consent of Parliament?"
Camino Mortera-Martinez, a research fellow at the Center for European Reform, described the question as "absolutely biased" and pointed to its loaded language. "The way the question has been put to the people, I think Orban is likely to win," she said.
A White, Christian Land
Not only does the referendum deal with a defunct E.U. deal, but experts point out that, win or lose, Hungary shows little sign of softening its stance on immigration.
Like much of Eastern Europe, the country is far more ethnically and religiously homogeneous than its Western cousins.
Only one percent of Hungarians were born abroad and most of its people "simply do not buy into this idea about multiculturalism," according to Eyal. "They do not see why their Christian identity should be mixed with people from other countries."
Mortera-Martinez explained that Eastern European countries are "much more uniform" than Western European countries because they have "no colonial history, so no huge swaths of migration" from outside Europe.
"They've also just come out from a recent invasion from a foreign power so they are much more cautious of foreigners," she said, referring to Hungary's period under Nazi and then Soviet control.
Hungary was used by migrants as a transit point into Western Europe, with 400,000 passing through last year, but that was reduced to a trickle after Orban's government built razor-wire fences along its borders with Serbia and Croatia.
Hungary has also deployed its army to help monitor this frontier, kicking out any migrant who breaches its borders.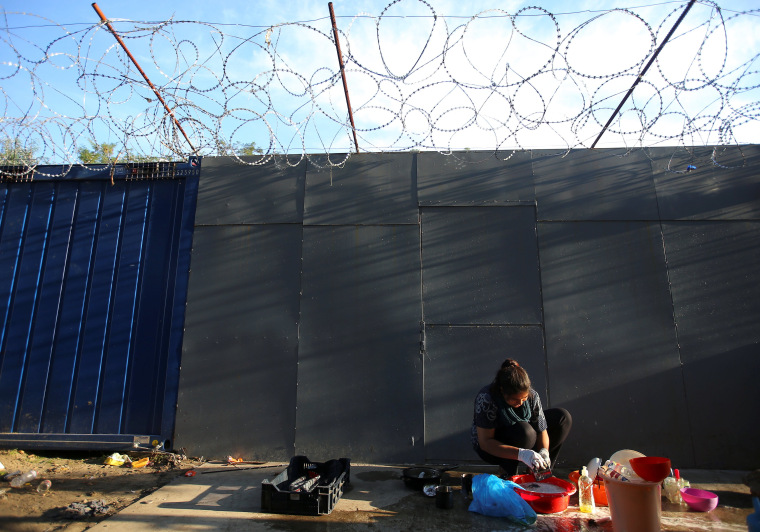 Orban's only real opposition in the referendum, the satirical Two-Tailed Dog Party, has joked that the average Hungarian sees more UFOs than migrants.
"They are not very welcome there," McKenzie at the Brookings Institution said. "It's not a place that a refugee wants to be stuck in."
Even if the government wins, it hasn't said what the practical outcome will be and many experts questioned whether the result would even be legally enforceable under EU rules.
What seems certain is that — like Britain's Brexit vote in June — an Orban victory would be seen as another populist kick in the teeth for the EU.
"It's another use of a referendum for a country to simply refuse what the EU asks it to do," said Eyal.