At least 6,500 refugees and migrants flooded across the Hungarian border into Austria, where many were greeted by charity workers offering beds, hot tea and welcome handshakes on Saturday.
Austrian officials told NBC News they expected 10,000 or more by the end of the day.
Waiting Austrians held signs that read, "Refugees welcome." Many of the arrivals collapsed on the floor, smiles on their faces.
"Austria is very good," 23-year-old Iraqi Merhan Harshiri told The Associated Press. He smiled broadly as he walked toward the supply line, where newcomers munched apples and bananas. "We have been treated very well by Austrian police," he added.
The breakthrough came after days of confrontation and chaos, with Hungary's right-wing government deploying dozens of buses to take migrants from Budapest.
Some 3,500 had already arrived in Vienna, Austria's capital, by around 2 p.m. (8 a.m. ET), according to the Interior Ministry.
Those who wanted to continue towards the Austrian capital Vienna and then Germany, which has been seen as among the most welcoming countries to refugees and migrants, would be allowed to go, police told NBC News early.
PHOTOS: Tired of Waiting, Migrants and Refugees Set Off on 300-Mile Trek
For days, several thousand refugees and migrants camped outside Budapest's main railway station, where trains to western Europe were canceled as the government insisted all those entering Hungary be registered and their asylum applications processed in the country as per European Union rules.
But on Friday, in separate, quick-fire developments, hundreds broke out of an overcrowded camp on Hungary's border with Serbia, escaped from a stranded train, and took to the highway by foot led by a one-legged Syrian refugee and chanting "Germany, Germany!"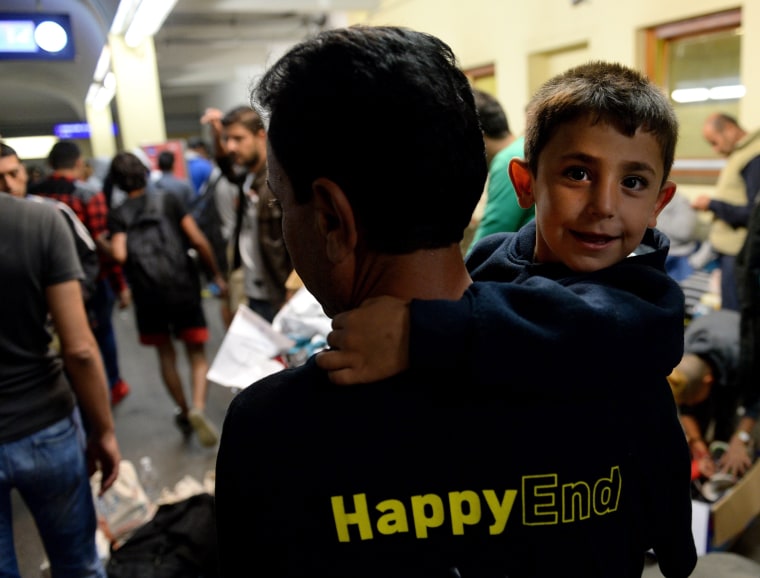 Austria said it had agreed with Germany that it would allow the migrants access, waiving the rules of an asylum system brought to breaking point by Europe's worst refugee crisis since the Yugoslav wars of the 1990s.
The asylum seekers chiefly from Syria, Iraq and Afghanistan often have spent months in Turkish refugee camps, taken long journeys by boat, train and foot through Greece and the Balkans, then crawled under barbed wire on Hungary's southern frontier to a frosty welcome.
Austrian Interior Minister Johanna Mikl-Leitner weighed into the debate over what should be done with the tens of thousands fleeing war, poverty and depravity.
"Given the challenges facing our German friends as well, all of Europe needs to wake up. (The time for) reverie is over," she said, according to Reuters. "Now the continent of Europe is challenged. In this great challenge the entire continent has to give a unified answer. Whoever still thinks that withdrawal from the EU or a barbed wire fence around Austria will solve the problem is wrong."
RELATED: Migrants and Refugees Vow to Continue 'Terrifying' Journey to Europe
Hungary, the main entry point into Europe's borderless Schengen zone for migrants heading northwards through the Balkans, has taken a hard line, vowing to seal its southern frontier within days. Hungarian officials have painted the crisis as a defense of Europe's prosperity, identity and "Christian values" against an influx of mainly Muslim migrants.
Abdullah Baker, a 26-year-old physician from the war-ravaged city of Aleppo in Syria, said he wants to work at a hospital in Freiburg, southwest Germany, where a friend is already employed. Baker left his parents and four sisters behind. He and two friends were among the few Syrians on an Austrian-bound bus carrying about 50 people.
"My family had tears of joy when I told them about the bus," Baker said. "We always fear the unknown but I long for closure."