Yet another new European border fence was erected Wednesday as Slovenia became the latest country to install a barrier to control the flow of refugees and migrants.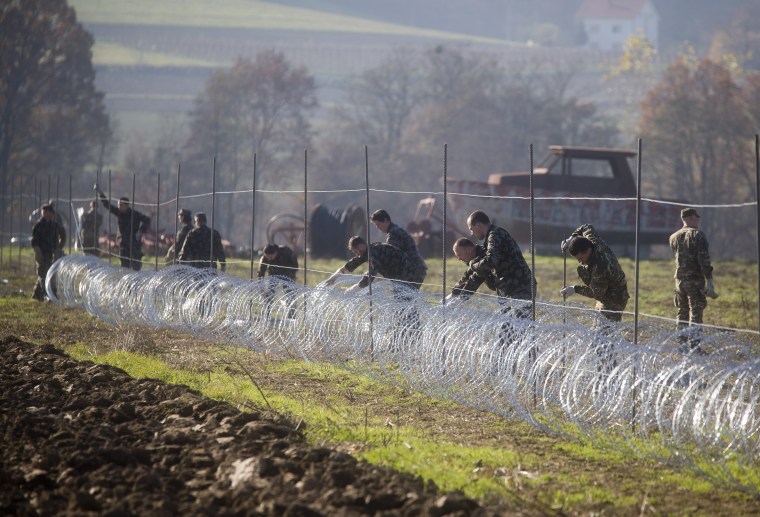 Trucks carrying wire fencing arrived in the Slovenian village of Veliki Obrez close to the border with Croatia, with large numbers of soldiers and police guarding construction equipment.
Slovenia is the smallest country on a major route for refugees and migrants heading north on their way to Austria and then Germany.
Prime Minister Miro Cerar announced Tuesday that a new fence would help control the mass migration.
About 180,000 people, many fleeing war in Syria, have entered Slovenia since mid-October, when Hungary erected a razor-wire fence along its southern border that forced migrants to divert westward.
Natasa Posel, director at Amnesty International Slovenia, told NBC News that the government was also talking about limiting the flow of people by imposing a daily cap of 6,000. At times, the number of refugees and migrants has reached about 10,000 per day, according to estimates by Balkan governments.
"If access for refugees is limited, it could create a backlog in other countries such as Croatia and this might cause a humanitarian catastrophe," Posel said.
Slovenia's public broadcaster reported earlier this week that the country had purchased about 78 miles of fencing to be placed along the border with Croatia, which is more than 400 miles long. Officials said the fence would not seal its border completely but would control the flow of refugees and migrants.
Austria said last week it would build barricades at its border with Slovenia, while Hungary began installing its razor-wire barrier — up to 13 feet in height — along the Serbian border in September.
Amid international concern at the spread of such fences, which evoke the Cold War-era barriers that divided Europe, Hungary said the decision to build fences was not done "for fun," but to protect the European Union.
Almost 750,000 migrants and refugees have made it to Europe this year. That figure includes nearly 220,000 people who reached Europe by sea in October, almost equal to the total number of migrants who arrived during 2014, according to the United Nations refugee agency (UNHCR).