The modest one-story home in Flint that Oscar and Elizabeth Brown bought 21 years ago with paychecks from the nearby Buick plant was the place where they raised and nurtured their grandchildren.
But now the couple believes that same home may be hurting its youngest resident, great-great-grandson Dana Brock, a sweet 3-year-old who began suffering health problems soon after the city's disastrous switch to a new water source.
He's one of thousands of children who have been exposed to lead because corrosive water from the Flint River damaged old service lines that run between water mains and houses. It could be years before the impact on kids like Dana is fully known.
"I hate to think about it and I hate to talk about it," Elizabeth Brown, 80, told NBC News. "They say they can't cure that. It's going to be affecting them all their life. And nobody cares. Nobody's doing anything."
The family won't feel safe until the city's lead pipes are replaced — and none of them have been removed in the three weeks since Michigan declared a state of emergency.
"They're giving out water," Elizabeth Brown said. "That's good. I'm thankful. But that's like you cut yourself and put a Band-Aid on it when you need stitches."
Oscar and Elizabeth migrated north to Flint from Mississippi 62 years ago. They lost their first house and bought their current one in 1994 in a neighborhood where autoworkers could afford to raise families.
Retired from the Buick plant, Oscar collects a pension and Elizabeth gets $500 a month from Social Security, nearly the amount of their monthly mortgage. Their water bill alone is $109 a month — for water the government now says is not safe to drink.
But 14 months ago, authorities were still insisting Flint's water was fine and the Browns, their great-granddaughter Denettra and her son Dana were drinking it regularly.
Dana, who hasn't yet started preschool, started experiencing seizures — a symptom of sudden and severe lead poisoning. His four front teeth decayed rapidly and had to be pulled. He was lethargic, and had trouble breathing.
He was hospitalized twice, about a week each time, and had an MRI, but doctors couldn't come up with a diagnosis.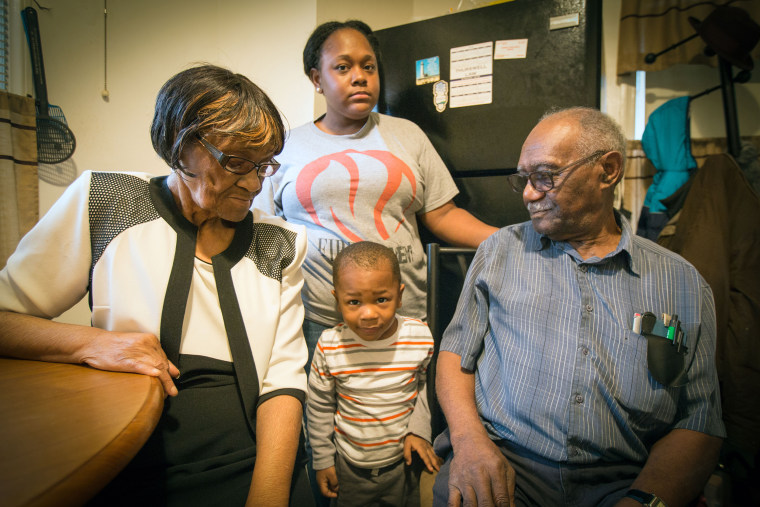 Dana was never tested for lead poisoning, but his mother and the rest of the family are sure it's at the root of his suffering.
"That's something I have to deal with long term," Denettra Brown, 27 said. "That's not something where you can get Motrin and it goes away."
Lead poisoning can cause a range of serious mental and physical problems, and Dana's mother is worried about his future.
"He should have the option to be able to go to Harvard if he wants to," she added.
According to city records, there are at least 45 homes on the Brown's street that have lead and partial-lead service lines, and the city has not started replacing them. It's unclear how long it will take for phosphates, which were recently added to the water, to form a protective coating inside the pipes.
READ: What Emergency? Lead Lines Not Being Replaced in Poisoned City
Harold Harrington, a master plumber with United Association Local 370, visited the Browns on Tuesday and inspected the service line in the corner of their basement, just past a framed painting of Martin Luther King Jr.
Harrington said it would cost up to $10,000 to rip out the Browns' part of the lead service line and replace the copper pipes, which likely contain lead solder, in the walls of a home that isn't worth more than $14,000 to $18,000.
"We can't pay that," Oscar Brown, 82, said. "Bottom line. We can't pay that."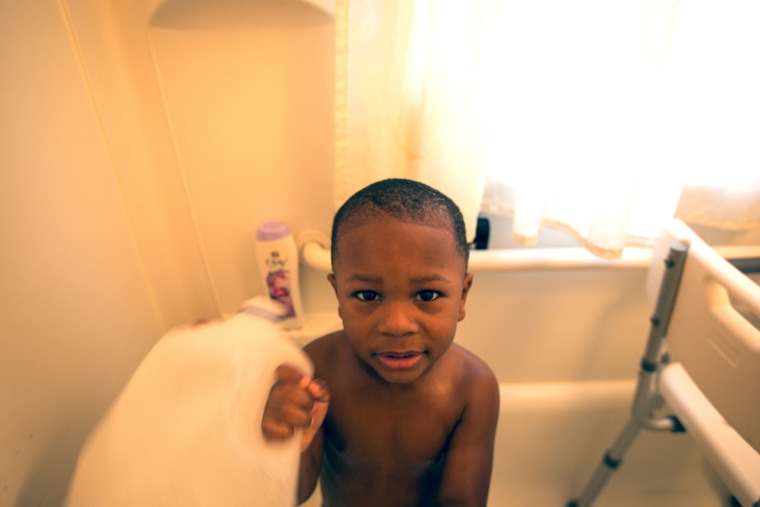 It's not clear how the city or state will help families like the Browns, who can't afford to make the repairs that would keep their children safe.
In the meantime, Denettra bathes her son every day with a warmed jug of water. Cooking is an ordeal and they go through several cases of bottled water a week.
"I'm too old to be washing and toting water," Elizabeth said. "I'm not supposed to be doing all this at my age. I was fine until they went to that water. I've been sick ever since."
She said she has rashes on her skin, fatigue, and weight loss; she's dropped 50 pounds in a year. Dana has a doctor's appointment next week to get tested for lead, though the levels could be misleadingly low now that he's not drinking tap water any more.
His mother said its "mind-boggling" to expect hard-working people like her great-grandparents to pay for mistakes made by government officials.
"They made the way for them and for us, the ones that are coming up," she said of Oscar and Elizabeth. "For them to have to live like they put nothing into this community, it's crazy. It's not fair and it's not right."