Despite its war with ISIS, Iraq is pumping oil at a pace not seen in nearly 40 years, and the spigot will be opened still wider by a deal reached Tuesday between Baghdad and the Kurds, energy experts and U.S. officials say.
"They've been able to ramp it up quite impressively, despite ISIS," oil trader John Kilduff said of the Iraqis' oil production, which hit 3.4 million barrels a day in November. That level, which earned Baghdad $5.2 billion, was 100,000 barrels higher than the previous month and meant that Iraq is now pumping more oil than any OPEC member other than Saudi Arabia.
Tuesday's deal between the central government and the Kurdish regional government in Erbil will increase production, raising more money to fight ISIS and adding downward pressure on global oil prices, already are at their lowest levels in years, according to Kilduff and other experts.
Kilduff said Western investment and the ready availability of superior U.S. drilling equipment -- denied for decades because of sanctions against the government of Saddam Hussein – have helped Iraq increase its production in the midst of conflict.
But Iraqi geography and ethnic and sectarian divisions also have played a significant role in keeping the nation's rich oil fields out of harm's way.
The Sunni terrorists of ISIS control a 400-mile long swath of mostly Sunni Muslim territory in Iraq and Syria -- stretching from Mosul, a city of 700,000 in northern Iraq, to Reqqa in central Syria – but have not been able to extend its reach into oil-rich areas of Iraq in the far south, where Iraq's Shiite majority is dominant, or in the Kurdistan region, home of Iraq's Kurdish population.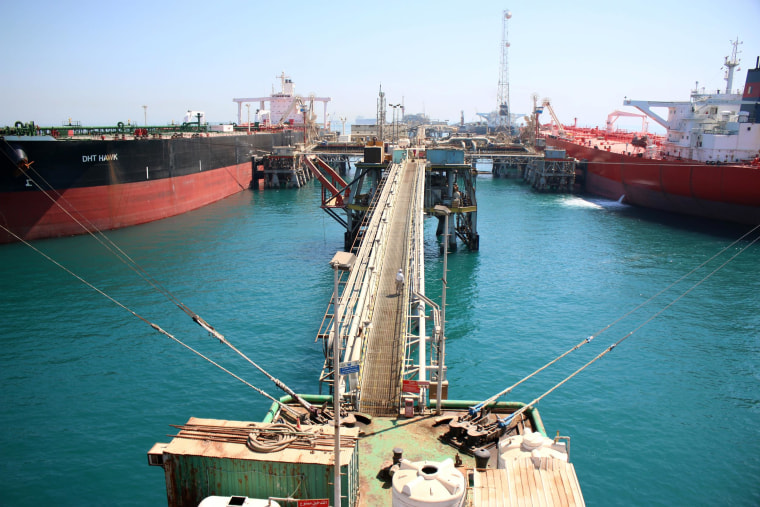 It has gained control of small refineries, and for a time held the huge Baiji refinery north of Baghdad, but there are no significant oil reserves in the Iraqi portion of its self-declared caliphate.
"They control a lot of sand," said one U.S. official.
The oil that ISIS has been able to sell on the black market in Turkey -- estimated to be around 25,000 to 30,000 barrels a day, at prices as low as $25 a barrel -- comes not from Iraqi wells, but from declining wells in Syria, near the contested city of Aleppo, U.S. intelligence officials say. Tuesday's agreement between the Iraqi government and the Kurdistan Regional Government (KRG) is expected to further tilt that balance in favor of Iraq.
For more than a year, Baghdad withheld budget payments to the KRG after the latter attempted to export oil to Turkey outside Iraqi controls. The U.S., seeking to keep Iraq together, supported Baghdad. In response, the Kurds threatened to pull out of the central government and form their own nation.
The impasse became financial crisis for Baghdad when Saudi Arabia unilaterally cut oil prices in October, sending oil prices tumbling to $70 a barrel. That move, which most experts believe was an attempt to slow the U.S. fracking boom, put additional pressure on nations dependent on oil revenues, like Iraq.
That, in turn, put additional pressure on Baghdad to patch things up with the Kurds, leading to Tuesday's deal.
Under the agreement, Kurdistan can sell roughly half its oil production through the Iraqi government's marketing arm and will get 17 percent of the Iraqi national budget, which is supported by sales from the Iraqi national reserve. In addition, the KRG will receive $1 billion dollars to pay, train and equip its fighting force, the peshmerga, to fight ISIS.
Kilduff, who is president of Again Capital and a CNBC analyst, says the deal will add to stability in both Baghdad and Erbil, the Kurdish regional capital, and should aid the fight against ISIS. The Kurds may be the bigger winner, he said, noting that the KRG which was exporting 170,000 barrels a day earlier this year and is projecting a 500,000 barrel-a-day production goal.
The deal is likely to delay any dreams of independence for Kurdistan, however. Kurdish officials have long seen increased production as a way of creating an economically viable state, with some officials believing independence could be achieved at the million barrel a day level.
Related
David Phillips, director of the Program on Peace-building and Rights at Columbia University and also a CNBC analyst, says ISIS has made the dream of an independent Kurdistan much more difficult.
"In my view, they haven't abandoned the dream of independence," said Phillips, whose book "Kurdish Spring, a New Map of The Middle East" is due out next month. "They recognize that ISIS presents a new reality that requires a slower approach."
Follow NBC News Investigations on Twitter and Facebook.
"They are in a precarious security situation right now," he adds. "The only way is through a train and equip program. If they make dash for independence, they lose their security assistance, not just from Baghdad but from the U.S."