The insurgent group taking over Iraqi cities in a wave of violence has posted disturbing pictures online of what appears to be a massacre of dozens of Iraqi soldiers.
NBC News has not independently verified the authenticity of the pictures. Iraq's top military spokesman, Lt. Gen. Qassim al-Moussawi, confirmed their veracity with The Associated Press, and said he was aware of cases of mass murder of captured Iraqi soldiers in areas held by the Islamic State in Iraq and al-Sham (ISIS), an offshoot of al-Qaeda.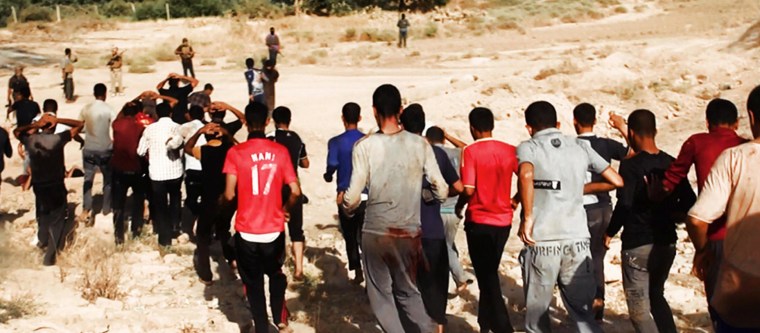 The militants with ISIS posted graphic photos showing captive men in plain clothes being loaded onto trucks and then made to lie down in a ditch with their arms behind their back. The last images in the series show the bodies soaked in blood.
The gunmen directing the prisoners are armed with AK-47s and wearing masks, tactical vests and street clothes.
Sign up for breaking news alerts from NBC News
Arabic text translated by NBC News on the photos say the mass murders were retaliation for the killing of an ISIS commander, Abdul-Rahman al-Beilawy, whose death was reported shortly before the group's blitzkrieg offensive this past week.
One photo says, "They're walking to death by their foot."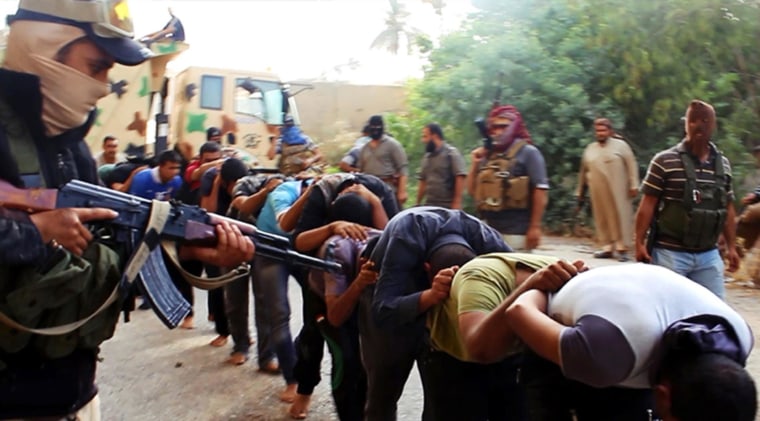 In a statement, a spokeswoman for the State Department said that the reports of the mass murders could not be confirmed.
But the spokeswoman, Jen Psaki, added, "The claim by the Islamic State of Iraq and the Levant (ISIL) that it has massacred 1700 Iraqi Shia air force recruits in Tikrit is horrifying and a true depiction of the bloodlust that these terrorists represent."
The push by ISIS has plunged Iraq into its bloodiest crisis since the withdrawal of U.S. troops in 2011 — and left major northern cities Mosul and Tikrit in insurgent hands — along with $450 million looted from a central bank.
ISIS has promised to take Baghdad next, and on Sunday explosions could be heard throughout the capital.
The United States, meanwhile, has sent three Navy ships to the Persian Gulf to protect American interests in the region, although President Obama has said he will not send more ground troops.