The rising star of ISIS, the Sunni insurgent group terrorizing Iraq, is a fighter known as Omar the Chechen — a young, fierce military commander whose most distinctive feature is an unmistakable red beard.
His nom de guerre is Omar al-Shishani, and he's only 28. Terror analysts say his growing profile demonstrates not just the reach of ISIS but its ferocity: Al-Shishani grew up in the spartan Pankisi Gorge of Georgia, hardened by decades of fighting.
Sign up for breaking news alerts from NBC News
"That's the Harvard of terrorist upbringing," said Patrick M. Skinner, director of special projects for the Soufan Group, a security consulting company, who has studied ISIS and its predecessor groups for years.
"It's very different than being a kid in Saudi Arabia, where you're coddled and you come to the ideology later," he said. "He was raised this way."
Al-Shishani has commanded ISIS forces in Syria as they work to erase the border between Syria and Iraq. Analysts say he may already be the military chief for the whole movement.
The last man to hold the job, Abu Abdul-Rahman al-Bilawi al-Anbari, was killed in the city of Mosul last month, just as ISIS fighters were sweeping across the Iraqi north and capturing swaths of land.
Unlike Abu Bakr al-Baghdadi, the ISIS leader, Omar the Chechen is not afraid to show his face. He appeared in an ISIS video over the weekend, asking God to grant his fellow fighters martyrdom if they can't establish an enormous Islamic state.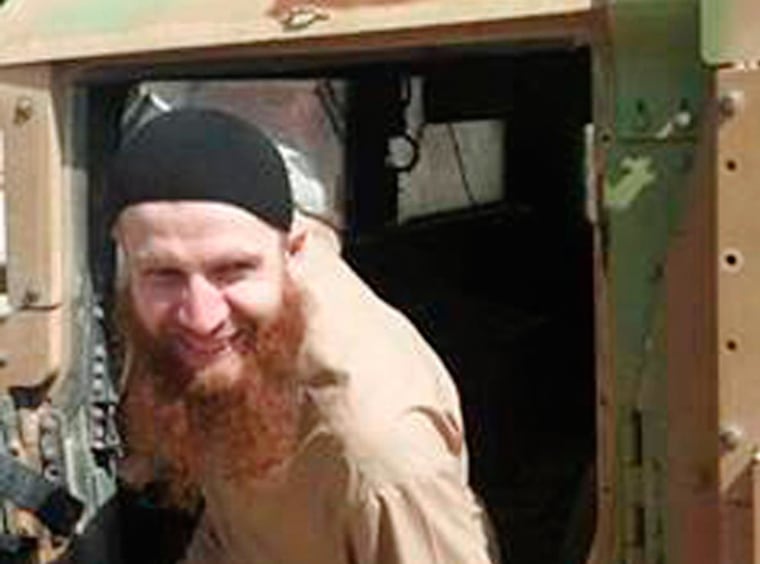 "Our aim is clear, and everyone knows why we are fighting," al-Shishani said in the video. "Our path is toward the caliphate."
The public profile is almost certainly not an accident because ISIS is known to be extremely brand-conscious — mobilizing on Twitter and even recently changing its name to Islamic State to emphasize its goals.
Al-Shishani's style draws a sharp contrast with al-Baghdadi, who has almost never been photographed and whose secrecy has enhanced his prestige among fighters, according to terror analysts.
Al-Shishani, whose given name is Tarkhan Batirashvili, is from the Caucasus region of Georgia, torn by strife as long as he has been alive. He served in the national army and was discharged after an illness, a former neighbor told The Associated Press.
The BBC, citing Georgian military records, reported in December that it was tuberculosis.
Police in Georgia arrested him for illegal arms possession, the neighbor told the AP. Al-Shishani left Georgia for Turkey in 2010. He showed up in Syria three years later, long after that country had plunged into civil war, and swore allegiance to al-Baghdadi.
The State Department estimates that 9,000 foreign fighters have joined the civil war in Syria. And the Chechens, who have fought Russia in the Caucasus for decades, are among the most feared.
Al-Shishani commands perhaps 500 to 1,000 fighters and has risen with a sustained campaign of success. His groups have avoided crippling losses, including fighting both the Maliki forces and the troops of Syrian leader Bashar Assad.
Last August, it was al-Shishani's fighters who helped capture Managh, an air base in the Syrian north that had been disputed for months.
Until recently, ISIS was thought to be recruiting heavily inside Iraq. It has shifted its focus and is picking people who have demonstrated fighting prowess no matter where they are fighting — the opposite of the cronyism of Iraqi Prime Minister Nouri al-Maliki, analysts say.
"Shishani's unit is the best performing wherever he goes," Skinner said. "In the jihadist world, there are levels of fear and respect, and the Chechens occupy the top."
The Associated Press and Reuters contributed to this report.