An Iraqi military plane returning from a raid targeting ISIS positions mistakenly dropped a bomb on a Baghdad neighborhood on Monday, killing or wounded at least 16 residents, an official said.
"There were technical problems with a Sukhoi military plane while it was flying above a residential area in eastern Baghdad," Iraqi security spokesman Brig. Gen. Saad Maan told NBC News. "The bomb fell out and destroyed three houses."
He said that women and children were among the victims but did not specify how many people had been killed. But speaking to Reuters, police in eastern Baghdad put the death toll at five.
The jet had been taking part in airstrikes against ISIS militants, Mann said, adding that the plane's pilot was considered one of the best in the country.
Residents of the Nasiriyah neighborhood described hearing a the military jet flying overhead and then a huge explosion.
"I thought the explosion was from a car bomb because we couldn't imagine that someday a bomb would fall on us from a warplane," 29-year-old taxi driver Hussein Ali Sahb told NBC News. "[But] when I went out I saw three houses were destroyed and no car was close."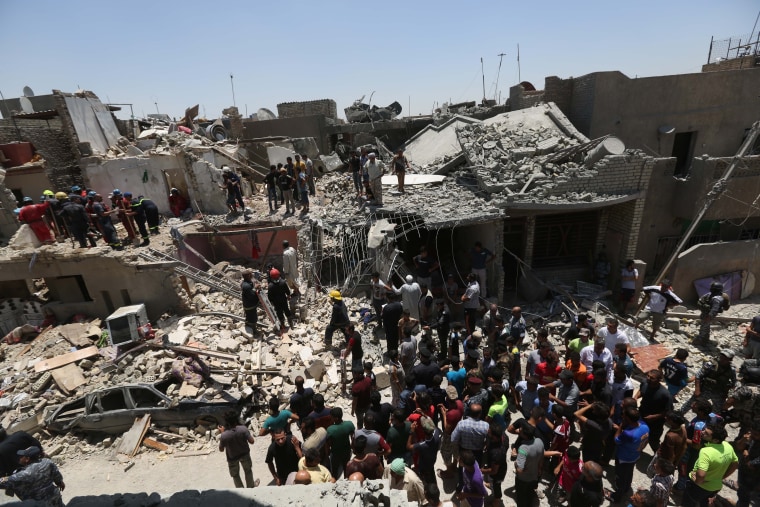 "I cannot imagine how such stupid pilots are given the chance to fly and kill innocent people," he added, calling on the government to punish the pilot responsible.
Muhsin Saied, a government employee, said he was was on his way to buy bread when he heard the blast.
"We in the neighborhood started to look for [people] under the debris of their houses," the 35-year-old said. "I carried two men — one of them died."
Like others in the neighborhood, Saied said he was outraged that government jets had killed innocent people.
"They were sitting in there houses peacefully," he said. "Instead of targeting ISIS terrorists our government targeted its people."
The government had a formed a committee to investigate the incident and find out what caused the bomb to fall out of the aircraft, Maan said.