From a haven in Syria, an ISIS brain trust is conducting research on conventional and unconventional weapons, including surface-to-air missiles and chemical agents, current and former U.S. intelligence officials tell NBC News.
Video from inside an ISIS facility obtained by Britain's Sky News seems to show that these scientists and experts, who include Saddam Hussein loyalists, Syrian military defectors and foreign recruits, may have figured out how to use remote-controlled cars as driverless bombs, and how to repair thousands of heat-seeking missiles that can down jet fighters and passenger planes.
If the claims made in the video are true, ISIS could launch mass casualty attacks in the West and knock down fighter planes attacking its territory. Other footage seems to show training of militants to launch attacks inside Europe.
The video also shows that ISIS is taking on more and more of the trappings of a nation-state, experts say. ISIS commands a level of resources that al Qaeda was never able to harness, and now has an infrastructure that includes social welfare, financing, and sophisticated military training and weapons programs.
"They are trying to develop more state-like capabilities, to have the ability to project power and take jihad to the homeland of the Crusaders," said Doug Ollivant, who served as director for Iraq at the National Security Council during both the George W. Bush and Obama administrations. "This is totally in their character."
Of particular concern, Ollivant said, is the possibility that ISIS could fix or replace the thermal batteries in old surface-to-air missiles, including Stingers that the U.S. left behind in its first campaign in Afghanistan against the Soviets.
As a former senior military officer in Iraq and Afghanistan, Ollivant said the ability to rehab missiles has been the Holy Grail for countries in the region — and for terrorist organizations. "If they solve that problem, it is significant, because there are tons of missiles lying around — all the missiles we gave the mujahedeen many years ago. And nothing is wrong with them except that the batteries are dead."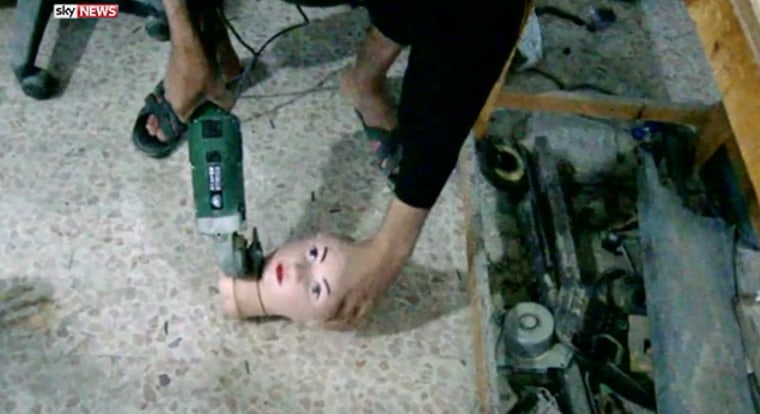 London-based weapons expert James Bevan said that the parts of the video made public to date don't show any direct evidence of ISIS having either surface-to-air missiles or improvised thermal batteries, which he said would be used to power the pre-launch phase ofman-portable air defense system missiles, or MANPADS.
Bevan, the executive director of Conflict Armament Research, also said ISIS forces would be unlikely to try to replicate a thermal battery, but "would probably chose a simpler power source — and one that could be equally effective in the short-term — such as rechargeable lithium batteries."
"Over the past year," said Bevan, "a number of credible reports have commented on the improvised use by IS forces of lithium batteries to power older generation MANPADS."​
According to the video, which Sky News says seems to have been shot in a training facility in Raqqa, Syria, the ISIS experts have also developed remote-controlled cars for use as mobile bombs. They have fitted the cars with fake "drivers" — mannequins with self-regulating thermostats to produce the heat signature of humans. The mannequins could allow the car bombs to evade scanning machines that protect military and government buildings in the West.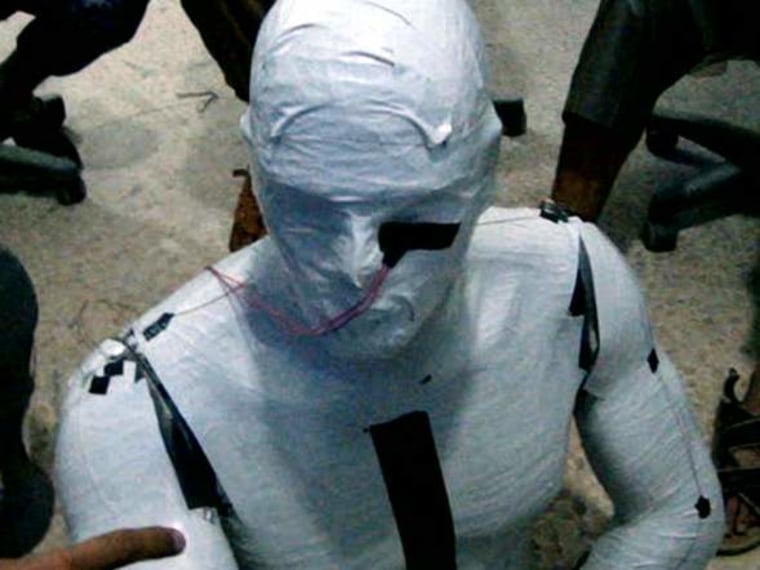 U.S. officials would neither confirm nor deny the battery research, but they say intelligence agencies have long been tracking the ISIS' weapons programs.
The Associated Press reported in November that the ISIS brain trust is aggressively pursuing development of chemical weapons, setting up a branch dedicated to research and experiments with the help of scientists from Iraq, Syria and elsewhere in the region.
U.S. intelligence officials don't believe ISIS has the capability to develop sophisticated weapons like nerve gas, but the militants have used mustard gas on the battlefield in Iraq and Syria.
The ISIS chemicals group is made up of foreign recruits and Iraqi experts, including ones who once worked for Saddam Hussein's now-dissolved Military Industrialization Authority, the AP reported. The foreigners include experts from Chechnya and southeast Asia, Iraqi intelligence officials said.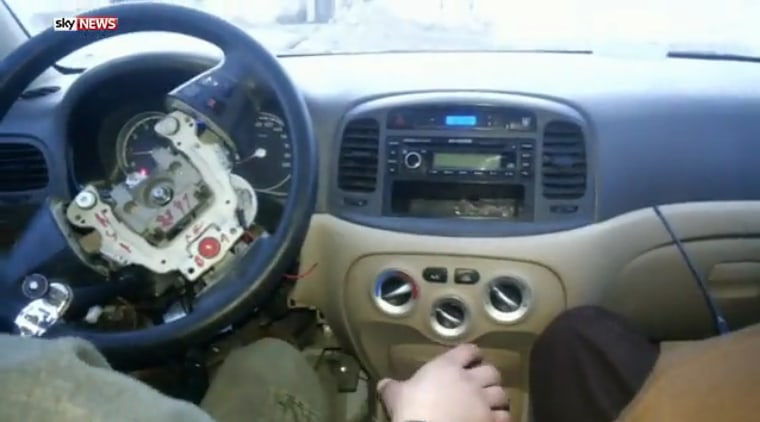 ISIS last year moved its research labs, experts and materials from Iraq to "secured locations" inside Syria, apparently out of concern of an eventual assault on Mosul, Iraq's second largest city, which it occupies.
Ollivant said that the details in the video are sure to ratchet up the concerns of veteran military and intelligence officials who have watched the rise of ISIS with alarm — especially its attempts to transition from a stateless terrorist organization to one with the advantages of a nation-state.
Ollivant said that U.S. intelligence and military agencies will be combing through the video to authenticate it, and also to glean possible details of new ISIS capabilities — and locations that they can target with military action.
"I'm sure the agency [CIA] is all over this and I'm sure JSOC [Joint Special Operations Command] is all over this, but our ability to do much about it is very limited, short of dropping bombs on them."
Sky News says it obtained the footage from the Free Syrian Army, which found eight hours of unedited video on a captured ISIS trainer. U.S. officials declined to comment on the specific claims in the video, but did not dispute the claims or the authenticity of the video.