An ex-wife of ISIS leader Abu Bakr al-Baghdadi was among 13 Islamists released in swap with al Qaeda's Syrian wing in exchange for Lebanese captives on Tuesday.
Saja al-Dulaimi was seen being taken to eastern Lebanon in a convoy including Red Cross vehicles in footage aired by the Al-Jazeera television channel.
She and 12 other prisoners were handed over to Syria's al Qaeda-linked Nusra Front in exchange for 16 Lebanese security personnel who have been held hostage by the group since 2014, Lebanese security officials told Reuters and The Associated Press.
The swap ends a long drama over the fate of the Lebanese personnel, which has unsettled the Mediterranean country amid spillover from the civil war in neighboring Syria. Families of the Lebanese captives have been holding a months-long vigil in a tent outside the government headquarters in Beirut. Pictures of them and posters calling for their release are visible across the city.
"My happiness is beyond description," one Lebanese police officer said shortly after he was brought to the exchange location, near the eastern town of Arsal.
The militants brought the troops in three pickup trucks to a meeting point on the edge of the town, to be handed over to Lebanese authorities who were waiting along with Red Cross vehicles. However, the exchange was delayed pending the arrival of humanitarian aid as part of the Qatar-brokered deal.
Details on the other 12 prisoners to be released as part of the secret deal were not immediately available, the AP reported. Al-Dulaimi was detained in Lebanon last year after she crossed into the country illegally with her current husband using forged identity cards.
Al-Dulaimi, who appeared in Lebanese court for a hearing last month, was seen along with her four children at the meeting point Tuesday. "They say that I was the wife of al-Baghdadi. I don't know, we have been divorced for six or seven years," she told Al-Jazeera upon her arrival to the area controlled by the Nusra Front.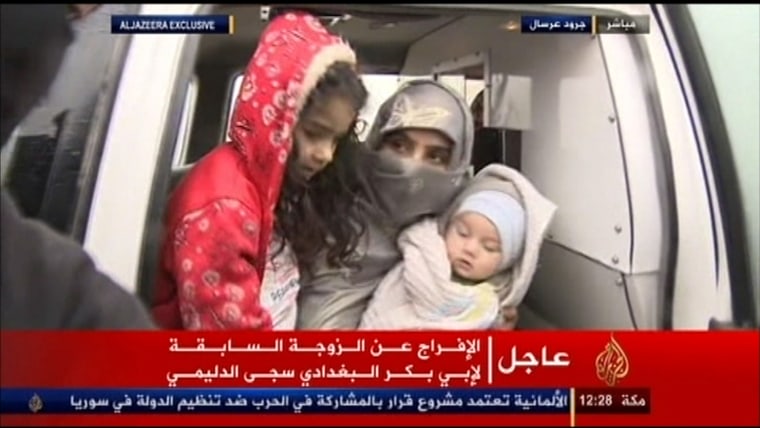 Al-Dulaimi added that she wanted to go live in Turkey. The Associated Press reported that al-Baghdadi's biological daughter, Hajar, 7, was sitting next to her mother.
The Nusra Front and ISIS abducted 29 Lebanese soldiers and policemen in Arsal last year. Four have been killed and 9 will remain in captivity after Tuesday's swap.
Lebanon's security chief, Major-General Abbas Ibrahim, told Reuters that the country was "ready to start a negotiation process" over the 9 remaining captives "if we find someone to negotiate with."