ISTANBUL — Turkey blocked access to Twitter for several hours Wednesday in an attempt to stop users spreading images of a deadly bombing and calling for anti-government protests, the state-run Anadolu Agency reported.
The dispute highlighted tensions in Turkey after Monday's suicide bombing in the southeastern city of Suruc, which killed 32 and wounded scores. Turkish officials said it was part of an ISIS retaliation campaign against the government's crackdown on the extremists' operations in Turkey.
Turkey had asked Twitter to remove 107 URLs with images of the bombing's aftermath, a government official said. Twitter removed about 50 of the URLs before it was blocked and then restored a few hours later.
A Turkish government official said access to Twitter was restored after the company "removed malicious content, including hate speech, in line with the court order." The official spoke on condition of anonymity because they were not authorized to speak with the media.
View Gallery: Loved Ones Grieve After Bombing in Turkish Border Town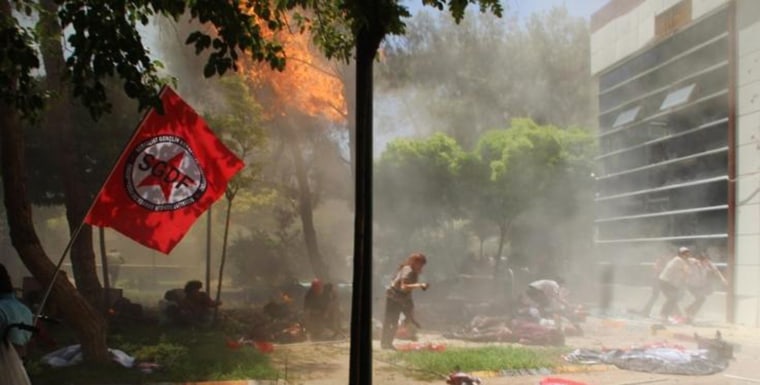 A court in Suruc banned the publication of the images, both in the media and on social networking sites, and barred access to websites that did not comply, Anadolu reported
Meanwhile, authorities confirmed Monday's attack was a suicide bombing and identified the bomber through DNA testing as 20-year-old Turkish national Seyh Abdurrahman Alago.
Alago and his brother were wanted by authorities as "missing persons with possible terrorism traits," Anadolu reported.
Since the blast, protests have erupted in Istanbul and other cities, with demonstrators blaming the government for the bombing.
Turkey has periodically blocked social media. The government ordered a temporary block on Twitter and YouTube earlier this year during a hostage crisis in an Istanbul courthouse.
Those sites were also blocked last year after audio recordings of a secret Turkish security meeting that suggested corruption by government officials were leaked on social media. Turkey's highest court, however, overturned those bans, deeming them to be unconstitutional.