OLATHE, Kan. — Jurors who convicted a white supremacist of killing three people at Jewish sites in suburban Kansas City were set to hear more evidence Tuesday before deciding whether to recommend a death sentence.
During opening statements in the penalty phase, assistant prosecutor Chris McMullin called Frazier Glenn Miller Jr. a "proud and remorseless killer that regrets only that he didn't kill more people."
Miller, who is representing himself, said he never denied the shootings, which he called "righteous" and "honorable." Miller, 74, of Aurora, Missouri, will get the opportunity to present some evidence during the penalty phase about his beliefs and mindset that he was barred from discussing earlier in the trial.
His standby attorney, Mark Manna, said Miller had witnesses coming in throughout the week, with the latest to arrive Friday morning. They include family, a veteran with whom Miller served in Vietnam and two experts on the cost of the death penalty. The prosecution said the state would call just one witness, Overland Park Police Det. Laurie Bridges.
Related: A Life of Hate: Kansas Shooting Suspect Thrived on Extremism
Jurors convicted Miller on Monday of capital murder and five other charges. The August 2014 shootings killed William Corporon, 69, and Corporon's 14-year-old grandson, Reat Griffin Underwood, at the Jewish Community Center in Overland Park, and Terri LaManno, 53, at the nearby Village Shalom retirement center. None of the three was Jewish.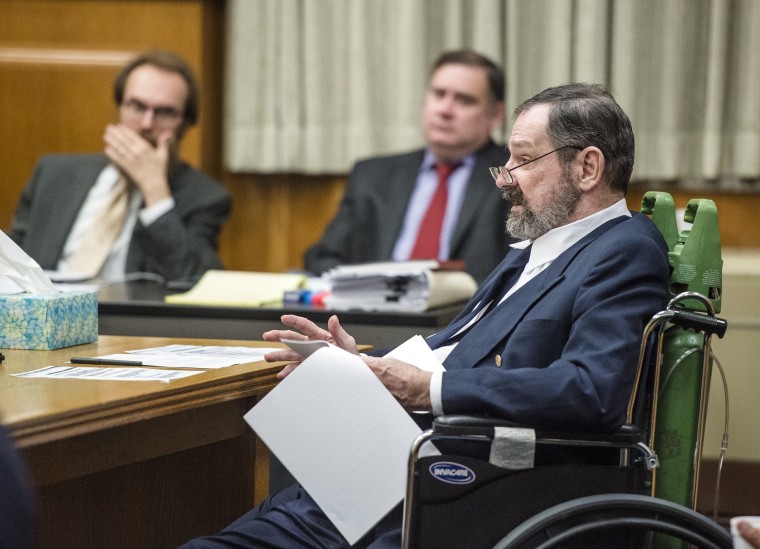 Miller has repeatedly been warned to watch his step with Judge Thomas Kelly Ryan, who twice removed Miller from the courtroom Monday. The judge again reminded Miller on Tuesday that his "rope is very short."
When the verdict was read, Miller said "The fat lady just sang," and raised his arm in the Nazi salute. Although Miller admitted to killing the three people, he urged jurors to find him not guilty, saying he was motivated by "the genocide against my people by the Jews."
During his closing argument, Miller said he had been "floating on a cloud" since the killings.
Miller is a Vietnam War veteran who founded the Carolina Knights of the Ku Klux Klan in his native North Carolina and later the White Patriot Party. He also ran for the U.S. House in 2006 and the U.S. Senate in 2010 in Missouri, each time espousing a white-power platform.