Uncle Sam furtively looks both ways and ducks into a dark alley to meet with a shadowy figure.
"Psst," he says. "I need 629 kilos of your best weed."
"I can do that," the figure replies.
While that may be an exaggeration, it is closer to reality than you might think. Yes, the U.S. government is looking to fill its shopping cart with marijuana. And its dealer — by law — is the U.S. Drug Enforcement Administration.
At the same time that it's responsible for enforcing federal laws against marijuana, the DEA is also responsible for procuring it for federal research. And with two months left in the fiscal year, its customers have fallen short.
Way, way short.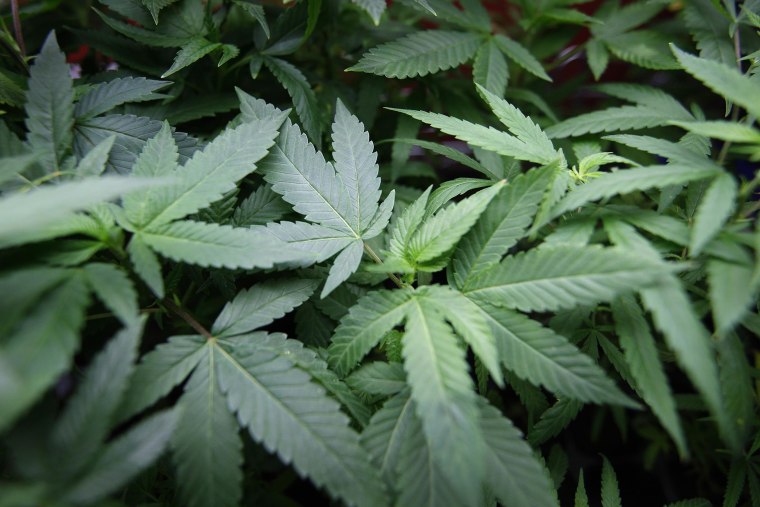 The DEA set a production quota of 21 kilograms of pot for the National Institute on Drug Abuse (NIDA) and other scientific agencies — about 46 pounds — in fiscal 2014, which ends June 30.
In a request for public comment published Monday in the Federal Register (PDF), the DEA reveals that it needs to "adjust" that allocation to 650 kilograms (about 1,420 pounds) "as soon as practicable."
The request comes from NIDA, which said it's ramping up testing on the effects of marijuana on treatment of autoimmune diseases, cancer, inflammation, pain, seizures and psychiatric disorders.
So it needs more marijuana. Specifically, it needs 3,095 percent more marijuana in the next two months.
"That's a lot of marijuana," DEA spokeswoman Barbara Carreno told the congressional newspaper The Hill. "One kilogram is equivalent to a brick. So 650 kilograms would look like 650 bricks and would probably fill a cargo van."
Where do you go to get that much research-grade pot in a few weeks? You go to Oxford, Miss., home of the University of Mississippi, which has been the federal government's official contracted grower since 1968. It's grown on part of the 4-acre Medicinal Plant Garden.