The next man scheduled for execution in Missouri is hoping the U.S. Supreme Court's temporary reprieve for a fellow death-row inmate will extend his own lease on life.
Convicted double-murderer John Winfield is slated for a June 18 lethal injection, which would be the first since a botched execution in Oklahoma last month brought new scrutiny to capital punishment procedures.
Another Missourian, Russell Bucklew, was supposed to be executed this week, but the nation's high court blocked it and ordered a lower court to take a new look at the case.
Bucklew argued a birth defect would make his execution too painful, but he also filed objections to the Show-Me State's refusal to disclose where it buys its execution drugs.
Winfield — who was convicted of murdering two women and blinding his ex-girlfriend in a jealous rage in 1996 — is also fighting his execution on the drug-secrecy grounds.
"I am sure the state is going to argue Bucklew is a special case and it is all about his medical condition," said Winfield's lawyer, Joe Luby.
But he contends the Supreme Court justices also want the 8th U.S. Circuit Court of Appeals to more broadly re-examine the cloak of anonymity around the state's death-chamber protocols.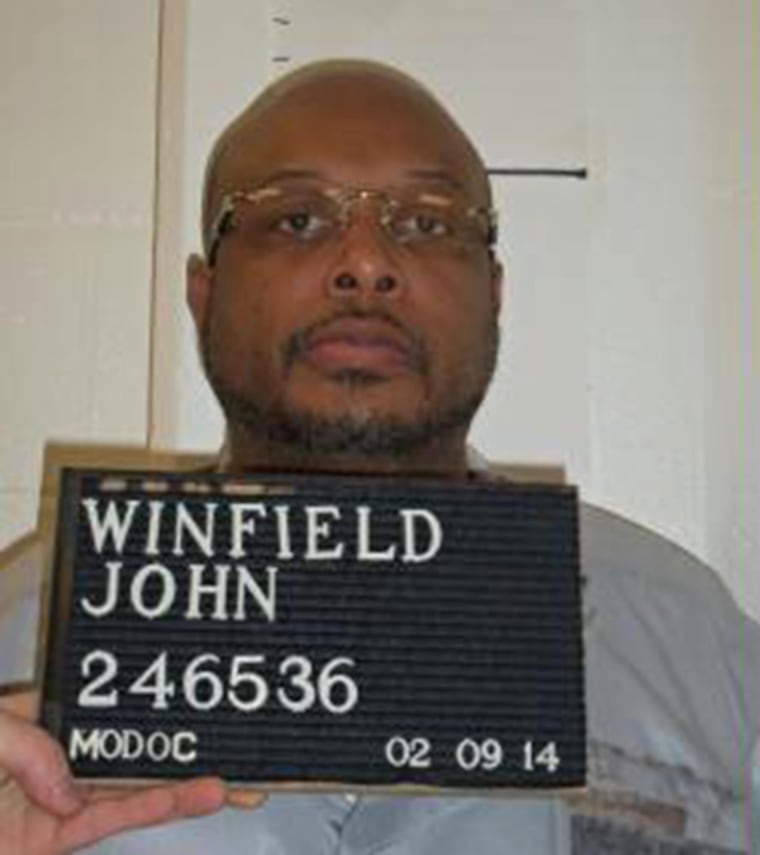 With his execution less than a month away, Winfield has a number of appeals pending.
He is one of the plaintiffs in a group challenge to Missouri's secrecy policies, and on Wednesday, he filed a petition in Cole County Circuit Court that argues the Department of Corrections is violating the state's sunshine law.
The Missouri Attorney General's office has not filed a reply, but in earlier litigation state lawyers argued that the compounding pharmacies that supply the drugs are part of the execution team and should be anonymous.
States across the country have turned to compounding pharmacies for their chemicals because pharmaceutical companies have refused to sell their products to kill prisoners.
Some pharmacies that have been unmasked as suppliers have stopped selling to prisons, so states are anxious to keep the names of the others under wraps.
"This isn't a set of technicalities. This isn't angels dancing on the head of a pin."
But defense lawyers say that unless they know where and how the drugs were prepared, they can't investigate whether they will work as intended or cause a painful, prolonged death in violation of the constitutional protection against cruel and unusual punishment.
The controversy around new protocols and drug secrecy has led to delays in a number of executions:
After Ohio inmate Dennis McGuire reportedly gasped for breath during his execution with new drugs in January, the state postponed the lethal injection of Gregory Lott until November while it completed an internal review.
Charles Warner's Oklahoma execution, which was supposed to take place April 29, was put off for at least six months after Lockett, who got a lethal injection hours earlier, appeared to regain consciousness and writhe in pain.
A Texas man who was supposed to be put to death a week ago got a reprieve when a court found the state had withheld possible evidence that he is mentally retarded.
Next on the list was Bucklew, who suffers from cavernous hemangioma, a condition that causes tumors in his head and neck. His legal team predicted the masses would stop the pentobarbital from circulating properly and could cause an excruciating death.
The Supreme Court unanimously halted his execution with just five hours left on the death warrant.
The nation's next three executions are all scheduled for the same day: Winfield at 12:01 a.m., followed by a lethal injection in Florida and one in Pennsylvania that will likely be postponed.
Winfield's attorney said the challenges go to the heart of the Eighth Amendment and are not just an effort to buy some extra time for condemned prisoners.
"This isn't a set of technicalities. This isn't angels dancing on the head of a pin," Luby said.
"There is exhaustive evidence explaining what Missouri is doing here is dangerous. They really are experimenting on our clients. It's illegal and it's wrong."
Winfield's ex-girlfriend, who was shot three times in the head and lost her sight, said she hopes the execution is not delayed.
"To me, it's going to be a closure. It's been so long and I lost two friends," Carmelita Donald, 42, said of the women Winfield killed.
Her mother, Olivia Donald, said she had run out of patience waiting for Winfield's to be killed.
"It's the land of the free," she said. "But I don't see where the brave come in because you're too scared to kill a convicted murderer? The drugs don't work? Figure out another way."