Defense Secretary Ash Carter told members of Congress on Wednesday that the U.S. is having a tough time finding credible and capable allies to fight in both Iraq and Syria.
The U.S. had originally planned to train 24,000 Iraqi Security Forces at four sites by this fall, but they have received only enough recruits to train about 7,000, along with 2,000 other counterterrorism personnel, Carter told members of the House Armed Services Committee.
Related: Reversal or Refinement? Seeking Meaning to Obama's New Iraq Path
U.S. training efforts of Iraqi forces "have thus far been slowed by a lack of trainees," because "we simply haven't received enough recruits," Carter said.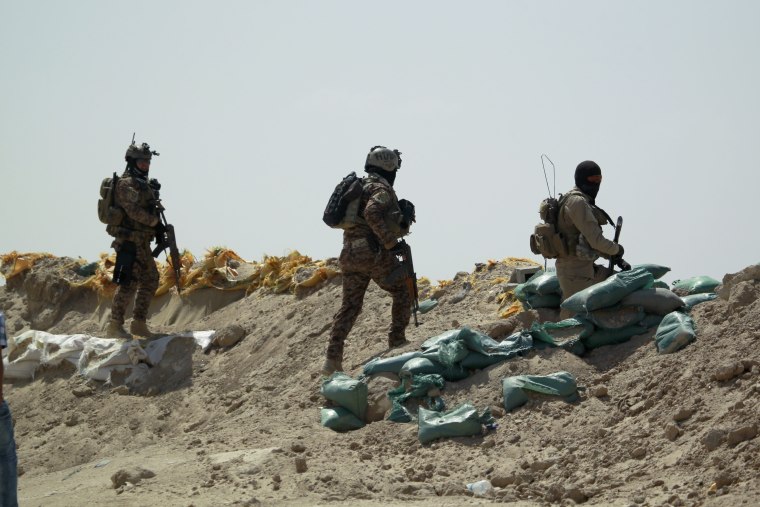 A defense official told NBC News that the "recruits" primarily are personnel already serving in the Iraqi Security Forces who need to undergo basic combat training. But many of them are already busy fighting in security operations around the country and cannot be pulled away to be trained.
Carter also said the U.S. has determined that equipping of the Iraqi Security Forces had proceeded too slowly, adding that the process was sometimes delayed by bureaucracy not only in Baghdad but "also in Washington."
Carter's comments, along with those of Joint Chiefs Chairman Gen. Martin Dempsey, were part of a hearing that offered a sweeping overview of the administration's policy and strategy in the Middle East.
The rise of ISIS, aided by regional political strife, has complicated efforts to combat the terrorist organization. Republicans in Congress have accused President Barack Obama of lacking a clear strategy to beat back ISIS, and some military experts have said the president must be more forceful against the terrorist group.
Related: Is U.S. Claim of 10,000 ISIS Dead Believable?
On Wednesday, Carter and Dempsey stressed that the approach of partnering with local allies, armed with American training and weaponry, to fight against the terrorist group ISIS is working.
However, Republicans on the committee quickly pointed to Obama's comments last week that there is not yet a "complete strategy" for helping fight the terrorist group and argued that the current approach is not enough.
"The situation in the Middle East has deteriorated substantially in the last six years," said House Armed Services Committee Chairman Mac Thornberry, R-Texas. "There seems to be nothing coming from the White House to change that trajectory."
During the hearing, Carter and Dempsey stressed that the Obama administration is refining its strategy in the region in the face of shifting dynamics and continued challenges.
And, as they have in the past, both Carter and Dempsey said ultimately the Iraqis must take greater responsibility for success.
"As I've told Iraqi leaders, while the United States is open to supporting Iraq more than we already do, we must see a greater commitment from all parts of the Iraqi government," Carter told lawmakers Wednesday.
The quandary will not require the U.S. to send more troops to Iraq, a defense official told NBC News, saying that if there are no Iraqi forces to train, there is no need for more U.S. trainers.
The retreat of Iraqi soldiers in the face of outnumbered ISIS fighters in the battle for Ramadi prompted Carter to say in an interview recently, "We have an issue with the will of the Iraqis to fight ISIL [ISIS] and defend themselves."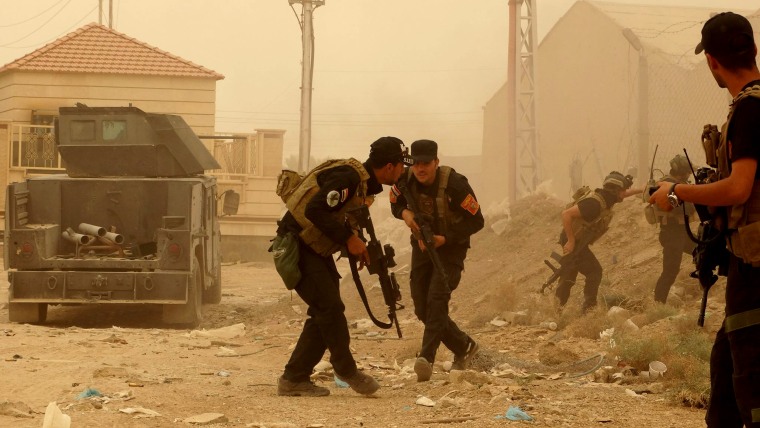 In what critics see as a reversal of Obama's first-term approach to Iraq, the White House announced last week that the U.S. would send 450 military personnel to train Iraqi military at a base in Anbar province, where it has been losing ground to ISIS. That is in addition to the more than 3,000 Americans already on the ground in advisory and training roles.
On Thursday, the Pentagon said it was considering opening additional bases in the Anbar area to expand those training operations.
The military is now also focusing on the Sunni tribes that feel displaced by the Shiite-led government and have not joined the fight against ISIS enthusiastically. Previously, U.S. training has typically focused on Shiites and Kurds.
As for the dearth of Iraqi recruits, the Obama administration is keenly aware of it, White House press secretary Josh Earnest told reporters Wednesday.
"One thing that the United States can do and one thing that the president can do is raise these concerns directly with Prime Minister [Haider] Abadi, and that's something that he also had the opportunity to do in their face to face meeting in Germany last week," Earnest said.
When Rep. Tammy Duckworth, D-Illinois, asked Carter whether he has concerns about the training and vetting of Syrian fighters in the war-torn nation, he acknowledged that while there are enough training sites, there just are not enough trainees.
He added that it has been difficult to identify people who meet the criteria for training.
Dempsey said he shares Duckworth's reservations about training Syrian rebels and acknowledged the challenges in recruiting and retaining people.
Kurdish fighters took full control of a key town on the Syria-Turkey border Tuesday, dealing a major blow to ISIS by cutting off a vital supply line to its self-proclaimed Syrian capital, Raqqa, according to the Associated Press. The defeat is a stunning reversal of fortunes for ISIS, which only last month captured the provincial capital of Ramadi in Iraq's Anbar province and the historic town of Palmyra in central Syria.