A cracking and corrosion problem on Boeing 777s that could lead to the mid-air break-up of the aircraft prompted a warning from air safety regulators weeks before the disappearance of Malaysia Airlines Flight 370, federal records show.
The Federal Aviation Administration ordered checks on hundreds of U.S.-registered 777s after reports of cracking in the fuselage skin underneath a satellite antenna.
In an airworthiness directive, it said the extra checks were needed "to detect and correct cracking and corrosion in the fuselage skin, which could lead to rapid decompression and loss of structural integrity of the airplane."
The directive, first drawn up in September, was approved in February and was due to take effect on April 9.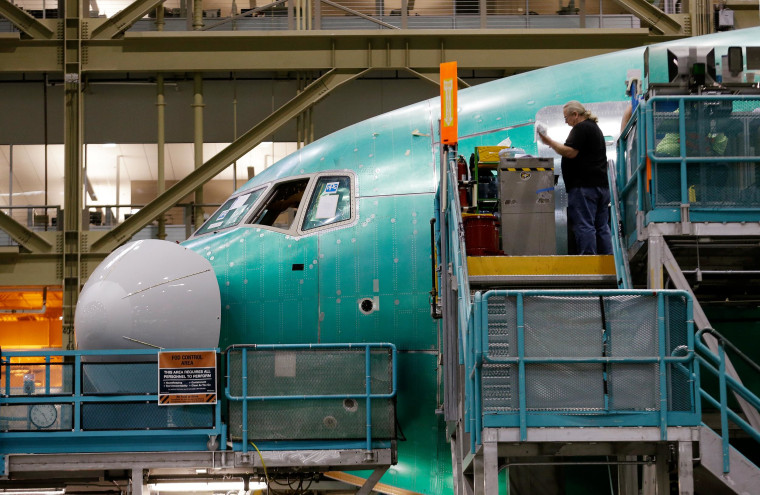 It warned that one operator of the jet "reported a 16-inch crack" in the skin of the fuselage on an airplane that was 14 years old with approximately 14,000 total flight cycles."
The missing Malaysia Airlines jet, registration 9M-MRO, was 12 years old and had completed 7,525 cycles, the airline said.
It was not immediately clear if the airline had already begun to implement the extra checks as part of its maintenance routine. The airline said the missing aircraft was serviced on February 23, with further maintenance scheduled for June 19.
An earlier draft of the directive said that the operator that first reported the 16-inch crack "inspected 42 other airplanes that are between 6 and 16 years old and found some local corrosion, but no other cracking."
Airworthiness directives are commonplace, similar to car recalls. In the majority of cases, airlines are told to look for faults during maintenance. Orders that require the grounding of an entire fleet of aircraft are rare.
The FAA directive on cracks applies to all Boeing 777-200, -200LR, -300, -300ER, and -777F series airplanes. The missing jet is a 777-2H6/ER.