SAINT-ANDRE, Reunion — Canvassing the pristine shores of this paradise island for foreign objects is no easy feat.
Reunion Island in the Indian Ocean has 120 miles of coastline, which makes identifying bottles and bits of plastic — a familiar foe to beach cleaners — a painstaking task in the hunt for clues on the fate of missing Malaysia Airlines Flight MH370.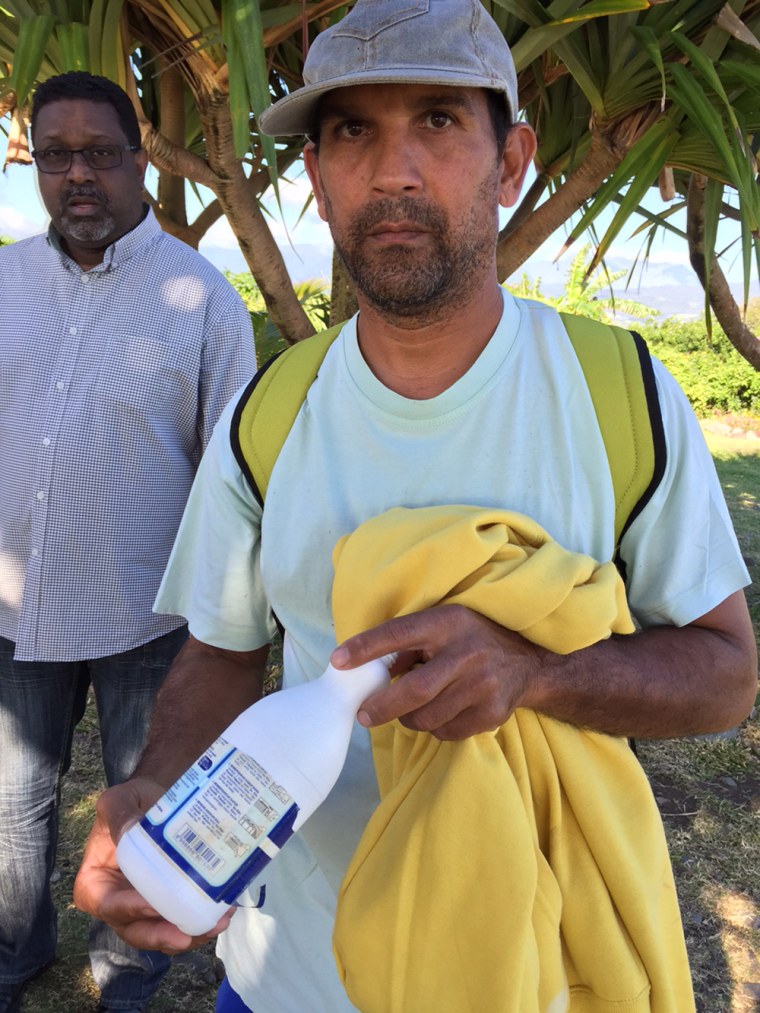 Beach cleaners scouring the sands have been handing their finds over to local police, wary that one man's trash could be a treasure-trove of information.
RELATED: How Currents Could Have Carried Wreckage to Reunion
But there isn't just Reunion to comb — there's at least two dozen islands in the region, including a neighboring one with more than 3,000 miles of coastline.
The increased scrutiny comes amid mounting suspicion that a barnacle-covered piece of debris that came ashore was from the missing jetliner. A number on the debris confirms it came from a Boeing 777 — and MH370 is the only missing such model in the world.
Johnny Begue was among the dozens scouring the shoreline and sifting through scraps of machinery, rubber and more.
He and his colleagues made that initial discovery of the Boeing 777 part on Wednesday — and have been searching for more signs of the plane ever since. Begue later found a suitcase — origins unclear — and on Thursday he found an empty bottle of Chinese mineral water and turned it over to police. The majority of MH370's passengers were Chinese.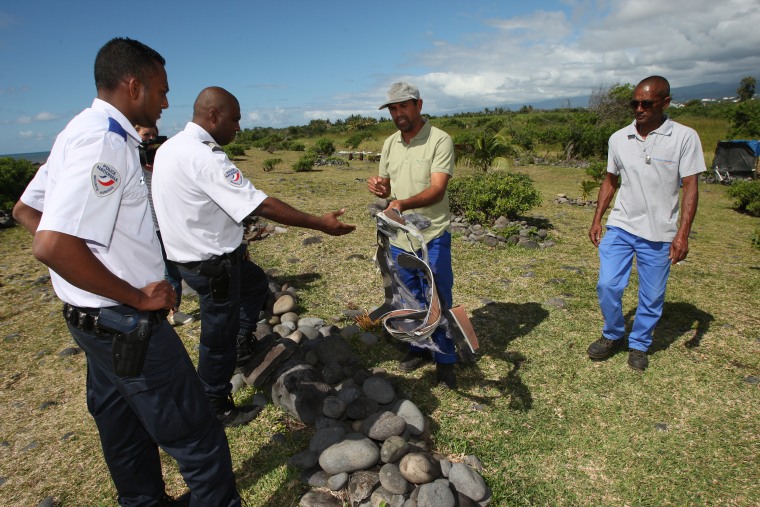 The finds could be a long shot in terms of links to MH370: deep ocean currents carry tons of objects thousands of miles daily. Reunion Island is in what oceanographers and meteorologists call the Indian Ocean gyre — one of five "ocean-wide gyres" on Earth, which are major spirals of currents driven by surface winds.
Begue told NBC News he knows that much of what he finds on the beach is unlikely to be linked — but that doesn't mean he should stop searching.
"We are searching all the time now," he said. "I hope to find something that will say definitely it's from the plane so that the families can have some relief from their mourning."
As Begue and his crew continued to comb the sand and rocks, helicopters circled overhead. Elsewhere on the island that initial bit of debris — the plane fragment — was being prepared to travel to France where investigators will seek to establish its true identity.
In the meantime, the families of the victims continued to wait for news. Relatives in China received a text from Malaysian Airlines informing them of a meeting in Beijing on Aug. 7.