Dozens of family members of passengers aboard missing Flight 370 threatened to go on a hunger strike during a heated argument with airline officials on Tuesday.
"Respect life, return our relatives," one woman said, echoing a chant directed at beleaguered Malaysia Airlines representatives who had been providing information about the search.
"We're going on hunger strike," she added, holding up a piece of paper with slogans written on it for the waiting media.
Ten days after the jet vanished, hundreds of relatives remain at a Beijing hotel awaiting information on their plight.
China has repeatedly called on the Malaysian side to do a better job at looking after passengers' relatives.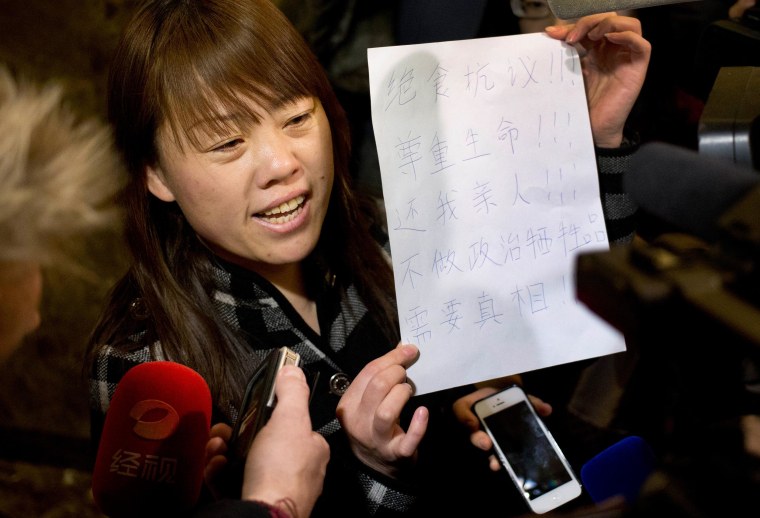 The woman did not say whether the 50 or 60 relatives had already started to starve themselves.
"The Malaysians are counting in days, but we Chinese are counting in seconds," she added. "The families are at the point of collapsing. There are so many families coming and going, some have already left. The young people can stand it, but the elderly have already broken down."
Another man wrote, "for our relatives, hunger strike," on a whiteboard.
Earlier, families demanded to see the Malaysian ambassador as the hunt for the missing plane entered its eleventh day.
Anger has also spread online, with some Chinese calling on the government to impose sanctions on Malaysia for its poor handling of the incident.
"Malaysia knew that the plane changed direction, yet concealed it, knew that it was not in South China Sea, yet let everyone look there for several days, and they are still hiding all kinds of information," one user wrote on microblogging site Sina Weibo. "This rogue state really should be sanctioned."
China announced Tuesday that it had deployed 21 satellites and started hunting its own territory for the missing Malaysia Airlines jet.
On Monday, Beijing demanded that Malaysia "immediately" expand the search for the Boeing 777.
About two-thirds of the passengers on Flight 370 were Chinese.
Reuters contributed to this report.