It was supposed to be a turning point in the bloody war against Boko Haram. The mass kidnapping of 276 schoolgirls from the Nigerian town of Chibok touched off a tsunami of global outrage.
But exactly one year after the likes of Michelle Obama, Rihanna and Ellen DeGeneres helped #BringBackOurGirls become an international rallying cry and call to arms, Hauwa Biu does not feel any safer.
"The Chibok girls were just one group of many, many others who have been kidnapped since last year," said Biu, a woman's rights activist and professor in Maiduguri, Nigeria. "I cannot say that the #BringBackOurGirls campaign has made women and young girls in the northeast feel any safer."
While a few dozen of the Chibok girls have escaped Boko Haram captivity, more than 200 are still missing. To Biu, the international campaign to release the girls did little to bring them home — or stop countless others from being taken since.
What the campaign had successfully achieved, she said, was "to make the world aware of what the government has not done."
***
It's not for lack of trying: Partners such as the U.S. initially offered Nigeria assistance in finding the missing girls. Nigeria's military also launched an offensive — with the help of its neighbors — to reclaim territory from Boko Haram. The militant group — whose name roughly translated means "Western education is a sin" — has been waging a bloody war to establish an Islamic state.
Most of those international partnerships to help find the girls have not been sustained, according to Jacob Zenn, a Nigeria expert with the Washington-based Jamestown Foundation.
"Any initial optimism that the U.S. and other partners would find the girls has really been tempered now because it's been a year," Zenn said. "The partnerships to find the girls didn't endure."
Many analysts believed at the time of the Chibok kidnapping that the international attention might raise the girls' value in negotiations — even induce Boko Haram to an arrangement or hostage swap.
However, the vast majority of the Chibok girls are still missing. Boko Haram's leader claimed they were married off, many experts believe they have been separated into smaller groups and there are rumors that others still have been killed.
"It's such a mystery that it's hard to comprehend," Zenn said. "At this point finding one or two would be an accomplishment. If they could find even a few of the girls it'd give hope the others are out there... There hasn't even been that minimal amount of hope since the girls were taken."
***
Since then, Boko Haram's campaign of terror has continued largely unabated. At least 15,000 people have died in Boko Haram-linked violence since 2009, according to the United Nations.
According to data compiled by the Council for Foreign Relations (CFR) and analyzed by NBC News, 10,340 violent deaths between November 2013 and November 2014 were linked to the militant group. In that period around the same number of civilians — 10,733 — were violently killed in Iraq, according to the United Nations.
Countless more have been abducted, abused, forcibly recruited and subject to "horrific abuse, including sexual enslavement," the U.N.'s human rights chief said this month.
Zeid Ra'ad Al Hussein, U.N. High Commissioner for Human Rights, said his office has received multiple reports that Boko Haram fighters "murdered their so-called 'wives' " — women and girls in slavery — as government troops advanced and that the militants are using children as "expendable cannon fodder" and "human bombs."
Boko Haram also has "intensified its incursions" into neighboring countries such as Chad, "spreading bloodshed and desolation even more widely," Al Hussain added.
***
Those incursions — attacks on Nigeria's neighbors, high-profile attacks — were what drew Nigeria's neighbors into the fight and added fuel to the anti-Boko Haram offensive, according to analysts.
"I don't think the Chibok girls were the turning point," said Raffaello Pantucci, senior research fellow at London's Royal United Services Institute think tank. "I think there were a slew of other events that crystallized a need to do something about the group... Twitter activism — hashtagging something — unfortunately doesn't change the world."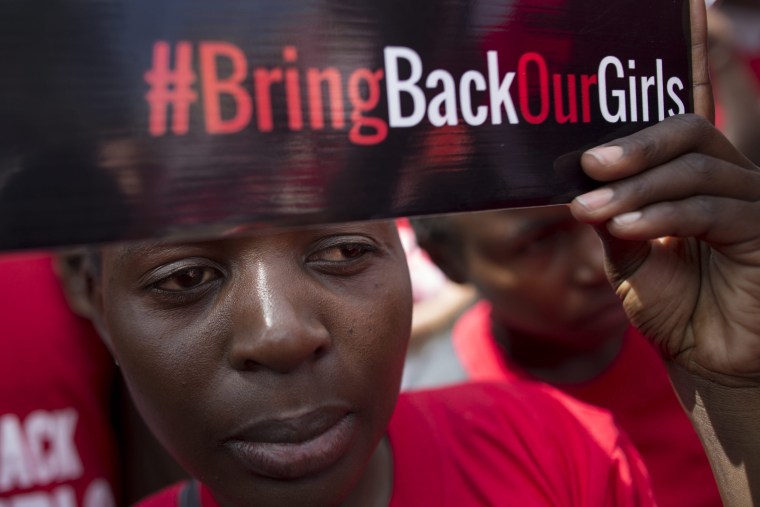 He said that the intensified regional operations have not had a significant impact on Boko Haram's operations.
"The pressure has begun to push it back a little bit but we are still seeing reports of mass kidnappings and lots of people dying," Pantucci added. "Broadly speaking it's an organization that continues to persist and exist. It's not an organization that has gone away by any stretch of the imagination."
Pantucci pointed out that while Nigeria's recent election was praised for low levels of violence "dozens were killed" in Boko Haram attacks during voting.
"The cynic in me says nothing has really changed," Pantucci added. "They continue to kidnap women, they continue to press-gang children to be child soldiers."
***
Maiduguri-based activist and journalist Fatima Dikwa would agree. She credits Nigeria's military for moving to take more action against Boko Haram. However, she noted that — one year after #BringBackOurGirls — women were still suffering and bearing the brunt of Boko Haram's terror.
"Women are at the receiving end of the insurgency," she said. "Whenever they raid a village, they take a lot of women with them. A lot of young girls have been captured, it's not just the Chibok girls."
At least 2,000 women and girls have been abducted by Boko Haram since the start of 2014, according to a report published Tuesday by Amnesty International.
"The missing schoolgirls are only a small proportion of the women, girls, young men and boys abducted by Boko Haram," the rights group said.
For now, the fate of the Chibok girls remains a mystery — though the horrors they could be facing are well documented by other captives who have managed to escape.
Nigeria's national security adviser said earlier this year there was little new information about the girls, save for the belief that they have been dispersed and possibly sold.
"Every time we have surveillance footage over the area we are very hopeful — not very optimistic — but we are very hopeful," Sambo Dasuki told an audience in London in January. "Maybe one day we will find something there. But so far there is nothing."
Nigeria's incoming president Muhammadu Buhari pledged Tuesday that his administration will do "everything we can" to defeat Boko Haram and "hear the anguish of our citizens."
Buhari also, though, acknowledged his "new approach must begin with honesty."
"We do not know if the Chibok girls can be rescued. Their whereabouts remain unknown," he said in a statement. "As much as I wish to I cannot promise that we can find them. But I say to every parent, family member and friend of the children that my government will do everything in its power to bring them home."