The National Park Service turns 100 years old this month. Fifty-nine U.S. National Parks cover almost 52 million acres across 27 different states. Last year, they saw a record 305 million visitors. To recognize the centennial of the system protecting these American treasures, NBC News will feature stories from 10 national parks and recreation areas — from California's Yosemite to New York's Gateway.
---
On top of Glacier National Park, John Kasberg navigates a vintage 1930s tour bus through Montana's Going-to-the-Sun Road, a 32-mile journey of white-knuckle turns past sweeping vistas, waterfalls and sheer cliffs to the Continental Divide.
"I have the best office in the world," John said to his 17 captivated passengers as he points out the glacially formed valley dominating the scenery. "Can you believe I get to admire this every day?"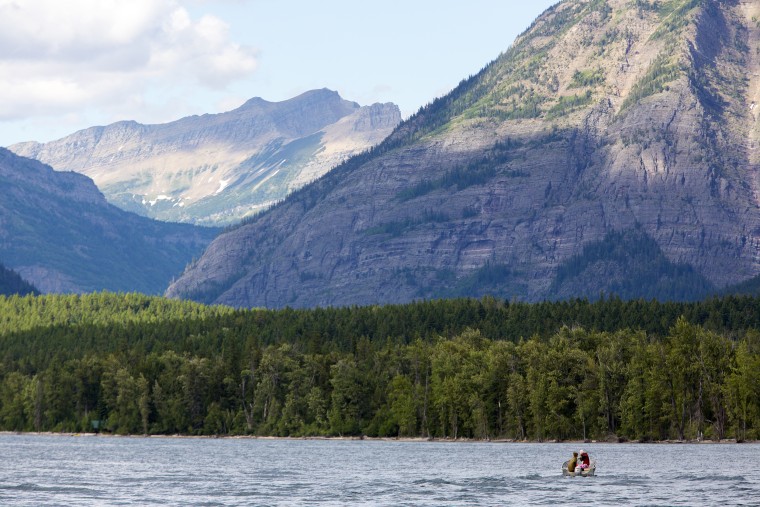 Three thousand feet below, his wife Lynda coordinates another group of tourists for the next trip aboard one of the 33 iconic, mountain ash berry-red buses. Her backdrop is different, but equally magnificent as the clouds roll by McDonald Lodge, a century-old resort on the shores of the lake that shares its name.
"There is just something magical about this park," Lynda said. "Between the lakes, streams, hiking trails — it's just a really special place to us."
The Kasbergs are fulfilling their dream of living out west, a dream they both shared since before they were married. "From a young age we were both attracted to mountains," Lynda said. "I don't know why we ever lived in Indiana."
Prior to 2014, the view they shared for 25 years was from the suburbs of Indianapolis, where they owned a medical supply business. "We looked out our office onto a retention pond, a gnarled, half-dead tree and a Chevy dealership," John said. "But at least we had a window."
Everything changed when they had an opportunity to sell their business and try something new. As John worked through a transitional period with the new owners, Lynda was researching their next career path.
"One day, I came home from work and Lynda said she knew what we could do," John said. "The parks are hiring and we can get jobs there."
Her plan was simple: Quit their jobs, downsize their life, buy an RV and head west to work full time in the national parks.
In the beginning, John was hesitant about the plan, but after spending time with a financial adviser, researching the cost of living and seeing what types of jobs would best match their talents, he was on board.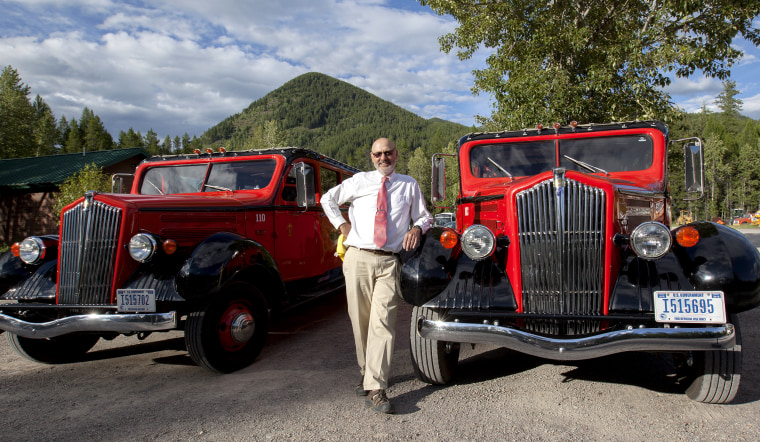 "People always say someday, someday, someday. We always talked about someday, we'll live close to a national park," John, 60, said. "Then 30 years later we looked at our lives and we said, what are we doing here?"
"We just decided we had to do this," Lynda, 59, said. "We had to do it now, while we had our health."
A few months later, much to the shock of family and friends, their plan was in place and they were working at their first park — California's Death Valley.
Linda Bruton, a longtime friend, wasn't shocked at all by the Kasbergs' departure. "I would always say, I want to go here, here, here or here, but Lynda would say, I want to go everywhere," Bruton said. "I admire what they're doing, but it's not for me."
Bruton said it would be difficult to give up family and friends, but what surprised her most was that they traded in their home for an RV.
"The hardest thing was purging our house of all of its stuff," Lynda said. "You accumulate so much in 25 years and we decided that we would only keep what we could fit in an RV."
"Basically we traded in our 2,800 square foot home for 300 square feet," John said. "It's our condo on wheels."
John and Lynda don't mind the smaller accommodations — they didn't buy it to stay inside — and spend most of their time enjoying what the parks have to offer.
The Kasbergs, who have no children, still own their home in Indianapolis as a safety net, but they have no plans on returning. Their time in the parks has affirmed their decision to live out west.
"When we bought the RV, we said we're going to give it two years and see how it goes," Lynda said. "But now we're getting ready to sell the house. We're happy as can be in the RV for now."
According to John, everyone assumes you have to be a ranger or actually work for the national park system in order to find work, but this isn't the case. There's an entire network surrounding the parks that provides services in gift shops, hotels and restaurants, and that's the niche the Kasbergs found.
"Lynda and I both wanted to be in positions where we can impact a guest's stay," John said. "To enhance their whole experience and leave them on a high based on a tip or two that we gave them."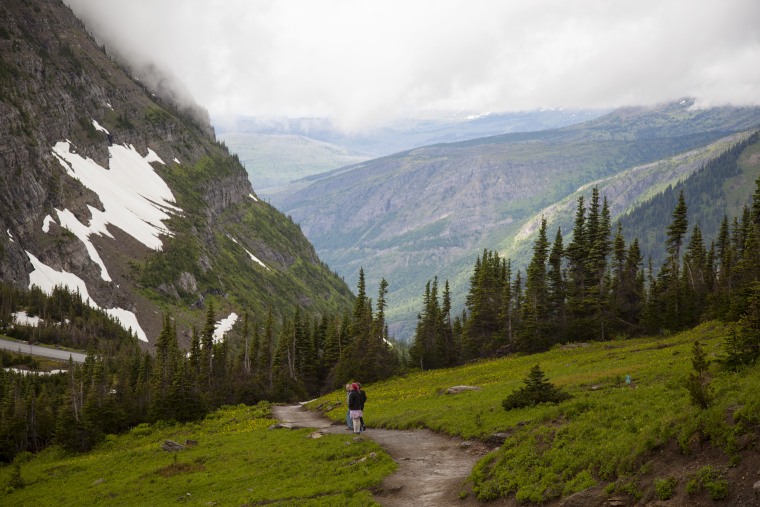 The Kasbergs' tip for Glacier is to take the Highline Trail. "If you have time to do one trail in Glacier National Park it's the Highline Trail from Logan Pass," John said. "It's the most scenic hike in the park and one of the best hikes I've ever been on."
Dave Eglsaer, the transportation director for Glacier National Park Lodges and the Kasbergs' boss, said there are always jobs available in the hospitality industry inside the parks.
"What John and Lynda bring to the table is their professionalism and happiness," Eglsaer said. "They have a happiness for the job, for the parks, and that happiness is contagious to the guests."
According to Eglsaer, John and Lynda are typical employees. Most people who work for the parks are either 18 to 20, or, like the Kasbergs, on the verge of retirement.
"The retired couples we see were usually successes in their lives with really strenuous jobs and they come out of retirement because they don't want to stop working," Eglsaer said. "The jobs here are simpler jobs so they are able to enjoy their personal lives more."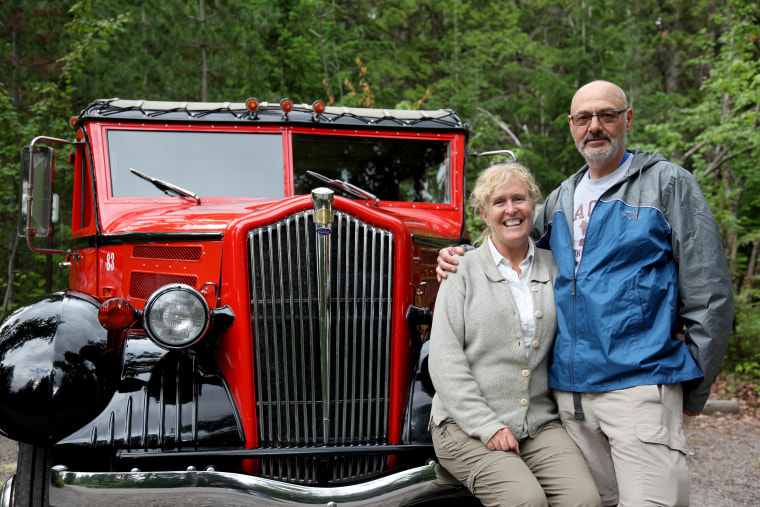 The Kasbergs travel the country and work at the parks according to the seasons. They've spent the last two summers in Glacier working for the Red Bus Tours. For the winters, they've headed to Death Valley where John is a bartender and Lynda is a hostess for one of the park's lodges.
"What you need to realize is that this is all very hard work. We're not retired, we're not on vacation, we're working full-time jobs," Lynda said. "It's just that we happen to be in a place anybody would love to be in and that's the benefit to us."
"Most people visit a national park for a week, maybe two or three, but we get to live it," John said. "We get to see it in the spring, summer, fall, winter. It's a totally unique experience."
The Kasbergs do not spend more than they make at the parks, and have no plans to dip into their retirement savings. Many parks offer affordable dorm accommodations or RV hookup fees, and the jobs they chose are tipped positions. So far, they said, the tips have been great.
John and Lynda eventually plan on retiring and buying a home near a national park. But which one?
"Glacier always draws us back," Lynda said. But she admits the winters there are hard and it would be difficult to live there full time, especially post retirement. They're looking hard at Southwest National Park, but have no plans of settling down yet.
"We're still having too much fun," she said.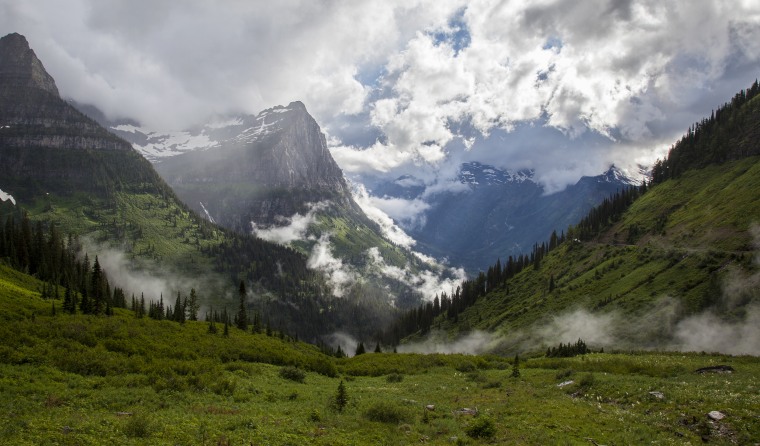 Glacier National Park
Location: Montana
Size: 1,012,837 acres
Wilderness: 963,155 acres
Wildlife species: 68 animals, 277 documented birds, 24 fish (including 18 native species)
Noteworthy Features: 25 glaciers, all of which are shrinking in size. The largest, Blackfoot Glacier, is 0.7 square miles. 175 mountains, including Mt. Cleveland, the highest peak at 10,448 feet. The park also includes 762 lakes and 2,865 miles of streams.
---
National Parks at 100: