In the aftermath of a shooting that killed 49 people at Pulse, a nightclub that catered to a predominately LGBT clientele in Orlando, Florida, authorities and experts have desperately been trying to determine the motives of the killer, Omar Mateen.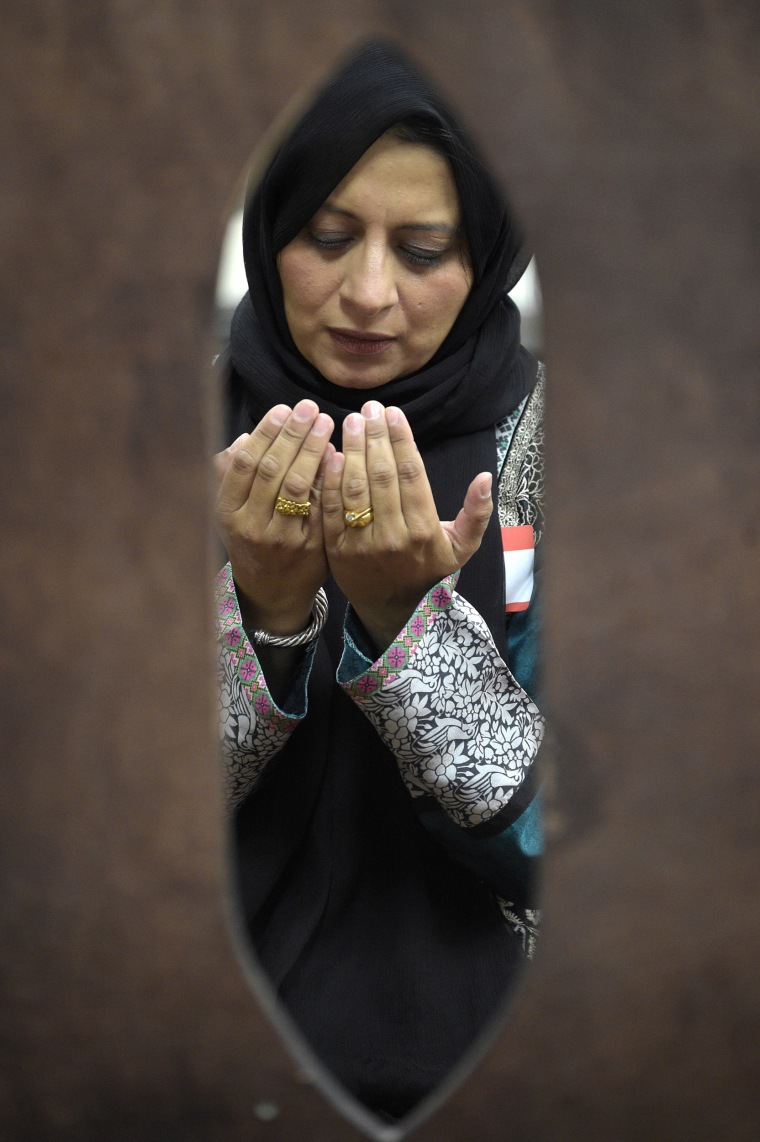 Some have seized on Mateen's purported claims of loyalty to the terrorist organization ISIS, while others have speculated that he was driven in part by homophobia — either derived from his Muslim faith or inspired by deep-seated anxieties. And as fear-mongering about Islam reaches a fever pitch in some circles, members of the Muslim community and their allies are pleading for solidarity and understanding.
One of those voices belongs to writer Chivvis Moore, an American-born woman who has spent decades living in Egypt, Syria, Israel and the West Bank. She has written about her experiences living as a lesbian feminist in the Middle East in a new memoir entitled "First Tie Your Camel, Then Trust in God." The aim of the book in part was to debunk unflattering myths about Muslim perceptions of women and the LGBT community.
"I think the biggest misconception is that there is an attitude. There is no monolithic either Arab or Muslim view," Moore told NBC News on Wednesday. "I don't think that the religion is the issue. In the Koran and the Hadith, there are certainly negative statements about gays, saying they should be punished, even put to death … but you find those in the Bible and the Talmud."
She continued, "I think that people treat it the same way that most people treat it in Christianity and Judaism, they know that those scriptures were written many years ago for conditions at that time. I know many Muslims who are gay and lesbian, and they don't see any contradiction at all."
When Moore first relocated to the Middle East in 1978 to pursue a career in carpentry, she did not disclose her sexual preference to her peers. "I didn't feel comfortable telling people, I was afraid frankly that they would reject me," she said.
But Moore, who was living in Egypt, refrained from divulging details of her personal life not because she feared for her safety, but because she was worried it would take a toll on her professionally. "I was afraid of the same things I was afraid of in this country growing up — we would lose our jobs," she said.
Moore became more comfortable being open about her sexuality during a second stint in the region, in Syria. There, and in other Middle Eastern countries, she encountered a world with a very different perception of how much sexual preference defines your identity.
Related: Muslim Organizations Raise Funds for Victims of Orlando Massacre
"Often men would have relationships with other men and be married or go get married ... the boy was supposed to carry on the family name, so they might say go get married and just have relationships on the side with other men," Moore said. "I'd say 'Gee, you have a large gay community here' and I'd be told 'No, we don't have a gay community. We're just who we are.'"
During her time abroad, it was not uncommon for Moore to see men kissing or sitting on each's others laps, or both women and men holding hands with members of the same sex. "There's so much more physical demonstration of affection between members of the same sexes in the Arab world generally," she said.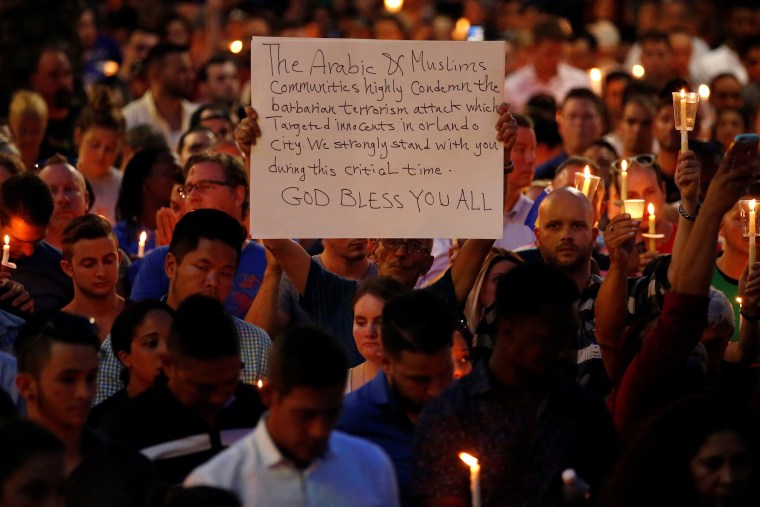 A 2015 Pew Research study found that the Muslim community in the U.S. is more open-minded than some might think, too. Forty-five percent of the American Muslims they surveyed said homosexuality should accepted by society, which put them above evangelical Christians, Mormons, and Jehovah's Witnesses. And while Moore did occasionally encounter prejudiced remarks and antiquated thinking about women, gays and lesbians, the overwhelming majority of the people she met and worked with were generous and kind.
"I don't know anybody who resembles ISIS or anybody who wants any part of it or respects it," Moore said. "Obviously, there are a lot of people who feel extremely strongly, but most people are just like people everywhere. They're not haters, they're not bigots. They're not going to put any energy into hating a part of their own society, and particularly not women."
Moore believes that many people in the West have a stereotypical vision of the region based on hundreds of years of propaganda and portrayals of the culture as primitive and backwards. She thinks some of the discomfort around the traditional garb some of the women are expected to wear may be the cause, as well as the shift of vague Cold War paranoia onto the Muslim community.
The rhetoric of presumptive Republican presidential nominee Donald Trump arguably is not helping in this regard. In the aftermath of the Mateen shooting, he has not only reiterated his call for a temporary ban on Muslim emigration into the U.S., but he has alleged collusion of the American Muslim community on a massive scale in terrorist attacks, suggesting that even second-generation citizens should be viewed with suspicion.
Photos: Orlando and Beyond: World Honors Victims of Nightclub Attack
"To them, it's not even worth mentioning, it's so clear that it's just an outrageous idea," Moore says of her Muslim friends' reactions to the proposed ban. "It's bigoted and it's tragic because people then go vote for politics that hurt us and people in other countries." Still, she doesn't see the presumptive Democratic presidential nominee Hillary Clinton's calls for expanding air bombing campaigns in the Middle East as much of an improvement.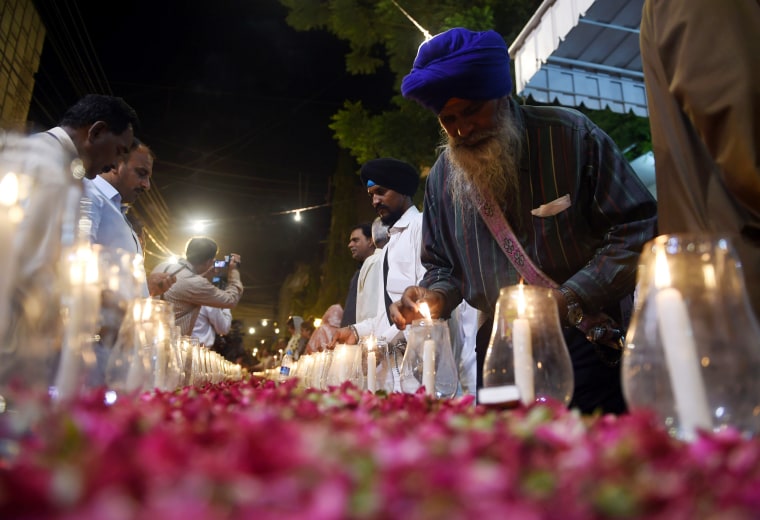 "We should not be making war on Muslim and Arab countries, and, if we didn't, I don't think the people would be coming and bombing," she said. "I lived under Apache helicopters, the people that we're killing with our drones ... they are not responsible in anyway for whatever they don't like."
Besides divesting from Israel — currently a political non-starter in the U.S. — Moore recommends more outreach and effort to raise awareness about the fact that, despite the perpetuation of wars and violence on their soil, there is a still a lot of good will for the American people, if not their leaders, in the Muslim world.
Related: Orlando Shooting: Afghan-Americans Grapple With Homophobia, Shock
"They have never just blamed the populations of the West or the United States. It was always clear wherever I went that people said 'Yes, your government, but it's not you,'" she said. "They look at the United States as a lot of other things. People still want to come [here] and they have a lot of respect for a lot of it."
And according to Moore, Muslims around the world are aware that anti-Islamic rhetoric is ramping up to a dangerous levels, particularly here in America.
"In small ways and big ways, everybody knows it's a huge problem," she said. "We lose when we lose their cultural contribution ... and every time we cut out somebody, we lose."