When she came out to her mother at age 14, Laura Esquivel said her mother was upset for many reasons, but mostly because she was afraid for her.
"She was afraid I wouldn't be happy. Afraid I would get hurt. Afraid how people who would treat me, about the possibility of being physically hurt," said Esquivel, the Hispanic Federation national policy director.
Esquivel, who founded one of the first national Latino LGBTQ groups — LLEGO — is mourning the deaths of the victims in the Orlando, Fla. shooting. None of those named as of Monday afternoon were people she knew, but as a Latina and lesbian, talking of the tragedy with an NBC News Latino brought her to tears.
"We would go to places like gay clubs to feel safe or feel safer, because you were not ever completely safe," she said.
The Sunday morning deadly shootings at Pulse nightclub in Orlando, Fla., have reverberated through the Latino LGBTQ community. As the names of the victims were released — and many of those names being those of Latinos, they have been a reminder of the challenges faced by those who are both LGBTQ and a person of color.
Related: Latino Community Hit Hard in Latino Shootings, Most Victims Were Hispanic
"Think what everybody was feeling that night. How happy they were to be there, around familia, to be able to be yourself and know nobody was judging you or calling you names," she said.
Too often LGBTQ communities of color are invisible, Esquivel said.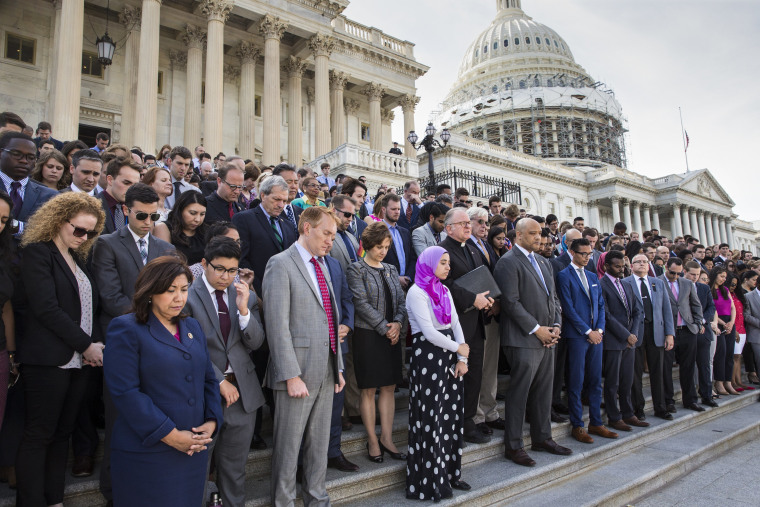 The Hispanic Community in Central Florida organized a gathering held Monday afternoon to respond to the shootings and appeal for resources, including grief counseling services and other volunteers to help victims, their families and the community.
"Two communities, my two communities, are impacted. My heart broke," said Nancy Rosado, a retired sergeant of the New York Police Department who survived the Sept. 11, 2001, terrorist attacks.
Zoe Colon, a representative of the Hispanic Federation, an organization of community services agencies in New York, New Jersey, Connecticut and Florida, said "we are in crisis."
"What happened yesterday is not only an attack on our brothers and sisters in the LGBTQ community, but our Latino community. We are Orlando, the Hispanic community is Orlando, the Puerto Rican community is Orlando, and we stand together," Colon said.
Esquivel has worked for years for recognition of the Latino LGBTQ community to get Latino organizations to see gay issues as Latino issues and LGBTQ organizations to see gay issues as Latino issues. It was tough at first, but she said things have changed in recent years with Latino groups, less so with LGBTQ groups.
"Today, in a relatively short amount of time, they are there speaking out for LGBTQ Latinos as part of the Latino community," she said.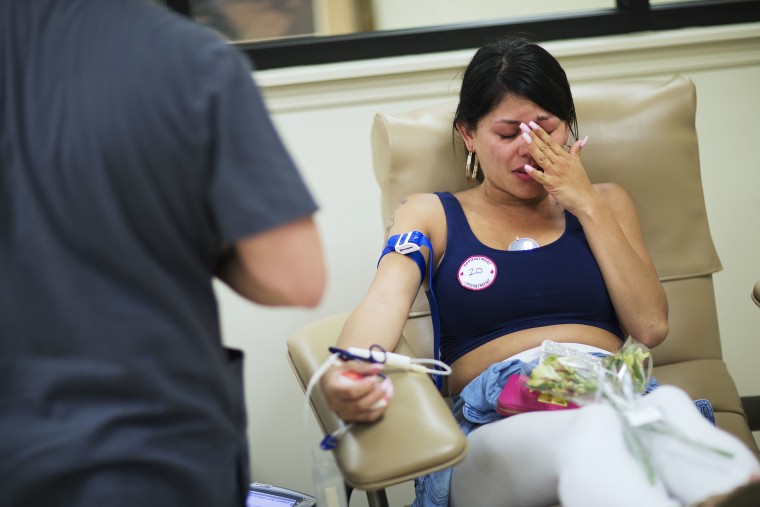 Many of the young leaders within the immigration movement are LGBTQ and they have borrowed some tactics and ideas from the LGBTQ movement.
"So much leadership from the DREAMer movement was queer," Esquivel said, speaking of the young immigrants here illegally who call themselves DREAMers. "They have now developed this strong undocumented queer subset in the DREAMer movement." The group Queer Undocumented Immigrant Project, or QUIP has formed to represent LGBTQ immigrant youths.
Esquivel said the way young people are "seamless" in their identity is different than when she was growing up and you had to decide "are you going to be gay today or are you going to be Latino."
One person who did speak up on LGBTQ rights was farmworker activist Cesar Chavez, she said. She met him in 1987 March on Washington for LGBT Rights. "Cesar was there speaking up on our behalf, way before other national figures were out there doing it," she said.
Rep. Ileana Ros-Lehtinen, R-Fla., has been an advocate on LGBTQ community, often parting with her party on votes, because her daughter is transgender. She recently did a public service announcement defending transgender rights.
It didn't need to be Latin night for there to be a number of young LGBTQ Latinos at Pulse, said Carlos Guillermo Smith, an Orlando, Florida activist.
The growing Puerto Rican community in Orlando meant that there were usually many Latinos at the nightclub where a gunman walked in and took the lives of dozens of its patrons.
"Intersectionality is such a big part of this story, because so many people are proud of their identity as Latinos. They are also proud of their identity as LGBT people," said Smith, government affairs manager for Equality Florida Action, Inc., an LGBTQ civil rights group.
Rep. Ruben Gallego, (D-AZ), who is not LGBTQ but is vice-chair of the LGBT Equality Caucus in the U.S. House of Representatives, said the deaths had an impact on him, not because a Latino life is more important than another life, but because he has seen the difficulty his Latino and LGBTQ friends faced telling their families of their sexual orientation.
"And to deal with this attack — and this attack was specifically attacking them for who they are — this is just an atrocity. It makes me mad because they were targets for who they are," Gallego said.
Attacks on the Latino community have heightened with the campaign of GOP presumptive presidential nominee Donald Trump and his rhetoric on immigrants, said Smith. "There is no question this senseless act of violence was meant to send a message of hate and terror to LGBTQ Latinos."
Arturo Vargas, a member of the LGBTQ community and executive director of the National Association of Latino Elected and Appointed Officials (NALEO), like others, emphasized that the deaths, regardless of the race or ethnicity of the victims, were tragic.
But because in this tragedy several victims are Latino, he hopes that "strengthens the embrace of Latinos who are gay and lesbian."
"Hopefully this underscores that, you know what? We are all people. We are all human and all our blood is red," Vargas said.