The strangest thing was the silence.
A school hall built for a thousand noisy and excited children was deathly quiet.
Their shoes and clothes lay scattered across seats, as if they'd left in a terrible hurry — which is exactly what they tried to do.
Their glasses lay smashed on the floor, beside the bullet casings and their smeared books. Everywhere, there was blood.
It was streaked across the ground where children crawled, desperate to reach safety.
It was congealed thickly where children had been shot together.
It is no exaggeration to say every inch of the floor of the auditorium was covered in blood.
This was the Taliban's answer to the Pakistan army's offensive against them; go to an Army Public School and riddle the children of soldiers with bullets. A massacre of the Innocents.
They appear to be proud of what they've done. The Taliban published a photograph of the gunmen they say attacked the school. All of them wore suicide vests. All seven were killed, say the army.
In another building, the walls are so riddled with bullets it's hard to work out how they're still standing. This was the Taliban's last stand; where army commandos cornered them. Here a pile of mangled body parts and at least two severed feet show the final end of the mostly young men who brought terror to the school.
They say they wanted revenge for an army assault that began in June and has resulted in hundreds of deaths in their strongholds. The army and Pakistan's government has promised swift revenge for the school massacre. And so the cycle turns again. Outside the school protesters held up two signs side by side "we want peace" and "we want revenge".
Someone wrote on another sign, pinned to photographs of some of the dead children, "the smallest coffins are the heaviest". Pakistan is struggling this week with its heavy burden.
Because, although Peshawar has seen terrible violence — and several massacres, there has never been anything like this.
The only comparable atrocity I have reported on was the deaths of more than 200 children during a siege at a school in Beslan, southern Russia, in 2004. Islamist militants took control of the school, killing their hostages when Russian forces attacked. Pakistan's Islamist militants weren't interested in hostages, or waiting. They hunted children down from the moment they arrived. And didn't stop until they were dead.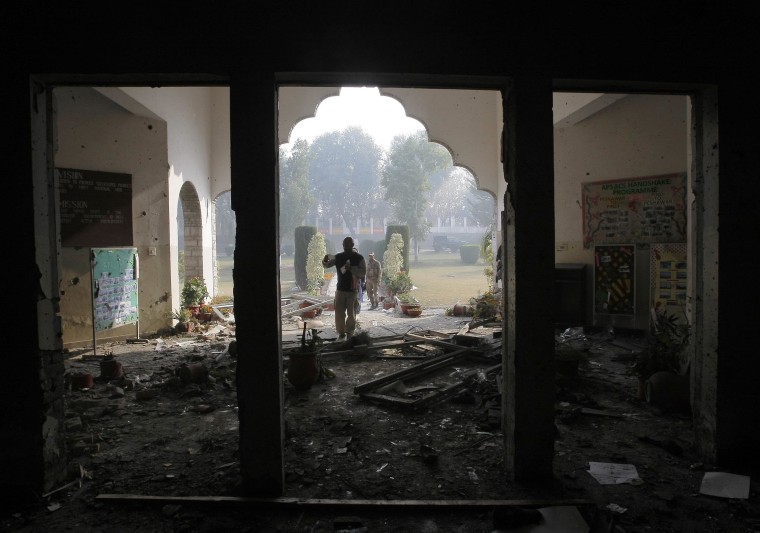 The main spokesman for Pakistan's army, Maj. Gen. Asim Bajwa, seemed shocked when I talked to him. "We are all angered," he said. "We are all sickened. I think there is nothing that can happen worse than this".
It is indeed the deadliest terror attack in Pakistan's history.
But there's no guarantee there might not be worse to come.
Just days after Malala Yousafzai, the schoolgirl shot by the Taliban, received her Nobel Peace Prize, her enemies demonstrated their contempt for girls' education, schools and peace once again.
The school killers may be dead, but their murderous cause is not.
IN-DEPTH