PARIS — The Belgian jihadi suspected of being the ringleader of the Paris terrorist attacks was killed during a raid on a suburban apartment, officials said Thursday.
Abdelhamid Abaaoud, 27, died during Wednesday's operation in Saint-Denis, according to the Paris prosecutor's office. He was identified by his fingerprints. His body was riddled with bullets, according to officials.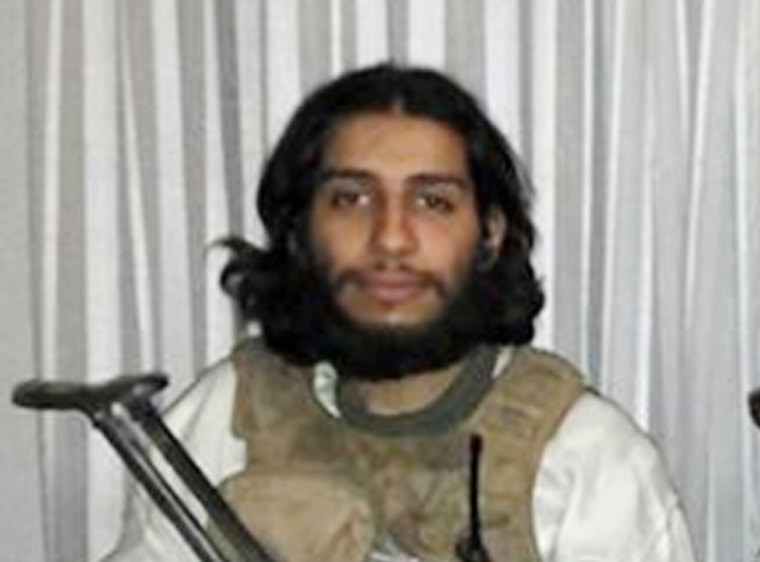 Abaaoud died along with a woman who blew herself up with a suicide belt when elite police forces stormed the scene. Eight other people were arrested.
In addition to being the suspected ringleader of Friday's coordinated assaults, he had been linked to the thwarted attacks on a Paris-bound high-speed train and a church near the French capital earlier this year.
Abaaoud boasted in ISIS propaganda about avoiding capture and claimed he had been able to travel between Europe and Syria without being noticed.
Interior Minister Bernard Cazeneuve later said that Abaaoud was involved in four of the six attacks foiled by French intelligence agents since this spring.
A source close to the investigation told Reuters that the dead female bomber killed might have been Abaaoud's cousin. NBC News was unable to independently verify that report.
An audio recording from the scene of the raid, aired on French channel TF1, appeared to feature an exchange between the bomber and police in which she shouts to them: "He's not my boyfriend."
Confirmation of Abaaoud's death came as authorities launched six raids in Brussels, including in the impoverished Molenbeek neighborhood where Abaaoud grew up, a spokesman for Belgium's federal prosecutor told NBC News.
Related: Why Is This Suburb Home to So Many Extremists?
The raided homes belonged to family and friends of Bilal Hadfi. The 20-year-old was one of three suicide bombers who attacked the Stade de France during a soccer game between France and Germany. One person was arrested, the spokesman said, adding that the operation was "ongoing."
Other raids were underway later Thursday in Charleville-Mezieres, a French town near the Belgium border around 145 miles northeast of Paris, according to French police. A witness told TV station France 3 they had heard explosions.
Meanwhile, the head of the coordinating organization of EU countries' police forces told lawmakers that Europe is likely to face further ISIS attacks.
"It is reasonable to assume ... that further attacks are likely," Europol director Rob Wainwright told a hearing at the European Parliament in Brussels.
He compared Friday's events in Paris to those in Mumbai in 2008, when militants killed 166 people at different locations across the Indian city. "The reality of what happened in Mumbai then has now arrived in Europe," Wainwright said.
An extension to emergency anti-terrorism powers is being considered by French lawmakers.
Prime Minister Manuel Valls also warned that France could face the risk of chemical or biological attack by terrorists.
"We must not rule anything out," he said in a speech to the French parliament. "The macabre imagination of the masterminds is limitless.